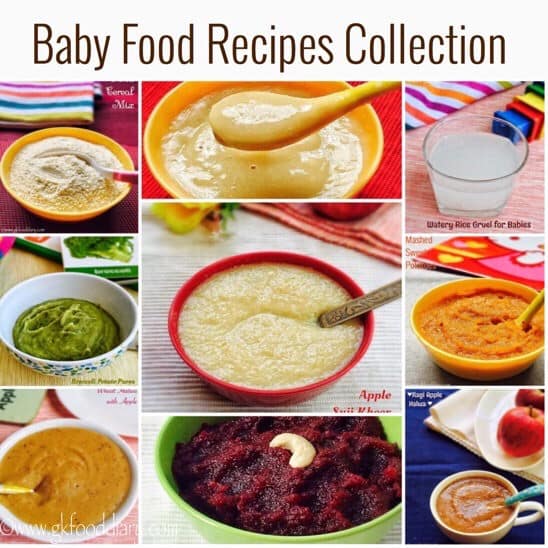 Here is the homemade Indian Baby food Recipes collection, which is ideal for babies aged 6 to 12 months, including simple purees, combination purees, porridge, health mix powders, snacks, soups, beverages, rice dishes, and many more. All these recipes are homemade, nutritious, fresh, delicious, and easy to prepare at home. This baby food recipe collection helps you to feed your baby with wholesome goodness.
Bookmark this page for future reference, as I will update this post whenever I add baby food recipes to my blog. Click on each thumbnail image or the hyperlink below the recipes' photos. Please refer to the notes section at the post's end for the key points to remember when making homemade baby food. Check the complete collection of baby food recipes here.
I will update this post with recipes regularly. Please be updated by liking my facebook page GKFoodDiary, or following me through Google+,Twitter & Pintrest


Jump to:
Purees
Porridge
Health Mix Powder | Homemade cerelac
Mashed Food
Rice
Breakfast/Dinner (Wholesome Food After 8+Months)
Snacks
Soup
Beverages (Juices & Smoothies)
Desserts
Essentials
Notes :
Sterilize the bowls and spoons used to feed your baby in a vessel with hot water for five minutes and immerse it in the same container until use.
Never introduce more than 1 food at a time when introducing solids to your baby. Follow 3 days wait for rule(3 days wait for the rule is a simple way to check possible allergic reactions, including skin rashes, tummy troubles like gas or diarrhea or vomiting, and poop troubles to new foods offered to your baby. Introduce new food at a space of 3 days apart).
Check for allergy symptoms when introducing new food to your baby, and stop feeding you if you find any symptoms.
Any sweetener( if the recipe calls for it), like jaggery, Palm jaggery, etc., can be avoided for one year. Instead, sweet-tasting vegetables or fruits can be preferred.
Always check with your pediatrician before introducing any new food.
Steaming is a healthy option for baby food than pressure cooking. So I prefer steaming using an Idli pot or steamer.
Skip cow's milk if your baby is under a year old, and use breastmilk or formula instead. Add breastmilk or formula to baby food once it's cooled down.
Homemade Baby food Recipes - Easy Indian Baby Food Collection
Homemade Baby food Recipes - a collection of Indian baby foods including purees, porridge, rice dishes etc.
Nutrition