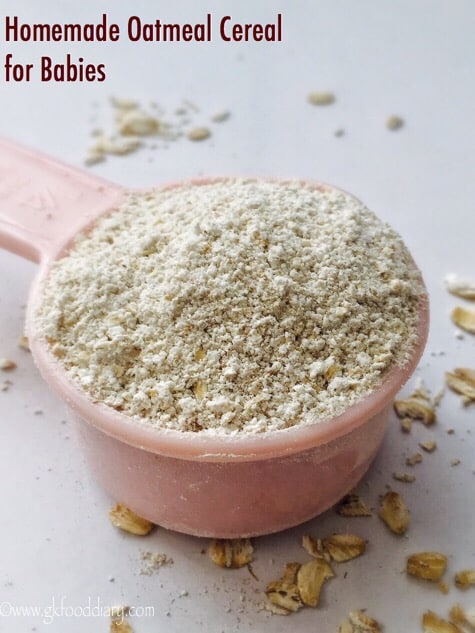 Oatmeal/ oats is an ideal & versatile food for babies as its rich in fiber, protein & calcium also wholesome, easily digestible, less allergenic and it is an excellent food to offer when the baby is constipated as its rich in soluble fiber.
When can I introduce oats to baby?
Oats can be included in baby's diet after 8 months as it has some amount of gluten, introducing early may produce intolerance in some babies. However some experts say, oats can be included from 6 months too. Consult with your baby 's pediatrician and include oats in baby's diet (This is especially important when your family has gluten allergy).
Health benefits of oats for babies and kids:
There is a myth that giving oats to babies may cause weight loss, that's untrue. Read the nutritional benefits of oats below to know the facts.
Oats are rich in fiber which helps and prevents constipation in babies.
Rich in B vitamins which helps in baby's development
Helps boosting the immune system for babies and kids
Rich in protein, calcium and magnesium, hence good for over all development.
What are the types of oats available?
There are four types of oats available
Oats Groats – thick oats, takes around 50 minutes to cook. Its chewy in nature after cooking and babies less likely to enjoy this type of oats because of its texture. Hence its not suitable for babies.
Steel Cut Oats – when oats groats are cut into pieces, they become steel cut oats. It can be given to babies, has hearty structure and available in various thickness, in general it takes around 30 minutes to cook.
Rolled oats – when oats groats are steamed through rollers, its referred as rolled oats. Its highly recommended for babies, available in various sizes and thickness, in general it takes around 15 minutes to cook. But some thinner rolled oats also available in market, that may take less time.
Quick cooking oats – processed to cut fine, less in nutrition compared to other oats types. You can prefer this oats type to babies during travel or for emergency purposes.
Points to consider while selecting oats for baby food:
Water amount and cooking time vary depends on the type of oats. Check package instructions for cooking time before buying.
Read the ingredients given in the package before buying oats. Avoid flavored or added sugar/salt oats for baby food as they are less in nutrition.
Buying organic oats is preferable for babies, if available.
Ways to use this Homemade Oatmeal cereal mix powder for babies, toddlers and kids
You can make instant Cerelac for your baby during travel, check the method of preparation given below in the next paragraph. Use only quick cooking oats to make this oatmeal powder for making instant oats cerelac.
Make porridge with water or milk.Check oats porridge recipe here with step by step instructions.
You can use this powder to make dosa, pancakes, muffins/cakes etc.
Add ghee, powdered jaggery to this oatmeal cereal mix and make ladoos. Refer this poha ladoo recipe and just replace poha with this oatmeal powder.
For babies above one year, you can add it to any milkshake. It tastes excellent!
Mix this oats powder with hot milk and offer as breakfast cereal. Sure a healthy alternative to store bought corn flakes!
How to use this oatmeal cereal mix powder during travel?
In case of emergencies or during travel, make this powder with quick cooking oats . Store it an airtight container and pack for travel. When required, Add 2 tsp of this powder in a bowl and add a cup of hot water/ boiled cow's milk(for babies above one year) to it. Close it with a lid and keep it undisturbed for 10 minutes. After 10 minutes, open it, mix well and feed your baby. You could also add dates syrup, any fruit puree or mashed fruits to make it more tasty!
Now lets get onto check how to make oatmeal powder recipe for babies, toddlers and kids.
Oatmeal Cereal Powder Recipe for Babies and Toddlers | Oats Powder for Baby
Homemade oatmeal Cereal Mix - oats powder made with oats
Instructions
Measure oats. Transfer the oats to a blender/mixer/food processor.
Grind the oats to a smooth powder. Transfer it to a plate and cool it down. Then store it in an airtight container.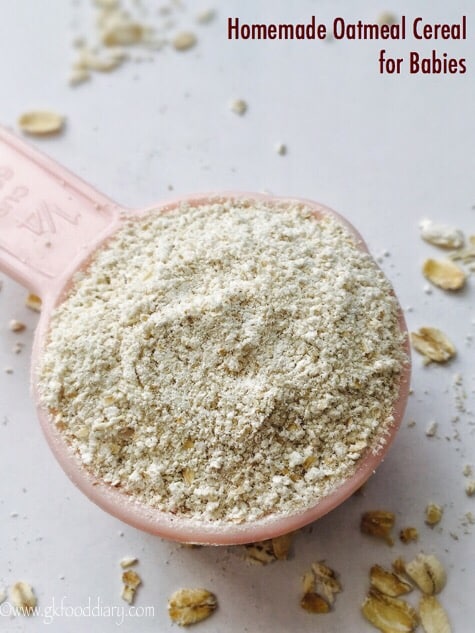 Method :
1. Measure oats. Transfer the oats to a blender/mixer/food processor.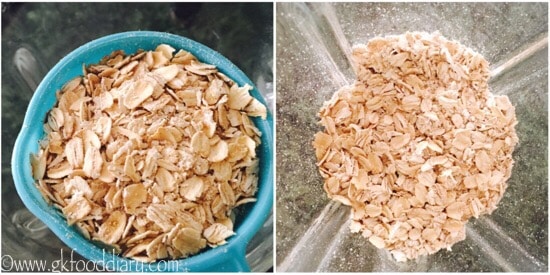 2. Grind the oats to a smooth powder. Transfer it to a plate and cool it down. Then store it in an airtight container.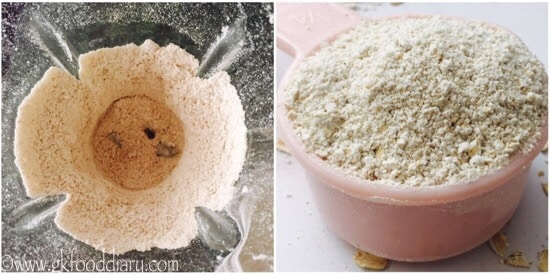 Healthy homemade oatmeal cereal is ready!
Notes :
This oats powder keeps well for 2 months if handled properly.
Store this oats powder in a cool and dry place. Keep it in refrigerator if the temperature is extremely hot.
You can grind it to a fine or coarse powder as per your preference.
Generally oats doesn't cause any allergies, but check for symptoms and stop feeding your baby if you find any.
Any variety of oats can be used to make this oatmeal cereal.
Always check with your pediatrician before introducing any new food.