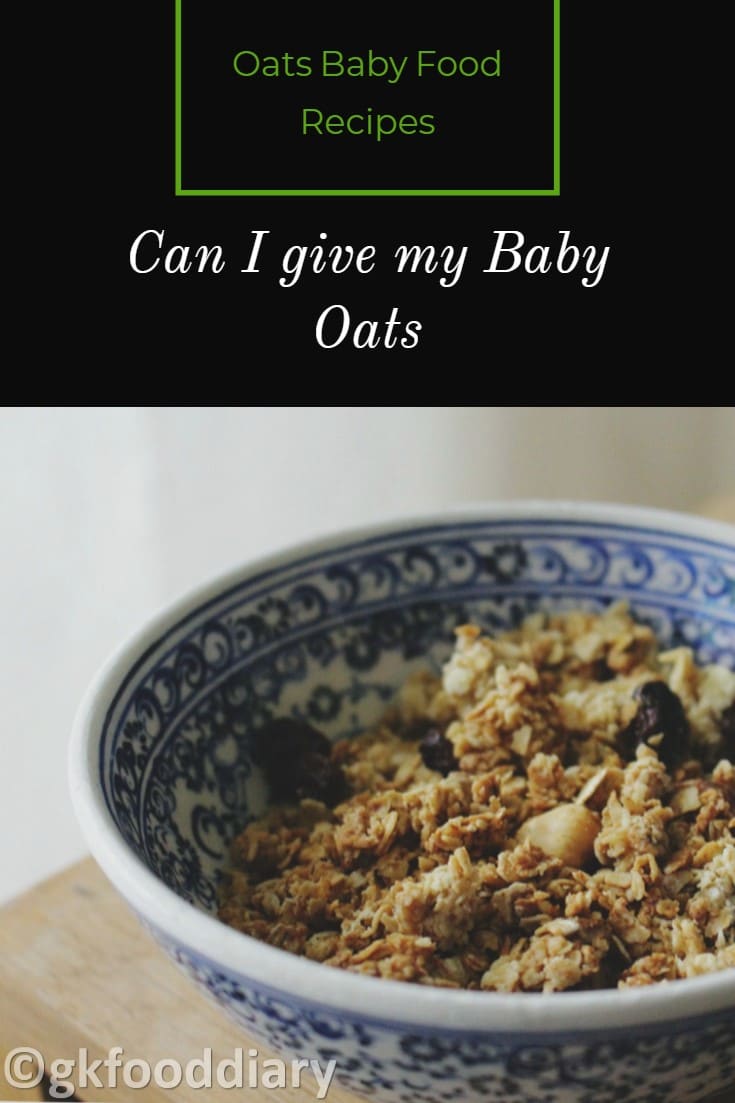 Oats/Oatmeal is an ideal food for babies as it is rich in fiber, proteins, and vitamins. Its a satisfying meal for babies and toddlers, also oats are versatile as that can be fit easily to sweet or savory recipes such as porridge, pancake, cookies, khichdi, smoothies and so much more!! There is no doubt that oats are suitable for babies, but you may have some other questions in mind like 'when can I introduce oats to my baby,' 'what are the health benefits of oats' and 'how to select oats for baby food' etc. Here is a post that answers all your questions about oats for babies with delicious oats recipes!!!
When can I introduce Oats to my baby?
Oats can be introduced to babies diet from 8 months as it has some amount of gluten, introducing early may produce intolerance in some babies. However, some experts say, oats can be included from 6 months. Consult with your baby 's pediatrician and include oats in baby's diet (This is especially important when your family has a gluten allergy).
When you introduce Oats to your baby, start with plain oats porridge. Once the baby is doing good with it, you can combine with other foods or fruit purees and introduce other oats recipes listed in the post.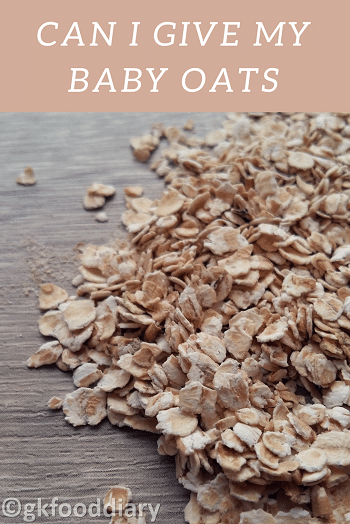 Nutrients in Oats
Here is nutrition information of 1/2 cup of cooked instant oats.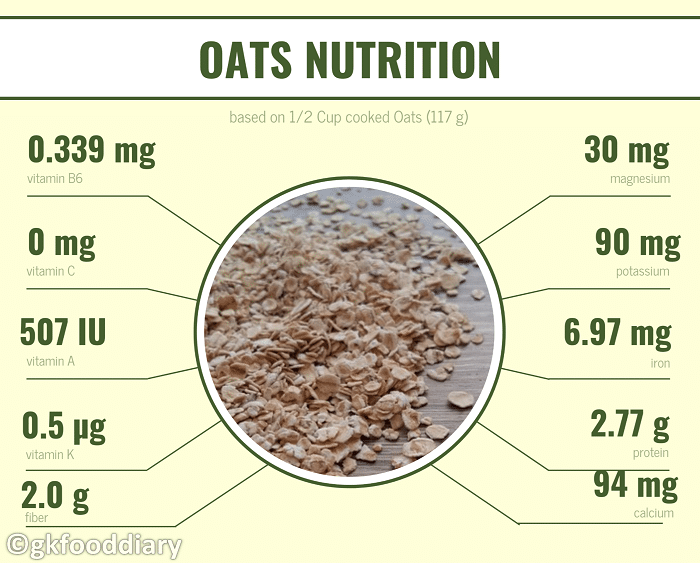 * Source - USDA
Health Benefits of Oats for Babies
There is a myth that giving oats to babies may cause weight loss, that's untrue. Read the nutritional benefits of oats below to know the facts.
Oats contain both soluble and insoluble fiber, which helps & prevents constipation in babies.
Rich in protein, magnesium, zinc, iron, and essential B-vitamins. Hence its a balanced food for growing babies.
Eating antioxidants rich whole grain like oats reduces inflammation and cut down heart problems in babies and kids.
Promotes good sleep in babies as it contains melatonin that can help your baby sleep. Give a bowl of oatmeal in the evening to get your baby sleepy!
Helps to boost the immune system as it has a unique fiber called beta-glucan, which prevents your baby from getting sick.
Oats is an energy food for babies as its full of good carbs that keep your baby energized throughout a day.
What are the types of oats available?
There are different types of oats available in the market. They all taste different and have different nutritional value. Also, the cooking time varies depending on the type of oats used. Steel-cut oats and rolled oats top the list in terms of health benefits and hence its best for babies!
Oats Groats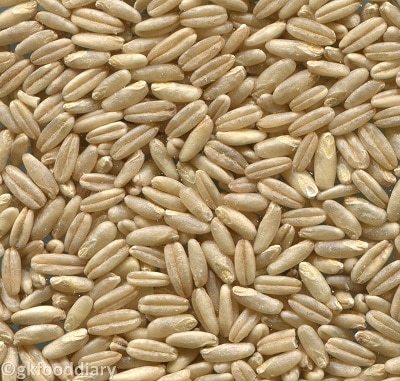 Thick oats, takes around 50 minutes to cook. It is chewy after cooking and babies less likely to enjoy this type of oats because of its texture. Hence it's not that suitable for babies.
Steel Cut Oats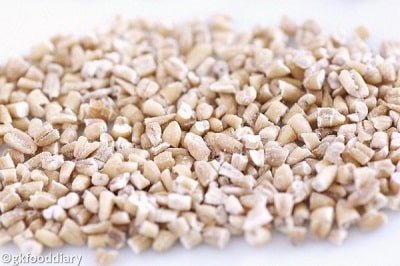 When oats groats are cut into pieces, they become steel-cut oats, also referred to as Irish or Scottish oats. Steel-cut oats have a hearty structure and available in various thickness; in general, it takes around 30 minutes to cook. It is ideal for making porridge and can be given to babies if it is available in your area.
Rolled oats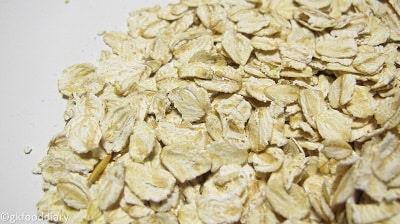 When oats groats are steamed through rollers, its referred as rolled oats also called old-fashioned or whole oats. It is available in various sizes and thickness and highly recommended for babies. In generally rolled oats takes around 15 minutes to cook. But some thinner rolled oats also available in the market, that may take less time. Rolled oats can be used in porridge, pancakes, granola bars, cookies, muffins, and cakes.
Quick-cooking oats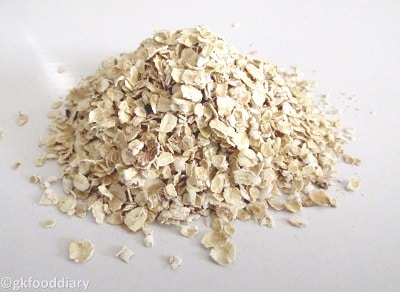 Also referred to as Instant oats, processed to cut fine and cook faster than other varieties. Quick-cooking oats have less nutrition among oats types. Hence prefer this oats type to babies during travel or for emergency purposes.
How to select and store Oats for Baby Food
Water amount and cooking time vary on the type of oats. Check package instructions for the cooking time before buying.
Read the ingredients given in the package before buying oats. Avoid flavored or added sugar/salt oats for baby food as they are less in nutrition.
Buying organic oats is preferable for babies, if available.
Store in a cool and dry place.
Oats Baby Food Recipes

With its health benefits and delicious recipes, oats are sure to keep your baby healthy and happy!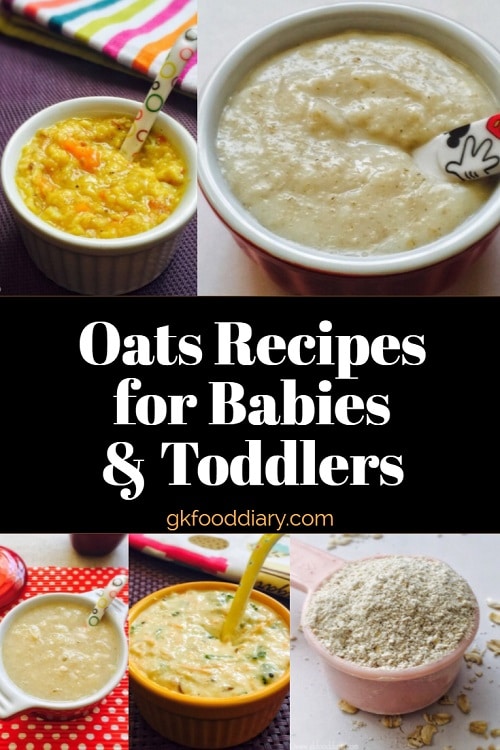 You may also like: