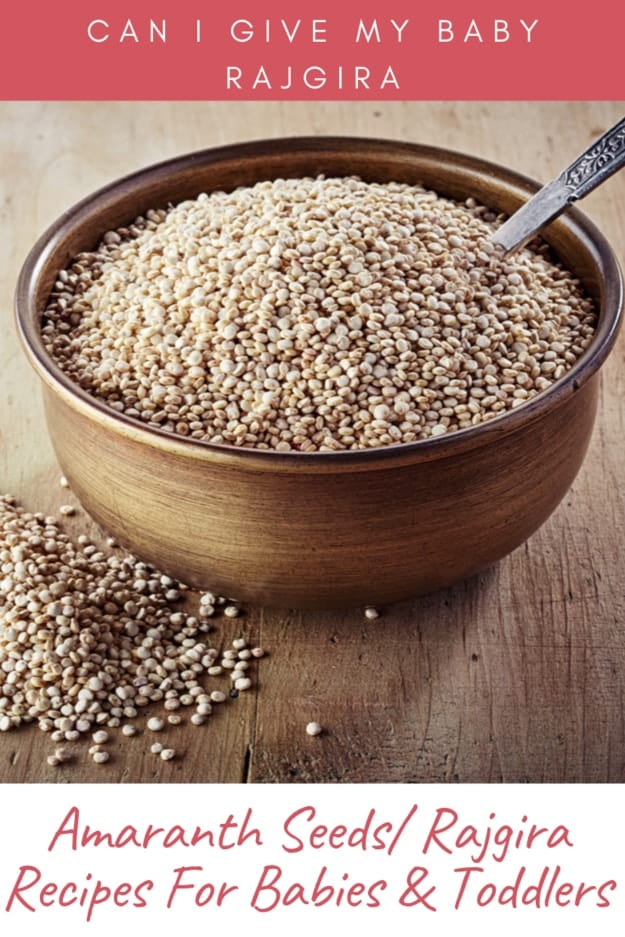 Can I give my Baby Rajgira / Amaranth? - Amaranth seeds are the ancient grain derived from the seeds of the Amaranth plant. Amaranth seeds are also known as Rajgira/Ramdana in India, meaning the royal or immortal seeds. Its mainly consumed during fasting as it is easy to digest and keeps the tummy full for a long time. Rajgira is full of essential nutrients (especially iron) that help in brain development and cures digestive problems in children.
Here are some recipes to include Amarnath in your baby's menu. Read more to know information about the health benefits of amaranth, how and when to introduce amaranth to the baby etc.
When can I introduce Amaranth (Rajgira) to my baby?
Amaranth seeds can be given to babies from 6 months as it is gluten-free and easily digestible. Amaranth porridge is the best way to introduce amaranth in the baby's diet. When you introduce amaranth porridge to your baby, you can blend the porridge in a mixer or blender, and feed your baby. Start with 2-3 tablespoon of rajgira porridge and gradually increase the quantity. Follow three days rule. If your baby does not have any allergies, continue with amaranth.
How to select and store Amaranth (Rajgira) for Baby Food
There are two types of amaranth seeds available in the market: popped and un-popped.
Un-popped Amaranth seeds: Looks slightly yellow in color, needs at least 10 minutes of cooking or should be popped before use.
Popped Amaranth Seeds: Ready to use, no or minimal cooking is required, looks soft and light.
You can buy amaranth seeds from grocery stores or online stores like Amazon. Store in an airtight container after buying. Keep it in a cool and dry place, away from moisture.
How to pop Amaranth seeds at home?
Firstly, keep the amaranth seeds under the sun to get rid of any moisture. Then heat a heavy bottom pan and add one tablespoon of seeds at a time. Cover the seeds with a soft muslin cloth, press them gently to pop. Remove it to a plate once popped. Repeat the process for the remaining seeds.
Nutrients in Amaranth (Rajgira)
Here is the nutrition information of  amaranth based on uncooked amaranth seeds (100 g)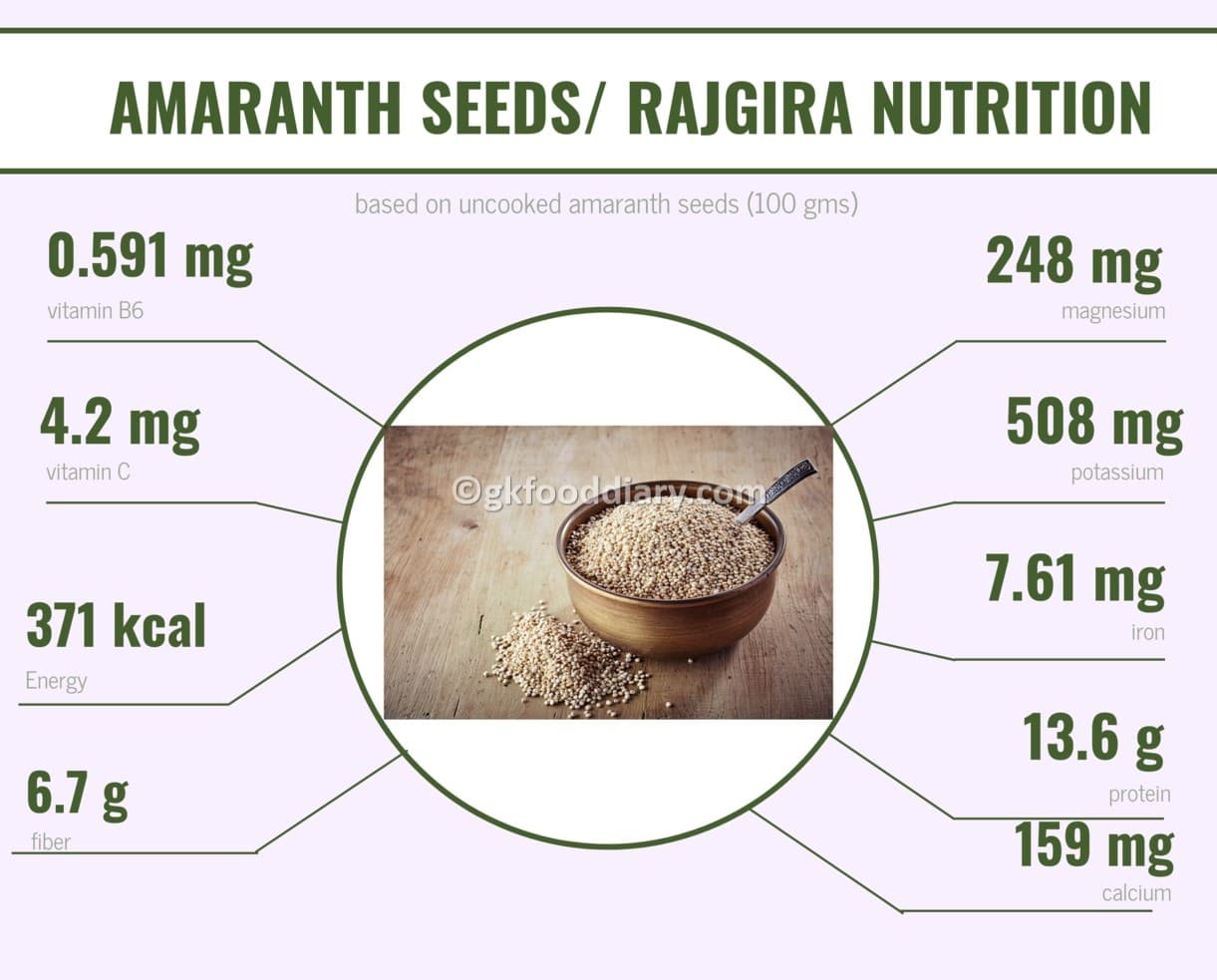 Source: USDA
Health Benefits of Amaranth (Rajgira) for Babies and Toddlers
It contains more proteins and fiber, also high in iron and calcium, hence it provides all essential nutrients needed for a child's growth and development.
Rajgira is a good source of  Vitamin A, B, and C.
Amaranth has double the amount of calcium found in milk. Hence it improves bone strength in kids.
The fiber content in amaranth helps to ease the bowel movements in babies and toddlers and keep constipation at bay.
The amino acids in rajgira promote hair growth in children.
Amarnath seeds are loaded with iron, which helps to prevent anemia in babies and toddlers.
Rajgira is completely gluten-free and hence suitable for kids with gluten allergies.
Easily digestible, hence, it amaranth is ideal for small kids, pregnant ladies, and sick people who are recovering from illness.
Amaranth (Rajgira) Recipes for Babies Toddlers, and Kids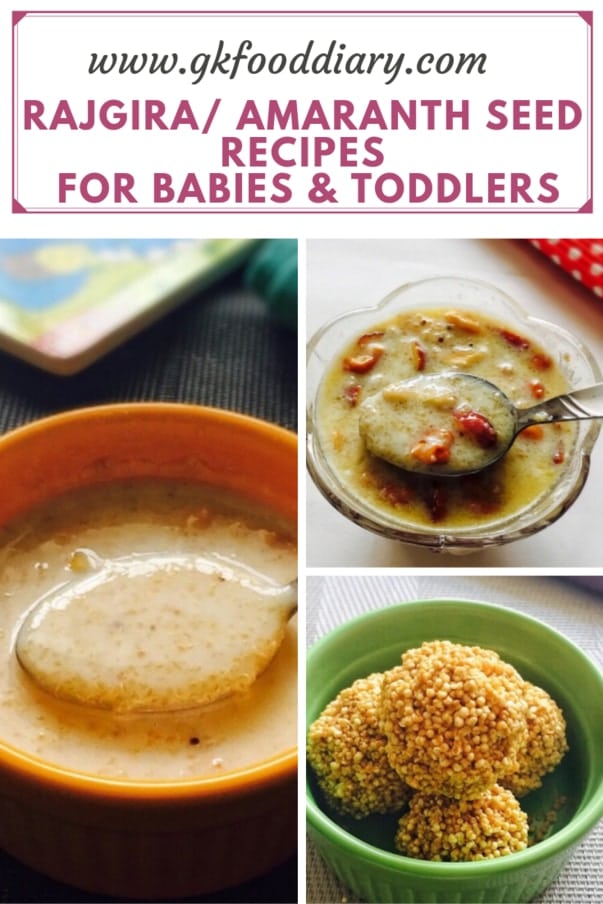 Here are some recipes to include the rajgira in your child's menu.
Rajgira porridge is a tasty porridge recipe made with amaranth seeds and milk. This amaranth porridge is best when you are introducing amaranth seeds to your baby.  You can blend this porridge in a mixer or blender if your baby doesn't prefer the texture of amaranth grain.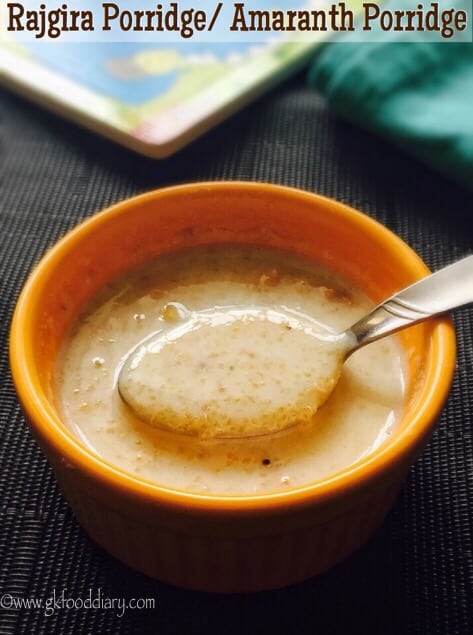 Rajgira Kheer is a delicious and healthy pudding/kheer made with rajgira, milk, and nuts. It is one of the tastiest desserts you can make with rajgira and can be given to babies from one year as a quick dessert. But make sure to add powdered nuts instead of whole nuts while preparing this kheer for babies below two years.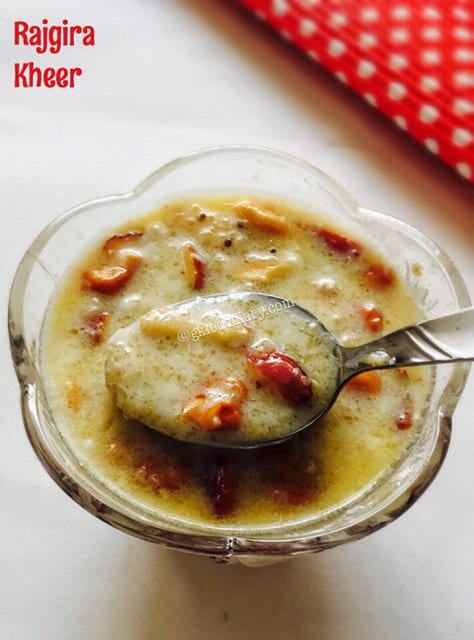 Rajgira Ladoo is a healthy ladoo recipe made with amaranth seeds and jaggery syrup. This rajgira ladoo tastes so good that there are only the least chances for a kid to say a NO to these delicious ladoos. It is suitable for toddlers from one year.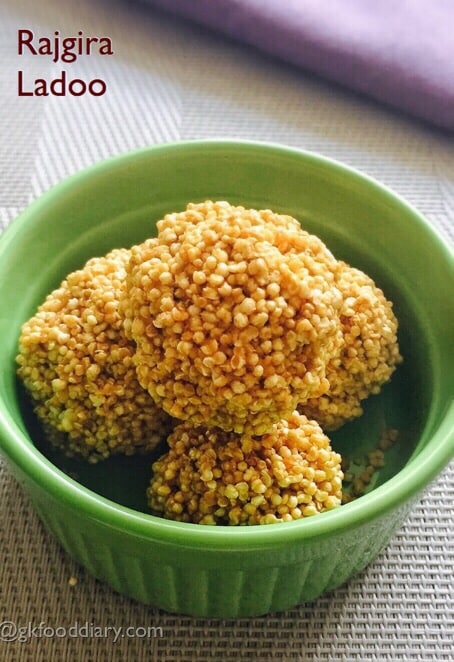 Try out these delicious recipes for your children and indulge them. If you have some fantastic rajgira recipes for babies, do share them with us.