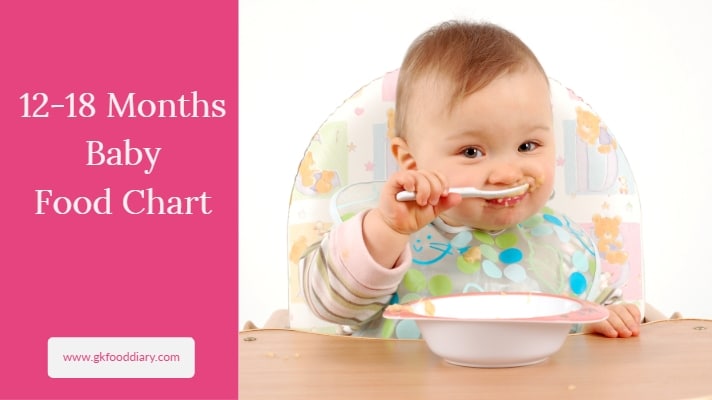 12-18 Months Baby Food Chart -Now your tiny little bundle of joy is one year. I am sure you have thoroughly enjoyed this beautiful journey with your baby:)  You have watched as your baby grows from first smiles to first steps. By now, your baby is ready to enjoy a variety of family foods.
What kind of foods should I give my 12-18 months old?
You can give all the foods you cook for your family with fewer spices. Offer a variety of food each day. Your child may have few front teeth now, can chew some foods. But it is still a good idea to mash or cut into small pieces (½ inch or less) while giving the meat or any hard foods if it is tough to chew.
Now your child is one year, she can drink cow's milk. Cows milk is a readily available source of calcium, and it also provides essential vitamins and proteins for your child. Also, you can continue breastfeeding as long as you and your baby are comfortable.
How to introduce cow's milk to my baby?
Prefer whole milk until three years as toddlers need fat in their diet for growth and development. Give only 200 - 300 ml (at the max) of cow's milk (in a cup) per day. Anything beyond the recommended amount of cow's milk leads to less appetite in toddlers. Also, don't dilute the milk with water as it reduces its nutrition content.
If your baby is not interested in taking plain milk, you can try to flavor the milk with natural homemade flavors, or add milk to porridge's/kheer/desserts or include dairy products such as curd/yogurt, paneer, cheese, etc.
Should my 12-18-month-old feed herself?
By now, your toddler might be ready for self-feeding, though she might not be able to do it perfectly.  She should be able to hold and drink from a cup with little help and may be interested in eating with a spoon/fingers. Foods can be cut into pieces so she can feed herself with her fingers. Encourage self-feeding if your toddler is ready, and eat as a family whenever possible. It helps in developing good eating habits.
What finger foods can I give to my toddler?
Finger foods such as chunks of soft-cooked vegetables, fruits, cheese, toasted paneer, homemade cookies/crackers, and boiled eggs are easy to prepare and loved mainly by children of this age, and they can experiment on feeding themselves.
What changes can I expect in my one-year-old baby's appetite?
After one year, your baby's growth rate naturally slows down, and hence, your baby's appetite might have decreased than before. Also, your toddler might be interested in exploring the world around than eating. The quantity of food consumed on each day may vary from large to small amount depends on the appetite of your child. Be assured that your child knows when she is hungry, and they won't stuff needlessly.
How to encourage my fussy eating toddler?
Here are some tips for the fussy eating toddler
Never force your baby to finish the meal. Let them take their own time and enjoy the food. If your baby refuses food, try again a little later on.
Encourage self-feeding by offering plenty of finger foods.
Let your baby experience the food even it is more of playing and a mess.
Offer a variety of nutritious small meals.
Reduce sugary foods and avoid processed/junk food as much as possible.
Be an example for your child in food habits.
How many meals for 12-18 months baby
For a 12-18 months baby, you can offer three meals, two snacks, and cow's milk. If you are a breastfeeding mom, You can continue breastfeeding whenever your baby demands. Choose the timings for meals and snacks according to your child's preference. Try to give food at regular intervals. If your child refuses food, try again a little later on.
How much quantity for a 12-18-months baby per day? 
To ensure your child gets a balanced meal, aim for a variety of foods from four primary food groups, as listed below. For the quantity of food, always be guided by your child's hunger as appetite varies from baby to baby, and most babies change from day-to-day. Here is an approximate amount. Offer a serving from within these portion size ranges at each meal and snack.
Whole Grains, Cereal & Carbohydrates -  ¼ cup to ½ cup
Fruits & Vegetables -¼ cup to ½ cup
Milk & Dairy Products - 1 cup
Meat/Protein/Meat Alternatives - ¼ cup
SAMPLE INDIAN FOOD CHART OR DIET PLAN FOR 12-18 MONTHS OLD BABY
Here is a sample food chart with recipes (please click on the hyperlink to get the recipes) for a 12-18 month old baby. Please consider the below points before using this food chart:
The below table is prepared to include a variety of foods with adequate nutrition in your toddlers' diet.
Customize this chart based on availability, convenience, and your baby's preference. There is no need to follow this chart strictly.
If your child is allergic to any ingredient listed in the recipe, make sure to remove the same before preparing.
Some recipes below are prepared with more spices if it's a family recipe. Adjust the spices according to your baby's preference.
If breastfeeding your baby, always feed on demand, irrespective of the schedule.
Here is the collection of 12-18 months of Indian Baby Food Recipes. Please customize the sample charts below with the recipes per your baby's preference.
Check other posts for Toddler - 20 Breakfast recipes


Notes:
Never introduce more than one food when adding new food to your baby.
Check for allergy symptoms when introducing new food to your baby, and stop feeding your baby if you find any signs.
This food chart is prepared to give an idea of what foods can be included in a baby's diet. It should not be considered medical advice.
Always check with your pediatrician before introducing any new food.
Also, Check out the food charts for 6 months to 3 years of Homemade Baby food recipes