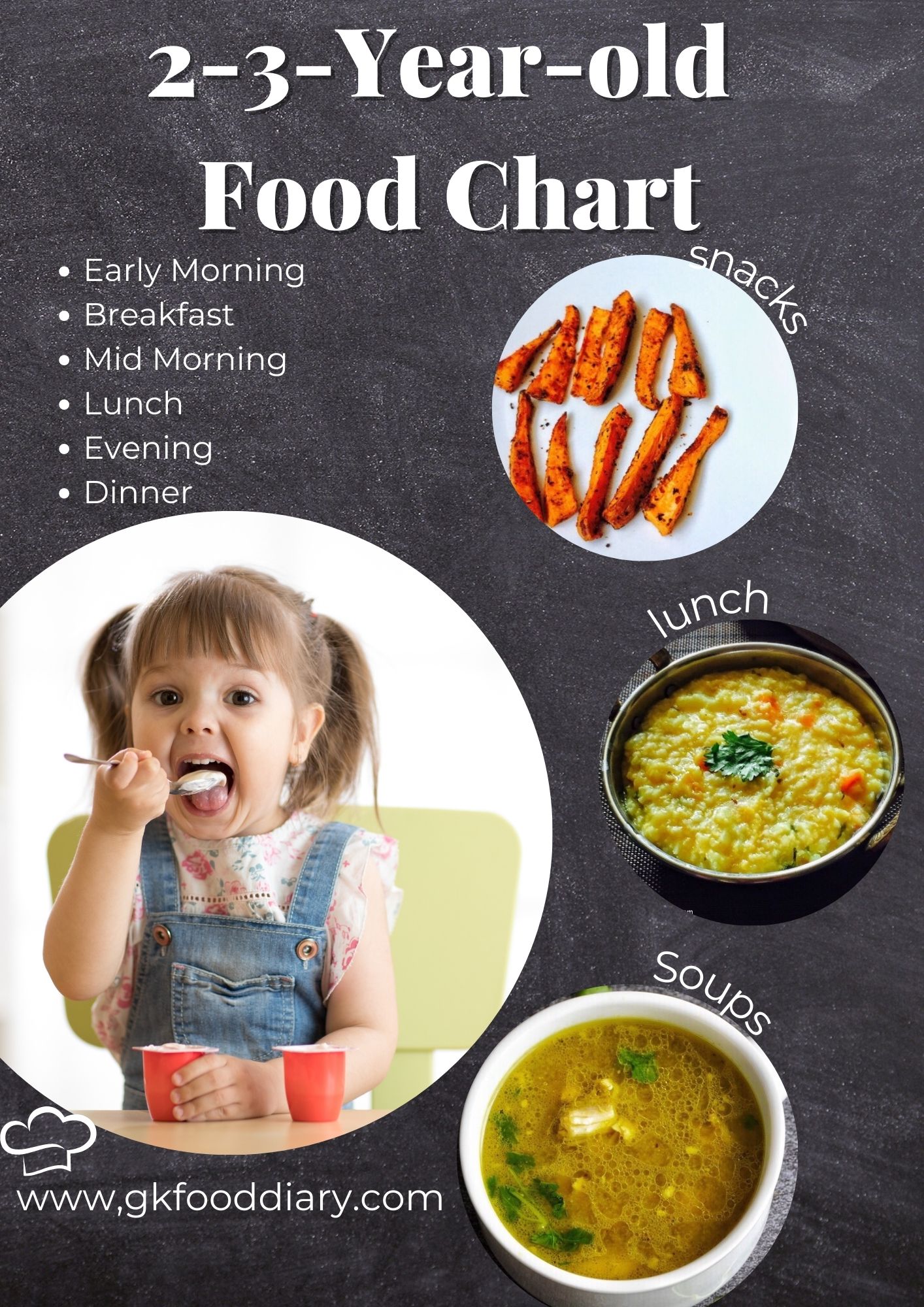 2-3-Year-old kid Food Chart - Are you a new parent wondering what to feed your 2-3 years old baby? You will feel a change in your baby's appetite and eating habits. This is due to your toddler's increased activity level, which includes coloring, drawing, running, playing, climbing, and dancing.
As children grow, their nutritional needs change, and now you need to increase the amount of food your kid used to eat earlier. We have created the perfect food chart for 2-3-year-old babies that covers all the essential nutrients they need.
WHAT KIND OF FOODS SHOULD I FEED MY 2-3-YEAR-OLD KID?
With all the choices and different advice from family and friends, it can be hard to know what to feed your little one. Aim to provide your toddler with various foods from the four main food groups: fruits and vegetables, grains, protein, and dairy products.
Fruits and vegetables should comprise a large portion of your toddler's diet. Offer fresh, frozen, canned, or dried fruits and vegetables. You can also offer cooked mashed or pureed vegetables like sweet potato, carrots, and cut-up pieces.
Whole grains are another important part of a toddler's diet. Offer whole grain bread, cereal, crackers, and pasta to boost fiber and other nutrients. Include nuts and nut butter, seeds, avocados, and olive oil in your toddler's meals and snacks.
Include a variety of proteins in your toddler's diet. Offer soft-cooked, cut-up pieces of meat and poultry and beans and lentils in various forms such as soups, stews, and casseroles.
Dairy products are quite essential for growing toddlers. Choose low-fat dairy sources such as yogurt, cheese, and whole milk. Cheese sticks, yogurt tubes, and other dairy snacks can be a great way to incorporate dairy into your toddler's diet.
Providing your 2-3-year-old with various foods from the five main food groups will ensure that their nutritional needs are met and that they are getting all the vitamins and minerals necessary for growth and development.
HOW MUCH SHOULD MY TODDLER EAT?
Ensure your toddler gets the right amount of food for their age and size. Generally, toddlers should eat between three and five meals daily, plus two snacks. This can include a variety of foods from all the food groups.
It's best to keep portion sizes small, as toddlers can get overwhelmed by too much food at once. Aim for approximately one-fourth of an adult portion size when serving your toddler's meals. This also allows them to sample more different types of foods.
Your toddler's hunger levels may vary depending on their age and activity level, so paying attention to their appetite and providing them with enough food to stay energized throughout the day is essential. If they aren't hungry for a meal, don't force them to eat; offer them healthy snacks instead. Similarly, feel free to offer them more food if they are hungry after a meal.
You must pay attention to your child's eating habits and adjust their portions accordingly. While it is essential to encourage your child to eat, it is just as important to recognize when they are full. If your toddler does not want to eat, wait until the next meal and try again.
WHAT TO FEED IF MY TODDLER DISLIKES MILK?
The diet of toddlers must include milk in at least two meals daily. If you want, you can continue breastfeeding your child for maximum nutrition. Otherwise, give 600 to 750 ml of cow's milk (in divided portions) per day.
Some toddlers may dislike drinking plain milk, but you can't skip it. Milk is a must-have item in the diet plan of toddlers as it plays a critical role in the growth and development of bones and teeth.
You can transform this plain boring-looking milk into something flavorful and colorful by adding natural homemade or commercial flavors. You can use half the recommended milk amount to make kheer, porridge, or desserts.
WHAT CHANGES CAN I EXPECT IN MY 2-3-YEAR-OLD TODDLER'S APPETITE?
As your baby grows, you can expect changes in its appetite. While the amount of food they eat may not change drastically, their tastes and preferences will change.
Your toddler's taste buds will become more refined, so they may be more willing to try different flavors and textures. They may also begin to reject certain foods that they previously enjoyed. They may sometimes resist trying new food items or have difficulty transitioning from one food to the next.
At this age, you may also find that your toddler's appetite can vary significantly from day to day. You may notice that they eat more or less on some days and have different food preferences. This is normal and natural as they develop their tastes and explore new foods during this age.
To keep up with your toddler's changing appetite, offer a variety of foods to ensure they get the proper nutrition. If they reject a particular food, try again in a few weeks or months. Remember to provide healthy options and limit sugary snacks and drinks to promote good nutrition.
TIPS TO ENCOURAGE MY PICKY-EATING TODDLER
Here are some tips to encourage your picky-eater kid.
Make mealtime fun: Serve the food in various shapes and sizes, or let your toddler help in the kitchen.
Offer healthy snacks between meals: Choose healthy snacks such as yogurt, fruit, or vegetables to keep your toddler's energy level up.
Be patient: Don't get frustrated if your toddler refuses to eat certain foods. Try offering it again at a later time.
Let your toddler take charge: Offering variety and allowing your toddler to choose their food will help encourage healthier eating habits.
Eat together: Set a good example by eating nutritious meals with your toddler. Eating together can also help build strong family bonds.
Keep it interesting: Mix the menu with different recipes, colors, and textures.
Avoid distractions: Turn off the TV and other screens during mealtime to ensure your toddler is focused on eating.
Offer rewards for trying new foods: Offer small rewards or praise when your toddler tries a new food, even if he doesn't like it.
Get creative with food presentation: Arrange the food in a fun way or make it look like a smiley face or anything to get your toddler excited about eating.
Don't give up: It may take several attempts before your toddler learns to like new food, so don't give up too soon.
HOW MANY MEALS FOR 2-3-YEAR-OLD BABIES?
Generally, toddlers aged 2-3 years should have three meals and two daily snacks. You can adjust the timing of meals as needed to fit your baby's schedule. Your toddler must have a consistent eating routine to help them regulate their appetite.
HOW MUCH QUANTITY OF FOOD PER DAY SHOULD I GIVE TO MY 2-3-YEAR-OLD TODDLER?
When planning your toddler's daily meals, it is essential to include the right balance of foods. As a general guide, toddlers should have three servings of grains, two servings of fruit, two servings of vegetables, two servings of dairy products, and one serving of protein-rich food like meat, fish, eggs, or beans. You can vary a bit as per your kid's preferences.
Grains: Whole grain cereals, bread, rice, pasta, and crackers are all good energy sources for your toddler. Per day serving of grains for your toddler can range from 1 cup of cooked cereal, rice, or pasta to 3 slices of whole wheat bread or 1 cup of ready-to-eat cereal.
Fruits: Fruits are a great source of vitamins and minerals. Per day serving of fruit can range from 2 small or medium pieces of fruit (like an apple or a banana) to ½ cup dried fruit.
Vegetables: Vegetables are essential for your toddler's health and growth. Per day serving can range from 1 cup of cooked vegetables to 2 cups of raw vegetables.
Dairy Products: Dairy products are an important part of your toddler's diet as they provide essential calcium and vitamin D. Per day, serving can range from 2 cups of milk to 1 cup of yogurt or 2 ounces of cheese.
Protein-Rich Foods: Protein-rich foods are essential for your toddler's growth and development. Per day serving can range from 4 tablespoons of cooked beans or 4 tablespoons of nut butter to 2 ounces of cooked meat or fish.
SAMPLE INDIAN FOOD CHART OR DIET PLAN FOR 2-3-YEAR-OLD TODDLER
Finding out what to feed your little one can be a daunting task, so we've put together this sample food chart with recipes (please click on the hyperlink to get the recipes) for 2-3-year-olds to help make meal planning easier. With this guide, you'll be able to provide your child with the essential vitamins, minerals, and nutrients they need to thrive. Do consider some points before following my food chart.
You are not bound to follow this chart strictly as it is. You can customize this chart according to your toddler's likes and dislikes.
Be aware if your toddler is allergic to any ingredients I'm using in the recipes of this diet plan. Replace those ingredients with some suitable alternatives.
You can shuffle the days of this chart at your convenience. Always consider the availability of ingredients beforehand.
It is not necessary to add the same amount of spices. Adjust the seasonings as per the taste preference of your kids.
Here is the collection of recipes for 2-3 years of toddlers. You can replace any recipe in this food chart with another recipe from my collection.
Few other Recipes Collections your toddlers may love
15 HOMEMADE HEALTH DRINK MIXES FOR KIDS
TOP 22 INDIAN EGG RECIPES FOR BABIES, TODDLERS AND KIDS
20 DOSA / PANCAKES VARIETIES FOR BABIES, TODDLERS & KIDS 
10 HEALTHY EVENING SNACKS FOR TODDLERS AND KIDS
20 WeightGain Recipes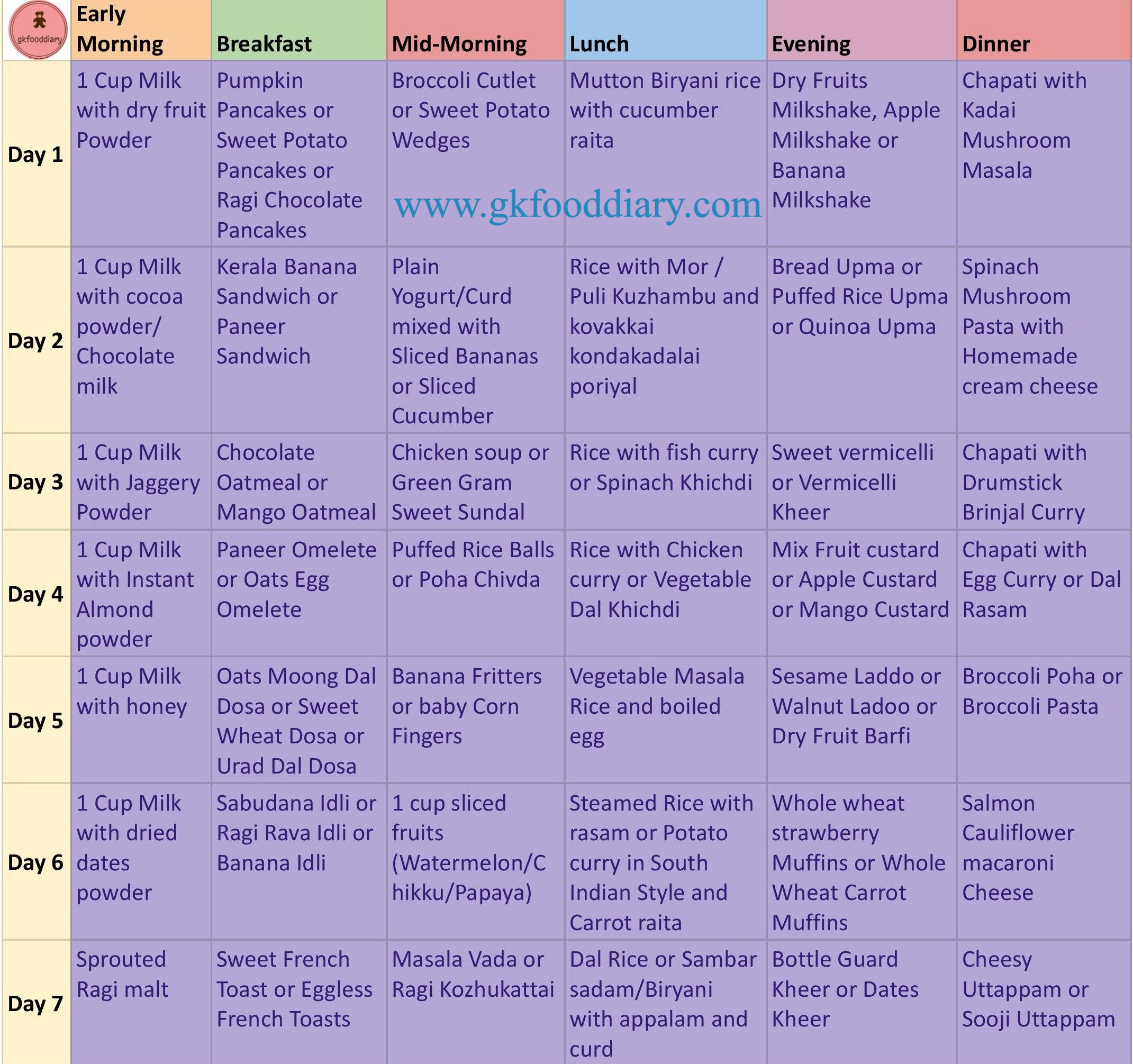 Also, Check out the food charts  for 6 months to 3 years of Homemade Baby food recipes
You may also like: