Indian 11 Month Baby Food Chart, Indian Baby Food recipes, By 11 months, your baby may become more independent, and she may be able to eat or drink on her own. Keep watching the baby close while she is eating to avoid choking. Don't worry if the baby is not ready to eat on her own! Just help and encourage them by offering finger foods and practicing her holding the spoon!
Now you can give all the foods you cook for your family in the form of minced or chopped (with few exceptions, which include salt, sugar, honey, whole nuts, and cow's milk).
Always remember that solids food can't replace the nutrients breastmilk or formula provides during the first year. So consider including solids in your baby's diet as complementary feeding. Please read on 10 months baby food chart (to cross-check the foods you have introduced till 10 months) before you plan a food chart for your 11 months baby. And always consider preferring homemade foods for your baby, which are safe.
And Hopefully, by now, you are planning for your baby's first birthday, which is certainly something to celebrate! Check some dessert recipes here that you may want to consider before planning the party menu.
What foods can be included in 11 months baby's diet? 
What's new on 11 months of baby food?
Fruits:  all fruits, including citrus fruits and berries (keep an eye while the baby is eating to avoid choking)
Vegetables: all vegetables
Cereals: all cereals
Pulses: all pulses
Dairy: all dairy products except cow's milk
Non-Vegetarian: all in a minced form, including beef, pork
Spices: as same as 10 months
Complete list of options for 11 months of baby food:
Here is the complete list of options you can include in 11 month old baby's diet.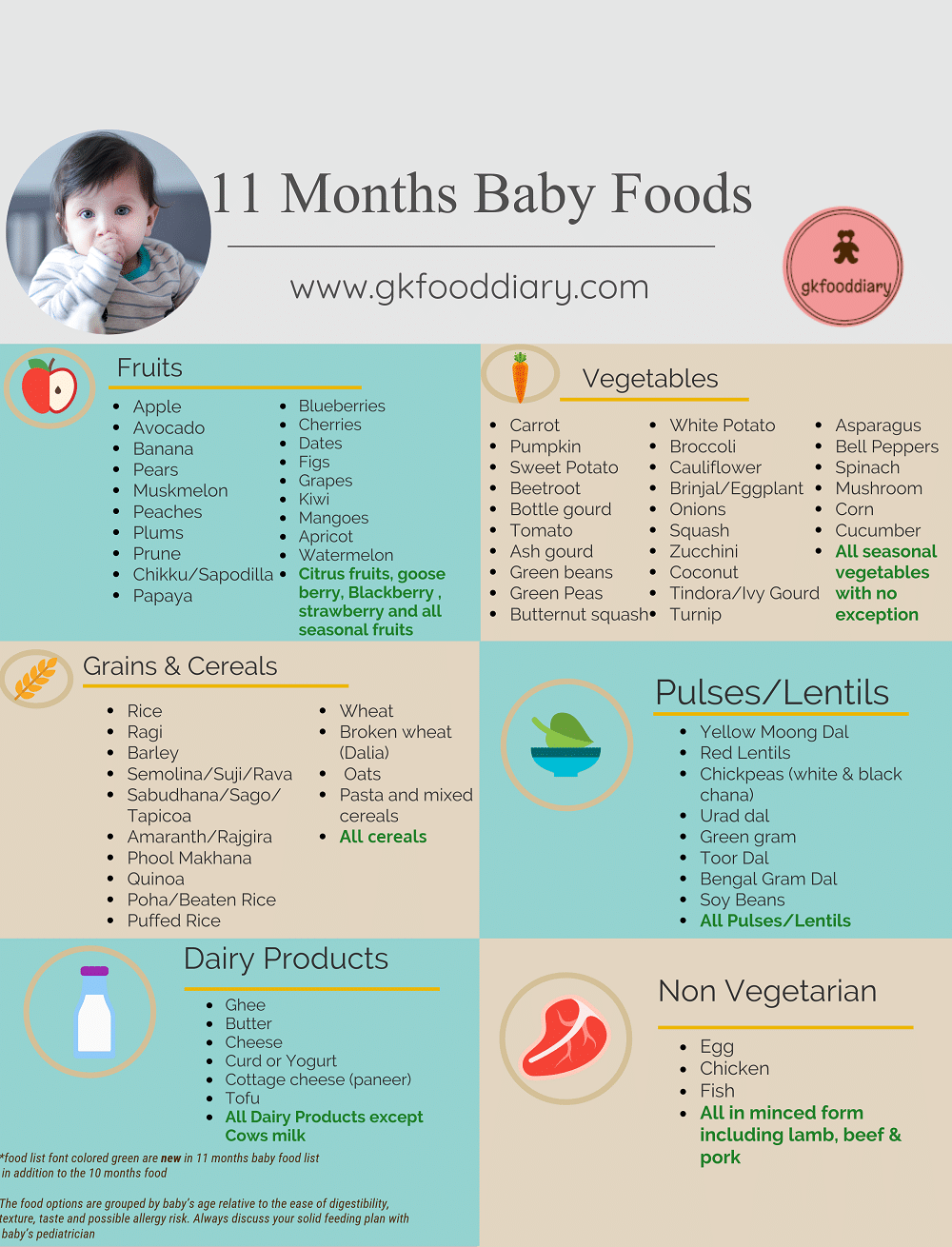 Fruits: all seasonal fruits
Vegetables: all seasonal vegetables
Cereals & Grains: almost all cereals and grains
Pulses: all pulses
Dairy: all dairy products except cow's milk
Non-Vegetarian: all in minced form
Spices: Turmeric, garlic, ginger, asafoetida, cumin seeds, pepper, coriander seeds, fennel seeds, caroms, fenugreek, mustard seeds, cinnamon, nutmeg, cardamom  (all can be added in small amounts)
Sample Food chart or Diet plan for 11 months old baby
For 11 months baby, you can offer three meals and a snack that can be finger food or any light snack for a day. The rest should be breastfeeding or formula feeding. Choose the timings for meals and snacks according to your baby's preference.
How much quantity per day? 
For the quantity of food, always be guided with your baby's hunger as appetite varies from baby to baby, and most babies change from day today. Here is an approximate amount:
Cereal - ¼ to ½ cup
Vegetables - ¼ to ½ cup
Fruits - ¼ to ½ cup
Mixed Cereals - ¼ to ½ cup
Dairy - 2 to 3 tbsp
Meat/Protein - 4 tbsp
Introduce one food at a time and follow 
3 days rule,
which will help determine allergic reactions to a particular food.
11 MONTH OLD BABY FOOD RECIPES
Here is the collection of 11 Months Baby Food Recipes. Please customize the below sample charts with the mentioned recipes that can be included in 11 months baby's diet based on availability, convenience, and your baby's preference.
SAMPLE INDIAN FOOD CHART OR DIET PLAN FOR 11 MONTHS OLD BABY
Here is the sample food chart with recipes (please click on the hyperlink to get the recipes) for 11 month old baby. Please customize this chart with the food mentioned above options that can be included 11 months baby's diet based on availability, convenience, and your baby's preference.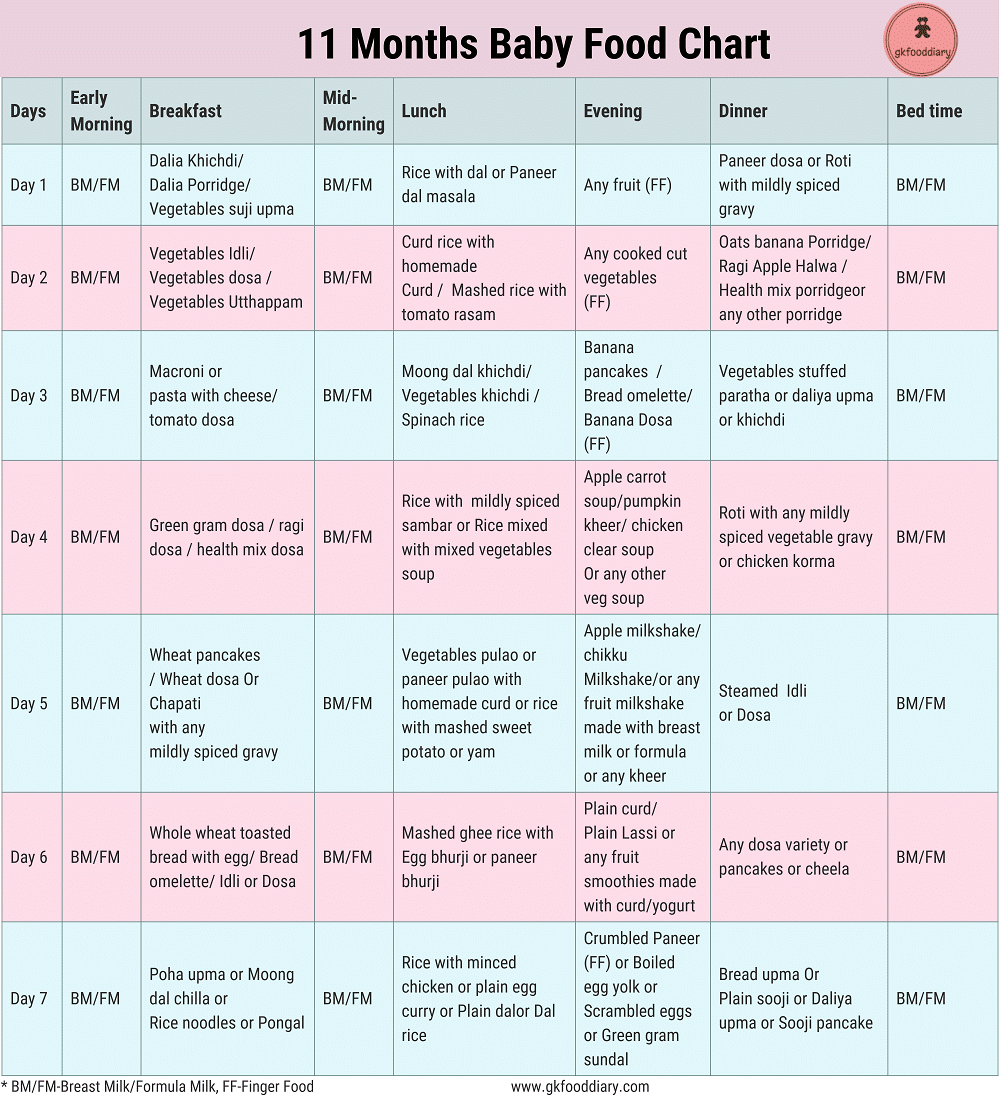 * BM/FM-Breast milk/Formula Milk, FF-Finger Food 
Notes:
Sterilize the bowls and spoons used for feeding your baby in a vessel with hot water for five minutes and keep it immersed in the same vessel until use.
Some of the recipes given above are prepared with more spices as it's a family recipe. Adjust the spices according to your baby's preference.
Never introduce more than 1 food at a time when introducing solids to your baby.
Salt, sugar, cow's milk, and honey are not recommended in baby's food until 1 year of age.
Check for allergy symptoms when introducing new food to your baby, and stop feeding if you find any symptoms.
This food chart is prepared to show what foods can be included in the baby's diet at a particular month. It should not be considered medical advice.
Feed your baby with breastmilk or formula milk on-demand other than the timings mentioned in the chart.
Always check with your pediatrician before introducing any new food.
Steaming is a healthy option for baby food than pressure cooking. So I prefer steaming using an Idli pot or steamer.