Jump to: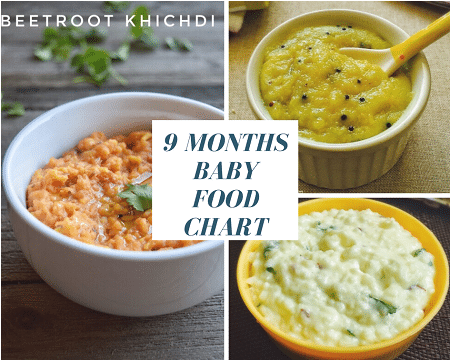 Indian 9 Months old Baby Food Chart, Indian Baby Food recipes, By 9 months, your baby is used to solid foods and might be bored with them. Hence it is important to include a variety of new flavors and textures. You should try introducing minced or chopped food as part of 9 months baby's diet.
Baby is not entirely ready for family foods at this stage, but still, you can offer some. By this time, your baby may try to feed himself with a spoon, he may not be successful in the attempt. But still, it's a good idea to offer one to encourage his self-feeding. Always keep an eye on the baby when he's eating to avoid choking. Also, continue including spices in baby food and finger foods as same as 8 months. Don't force the baby, though, as each baby is unique and adopts eating habits at their own pace. Just keep trying your best to encourage his eating habits.
Always remember that solids food can't replace the nutrients breast milk or formula provides during the first year. So consider including solids in your baby's diet as complementary feeding. Please read 8 months baby food chart (to cross-check the foods you have introduced till 8 months) before you plan a chart for your 9 months baby food. And always consider preferring homemade foods for your baby, which are safe.
What foods can be included in 9 month old baby's diet?
At 9 months, you can introduce the below foods in addition to the 8 months baby food chart.
What's new on 9 month old baby food?
Fruits:  watermelon
Vegetables: coconut, Tindora/Ivy Gourd, turnips, asparagus, bell peppers, and almost all seasonal vegetables
Cereals: as same as 8 months
Pulses: as same as 8 months
Dairy: as same as 8 months
Non Vegetarian: chicken ( stock or clear soup)
Spices: as same as 8 months
Complete list of options for 9-month-old of baby food
Here is the complete list of options you can include in 9-month-old baby's diet.
Fruits: Apple, Avocado, Banana, Pears, muskmelon, Peaches, Plums, Prune, Chikku, papaya, blueberries, cherries, dates, figs, grapes, kiwi, mangoes, watermelon
Vegetables: Carrot, Pumpkin, Sweet Potato, beetroot, bottle gourd, tomato, ash gourd, green beans, peas, butternut squash, White Potato, broccoli, cauliflower, eggplant, onions, turnips, coconut, Tindora, turnips, asparagus, bell peppers, and almost all seasonal vegetables
Cereals & Grains: Rice, Ragi, Barley, Semolina/Suji/Rava, sabudhana, wheat, broken wheat (Dalia), oats, quinoa
Pulses: Yellow Moong Dal, masoor dal, chickpeas (white & black chana), urad dal, green gram
Dairy: Ghee, Butter, cheese, Curd or Yogurt, cottage cheese (paneer), tofu
Non Vegetarian: Egg yolk, chicken (stock or soup)
Spices: Turmeric, garlic, ginger, asafoetida, cumin seeds, pepper, coriander seeds, fennel seeds, caroms, fenugreek, mustard seeds, cinnamon, nutmeg, cardamom  (all can be added in little amounts, say a pinch)
Sample Food chart or Diet plan for 9-month-old baby
For 9 months baby, you can offer two meals and a snack that can be finger food or any light snack for a day. Rest should be breastfeeding or formula feeding. Also, if your baby is not ready for finger foods and rejects them same, offer mashed food instead. But continue trying Finger foods once a day for your baby. Hence I have given both options (finger foods & mashed food) in the diet chart. Choose the timings for meals and snacks according to your baby's preference.
How much quantity per day? -9 Months Baby Food Chart 
For the quantity of food, always be guided with your baby's hunger as appetite varies from baby to baby, and most babies change daily. Here is an approximate amount:
¼ to ½ cup of cereal
¼ to ½ cup of vegetables
¼ to ½ cup of fruits
2 to 3 tablespoon of dairy products
4 tablespoon of meat/protein
Introduce one food at a time and follow 3 days rule, which will help determine allergic reactions to a particular food.
9 Month old Baby Food Recipes -9 Months Baby Food Chart 
Here is the collection of 9 Months Baby Food Recipes. Please customize the below sample charts with the mentioned recipes that can be included in 9 months baby's diet based on availability, convenience, and your baby's preference.
Sample Food Chart for 9 Months Baby
Here is the sample 
food chart 
with recipes (please click on the hyperlink to get the recipes) for 9 month old baby.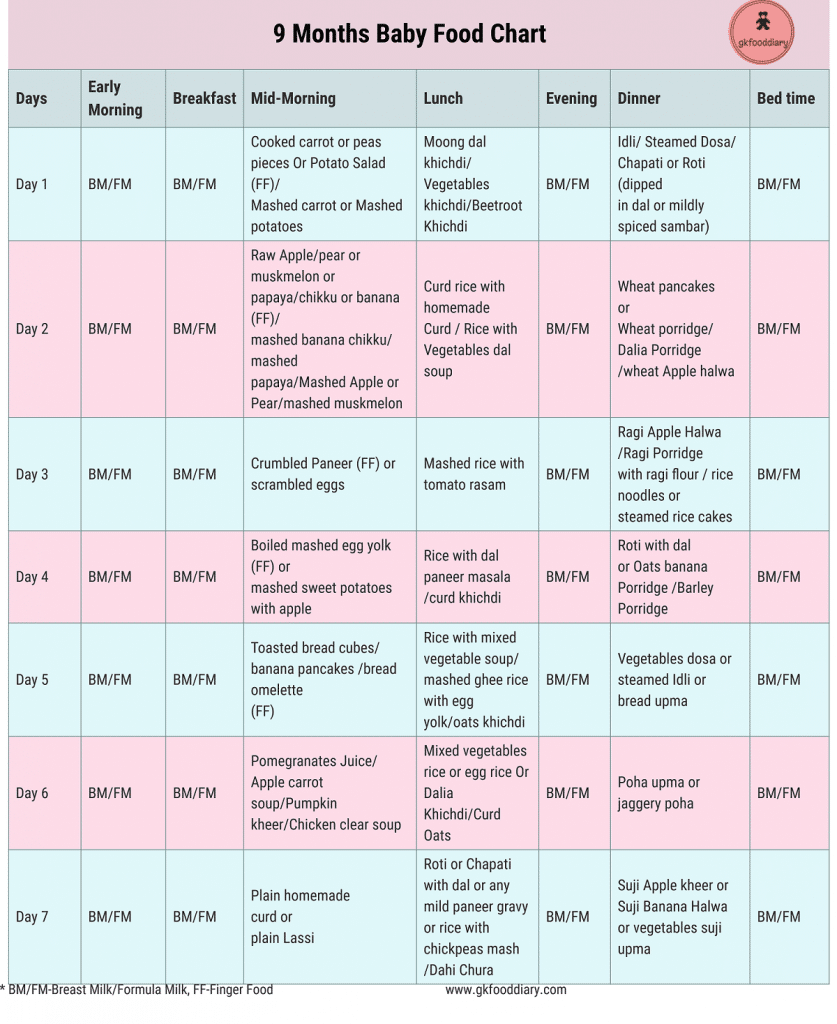 * BM/FM-Breast milk/Formula Milk, FF-Finger Food
Notes:
Sterilize the bowls and spoons in a vessel with hot water for five minutes and keep it immersed in the same vessel before feeding your baby.
Never introduce more than one food at a time when introducing solids to your baby.
Salt and sugar are not recommended in a baby's food until one year.
Check for allergy symptoms when introducing new food to your baby, and stop feeding your if you find any symptoms.
Feed your baby with breastmilk or formula milk on demand other than the timings mentioned in the chart.
This food chart shows what foods can be included in babies' diets in a particular month. It should not be considered medical advice.
Always check with your pediatrician before introducing any new food.
Steaming is a healthy option for baby food than pressure cooking. So I prefer steaming using an Idli pot or steamer.
Also, Check out the food charts for 6 months to 3 years of Homemade Baby food recipes