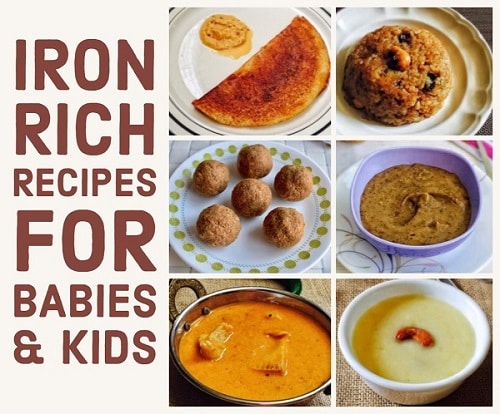 Iron is an essential nutrient that helps in brain development and good health; it is vital for babies and growing kids. Without enough iron, children may develop iron deficiency (anemia) which affects the immune system, growth, behavior and overall health. Read more on types of iron, symptoms of iron deficiency, good food sources of iron-rich food, quick and easy iron-rich recipes to increase the amount of iron in your kid's diet.
What is Iron?
Iron is an essential mineral and a component of hemoglobin(Hb) which helps the red blood cells to store and carry oxygen to all cells in the body. Without enough iron-red blood cells become small and pale, hence the muscles, tissues, and cells might not get the oxygen they need. This condition is called Iron deficiency which is the common cause of anemia.
Symptoms of Iron deficiency in Babies and Kids
Some of the common symptoms of iron deficiency include
Pale skin
Irritability
Less appetite
Physically less active
More prone to infections/cold
Slow weight gain
Fatigue
Breathlessness
How Much Iron do Babies & Kids Need?
Depending on age, children need different amounts of iron:
Babies below 6 Months: Infants who are breastfed get enough iron from mother's milk. If not breastfed, opt for iron-fortified formula milk after consulting with a doctor.
For Babies above six months and older kids, please refer to the table below for the recommended daily iron dosage.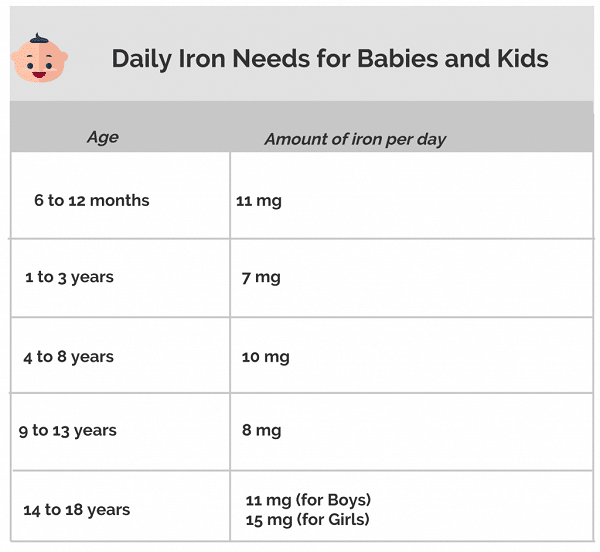 Source: Dietary reference
How to make the child's body absorb iron more?
Serve iron-rich foods along with Vitamin C rich foods, as Vitamin C helps in iron absorption. Some good Vitamin C enrich foods are Oranges, lemon, Strawberries, Indian gooseberry, Gouva, tomato, etc. For example, you could serve your child Poha upma with orange slices/orange juice or lemon juice after a meal.
Limit the Calcium intake (especially milk) between iron-rich meals as Calcium inhibits the absorption of iron. Give at least 4-5 hours of gap between iron and calcium-rich foods.
Cooking in iron vessels may help to leak some amount of iron into food. Make sure to take good care of the iron vessels so that it doesn't rust.
Good Sources of Iron for babies, toddlers, and Kids
There are two forms of dietary iron: Heme iron and non-heme iron.
Heme Iron: It comes from the iron in animal protein and more easily absorbed by the body, its usually found in meat, seafood, poultry.
Non-Heme Iron: Its found in both animal and plant-based foods. This form of iron is not readily absorbed by the body compared to heme iron, commonly found in legumes, pulses, grains, nuts, dry fruits, and seeds. It is one of the primary reasons vegetarians are more at risk to develop iron-deficiency than people who eat meat. To ensure the iron absorption always combine iron-rich vegetarian foods with Vitamin C.

Now Let's get on to check the list of foods and recipes that can be given to boost iron levels for your child. Bookmark this page for future reference as I will be updating this post on a regular basis. Click on each thumbnail image or recipe heading given below for the recipes.
Choose recipes according to your baby's age which is mentioned in the brackets along with recipe heading. Please refer to the notes section given at the end of the post for the key points to remember before offering iron-rich foods to your child.
Iron-Rich Recipes for Babies, Toddlers, and Kids
The recipes are classified into the below categories.
Non-Vegetarian Recipes :
Meat/poultry
Seafood
Eggs
Vegetarian Recipes :
Beans/Legumes/Lentils
Whole Grains and Millet
Dried Fruits/Nuts/Seeds
Vegetables
Fruits
Others
Non-Vegetarian Recipes :
1. Meat:
All types of meat, especially red meat is an excellent source of iron without inhibitors and absorbed quickly by the body. Mutton/lamb liver is high in iron as organ stores the maximum of heme iron. Lamb's liver contains 8.2 milligrams of iron per 100 grams (approx). But, it is important to remember that organ meats are also rich in Vitamin A and consuming too much is harmful to the kids and even adults. Once in a month, you can include mutton liver in a kid's diet.  Serve other parts of mutton/lamb weekly once as a mutton soup or curry.
Mutton Liver Masala/  Lamb Liver Fry (1 Year+) -  Tasty iron-enriched liver fry recipe made with lamb/mutton liver, onions, and pepper as main ingredients. Include this liver recipe for your family and kids only once a month.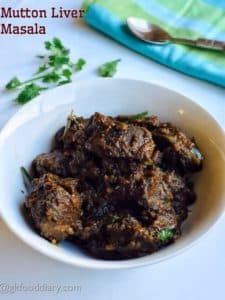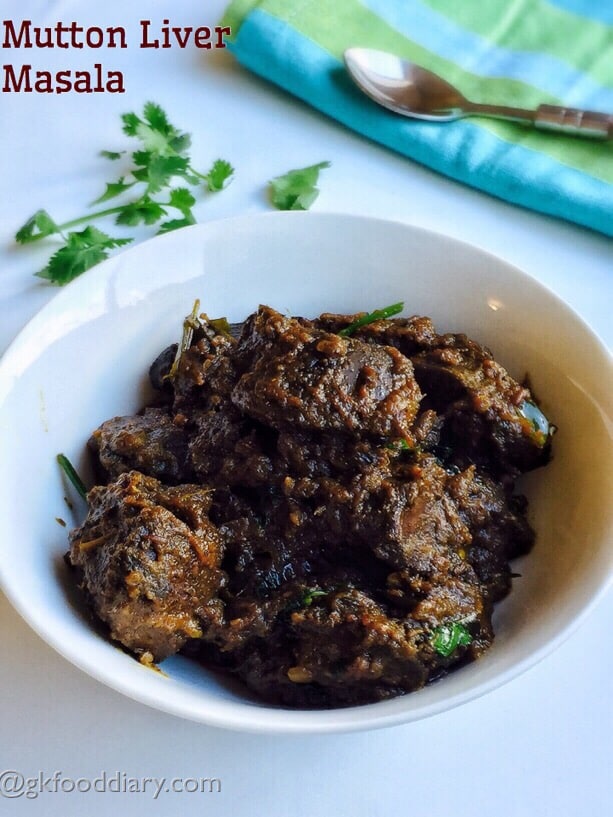 Mutton Soup (8 Months+) - Healthy Soup for toddlers and kids made with mutton/lamb and spices. Mutton soup is one of the natural and best ways to pump up your babies/kids iron levels.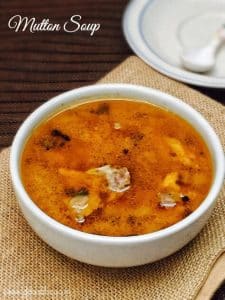 Poultry/Chicken is another best source of iron, especially chicken breast and liver. Chicken liver contains 12 milligrams iron per 100 gms (approx). Include a range of well-cooked chicken curry, chicken soup, chicken kurma as part of your kid's diet to add more iron!
Chicken Curry (1 year+) - Easy, quick, tasty chicken curry recipe with fewer spices, goes well with idly, dosa, chapati, and rice! The chicken and tomato in the recipe provide the required iron.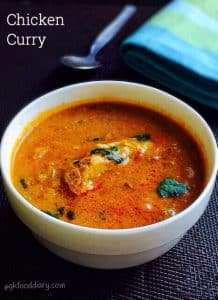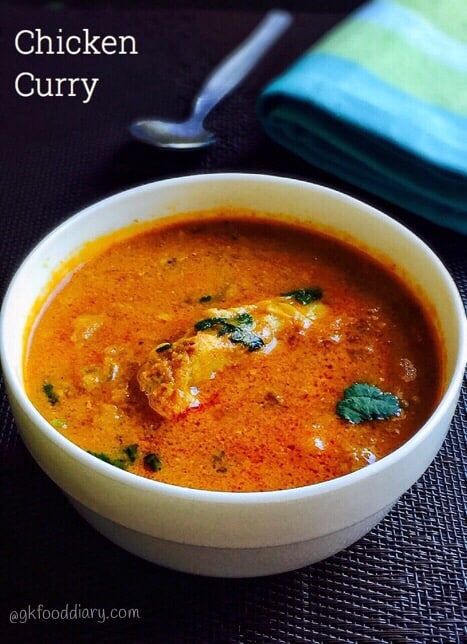 Chicken Soup (8 Months+) -  Chicken soup is made with onions, ginger and garlic are packed with iron, also helps to boosts the immune system as well.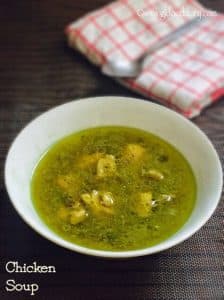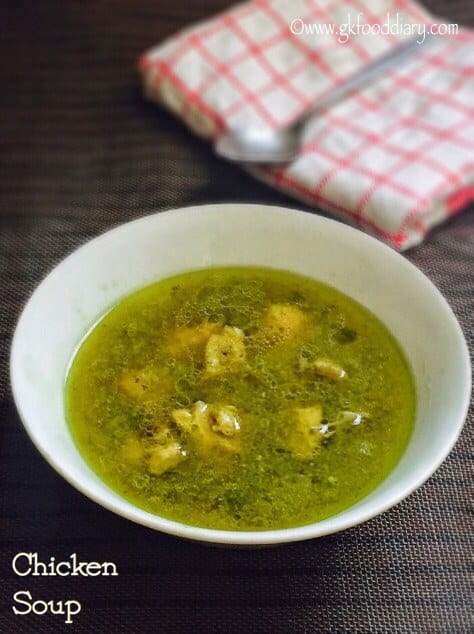 Chicken Kurma (1 Year+) - Try this easy chicken kurma with rice or chapati for a great source of iron!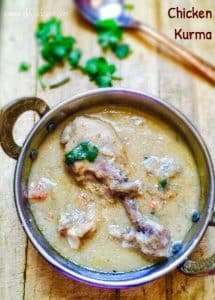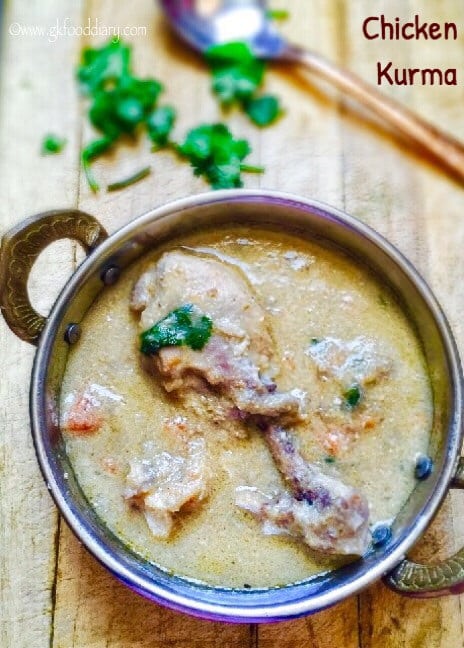 3. Eggs
Eggs are readily available cheapest source of iron and other nutrients. One large boiled egg contains 0.6 mg of iron (approx). From simple boiled eggs, sandwiches, pancakes, omelets, egg curry to egg rice you can easily include them daily as a part of your kid's diet. Make sure to cook the eggs thoroughly as soft-boiled or raw eggs may contain salmonella bacteria.
Egg Sandwich (1 year+) - Sandwiches are kids favorite, the iron-rich egg sandwich recipe is easy to make, yet filling and delicious as breakfast or a quick evening snack. The whole wheat bread is another iron contributor in this recipe!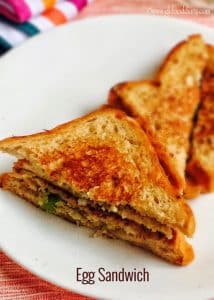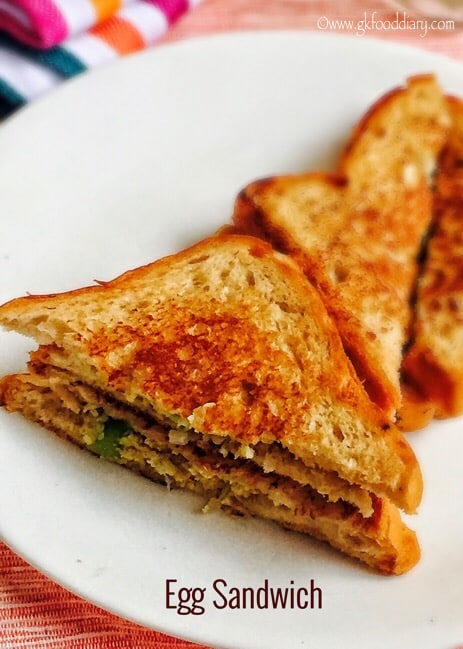 Egg Oats Omelette (8 Months+) - easy, quick and healthy recipe with oats, eggs, and vegetables. These healthy oats egg omelet is an excellent source of iron with the goodness of oats.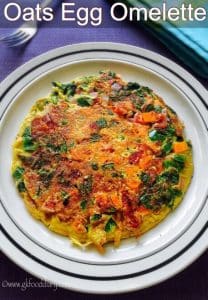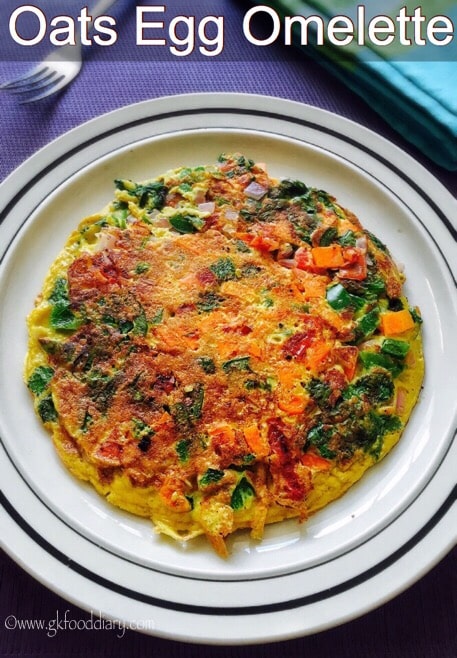 Egg Spinach scramble (8 Months+) - Scrambled eggs recipe with spinach, eggs, onions, and cheese. Spinach egg fry is a healthy meal or snack option loaded with protein, vitamins, and iron. Use amaranth leaves to get more iron in this recipe.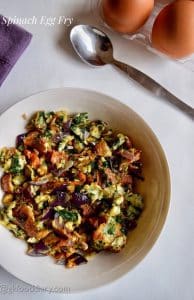 Egg Banana Pancakes (8 Months+) - Banana egg pancakes are the best finger foods for babies and great snack options for kids. This simplest pancakes can boost your kid's iron intake as well!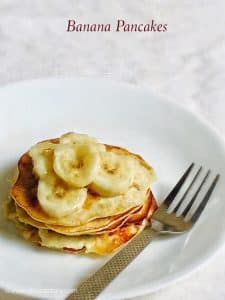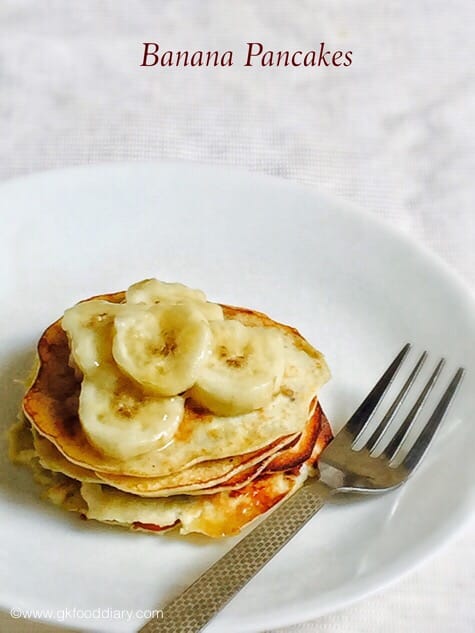 Simple Egg Curry (10 Months+) - This egg curry is packed full of iron, excellent side dish for rice and even for chapati/roti. Tomato is another iron contributor in the egg curry!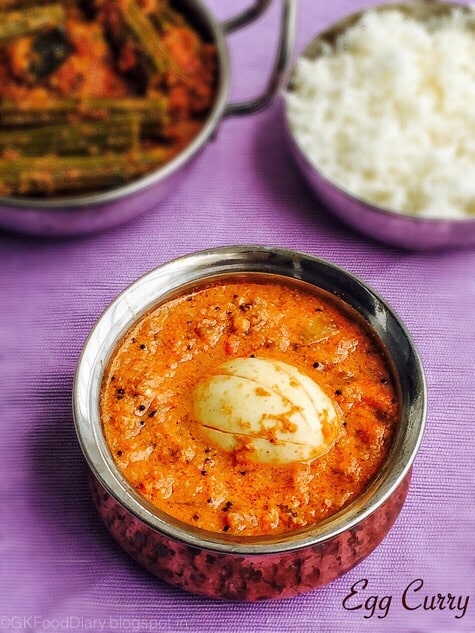 Check out more on the collection of egg recipes for babies and kids with information on how and when to introduce egg to babies.
4. Seafood
Fish and shellfish are significant sources of heme iron and omega-3 fatty acids. Prefer including fish with low mercury levels like the sardine, salmon, tuna, red snapper, pomfret, etc. Include fish at least once or twice a week as part of your child's diet to boost the iron levels.
Salmon Fry (1 year+) -  Indian style mildly spiced, shallow fried, kids friendly salmon fish fry recipe. 100 gms of cooked salmon contains 0.3 mg of iron (approx). This simple salmon fry can boost the kid's iron levels quickly. Be sure to add the lemon juice while serving to help the absorption of iron.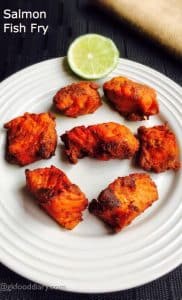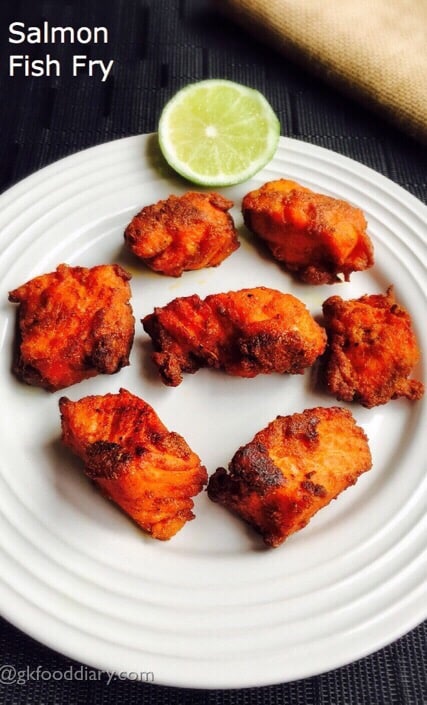 Fish Curry with coconut milk (1 year+) - Mildly spiced fish curry with coconut milk is apt for babies and kids. The fish and coconut milk provide much of the iron in this delicious fish curry.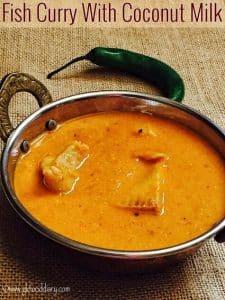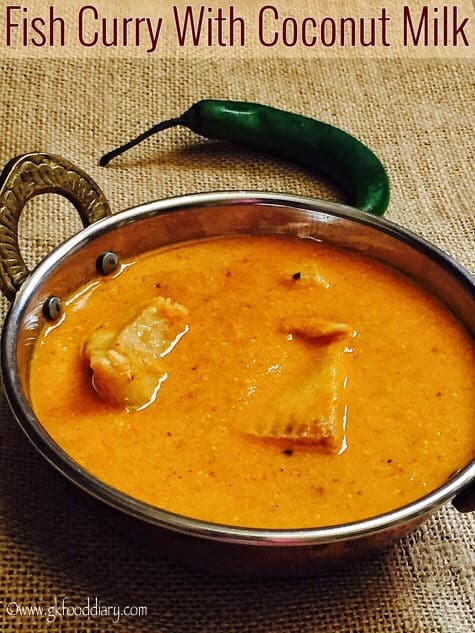 Pomfret fish fry (1 year+) - Like salmon fry, pomfret/butterfish fry is packed full of iron. Also, it can be done so quick and sure kids will enjoy this fry!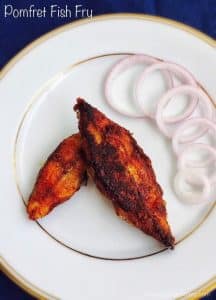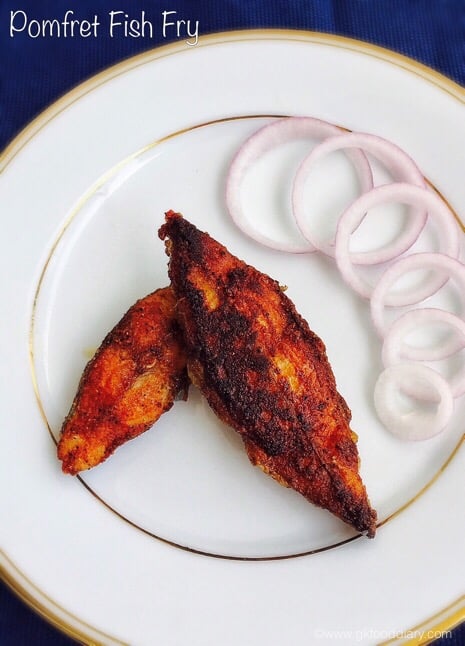 Vegetarian Recipes
1. Beans/Legumes:
Beans and legumes can be a great source of iron for vegetarian kids. Include all varieties of dried beans to meet the daily iron requirements. Prefer soaking them in water overnight or a few hours and cook it to get the maximum iron from it.
Chickpeas (Chana), Black-eyed peas(lobia/Karaamani), Kidney beans(Rajma) are the most significant sources of iron. Though soybean contains more amount of iron among all bean varieties, they are high in phytic acid that may be harmful to children.
Chickpea with vegetables (8 Months+) - Chickpea/Chana mash with vegetables is a great way to introduce chickpeas to babies, ½ cup of cooked chickpea contains  2.3 mg of iron (approx). For older kids, you can serve this recipe without blending.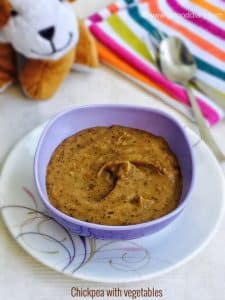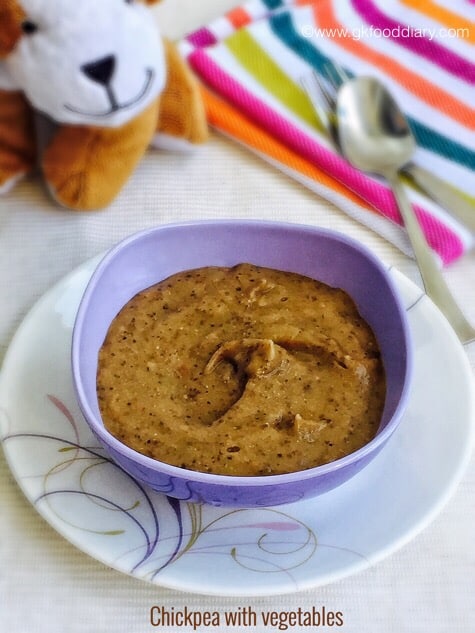 Chickpea rice/Chana Rice (1 year+) - Chana/channa/chole biryani is a healthy protein-packed wholesome meal that can be made under 40 minutes. Its best for the kid's lunch box and helps to boost the iron levels in a flash.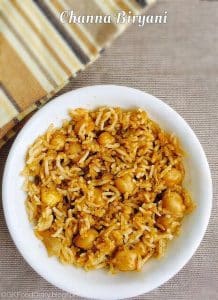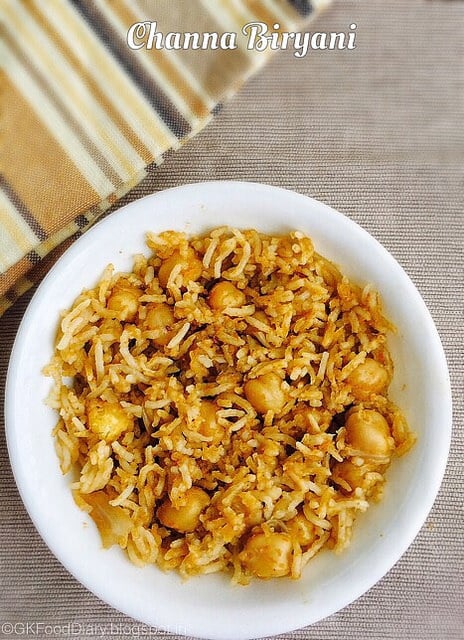 Black-eyed Peas sundal (1 year+) -  Soaked and cooked black-eyed peas sweetened & flavored with cardamom and coconut. One cup of boiled black-eyed peas contains 1.8 mg of iron(approx). Jaggery adds iron and deliciousness to this simple black-eyed peas sundal.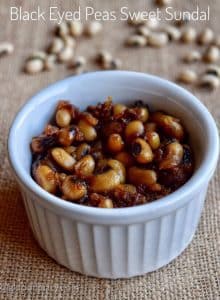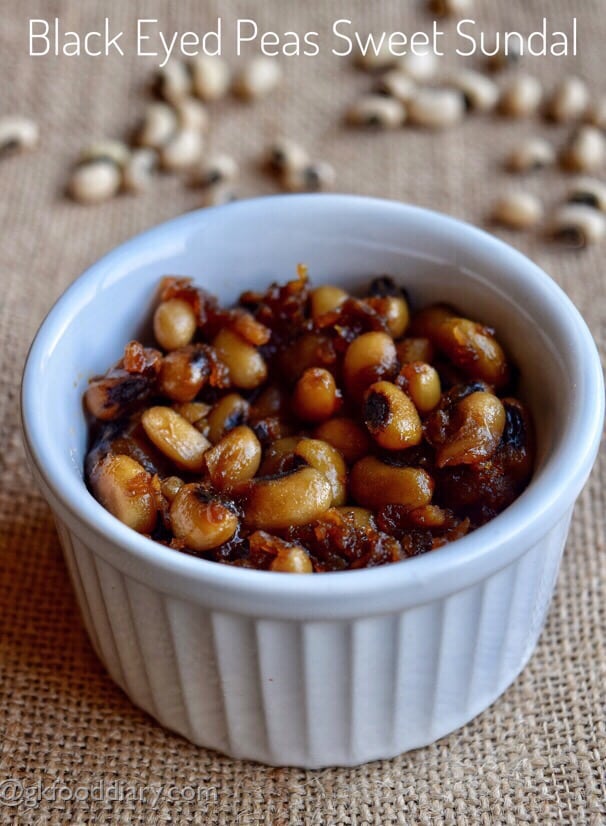 Kidney beans(Rajma) can be included in the same ways as chickpea/black-eyed peas. I will update the post with more kidney beans recipes for babies and kids soon.
2. Lentils
Like beans, lentils are another best source of iron. Lentils like Green gram, Pigeon pea (arthar/tuvar dal), Moong dal, Bengal gram, and Roasted Bengal gram dal contains some reasonable amount of iron. You can prepare a variety of dishes with lentils such as dal, dosa, pancakes, sprouts and sweet dishes like halwa, kheer, and ladoos. Here are some ideas to include a variety of lentils in your kid's diet.
Mixed lentils pancakes - (1 year+)  Mixed Lentils Sweet Pancakes/Vella Adai is a healthy and tasty pancakes/ adai for toddlers, kids and for the whole family. These pancakes are filled with protein and iron as it is prepared with mixed lentils and jaggery.
Check out another iron-rich recipe prepared with mixed lentils, mixed lentils powder which is suitable for kids from one year.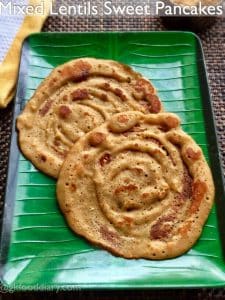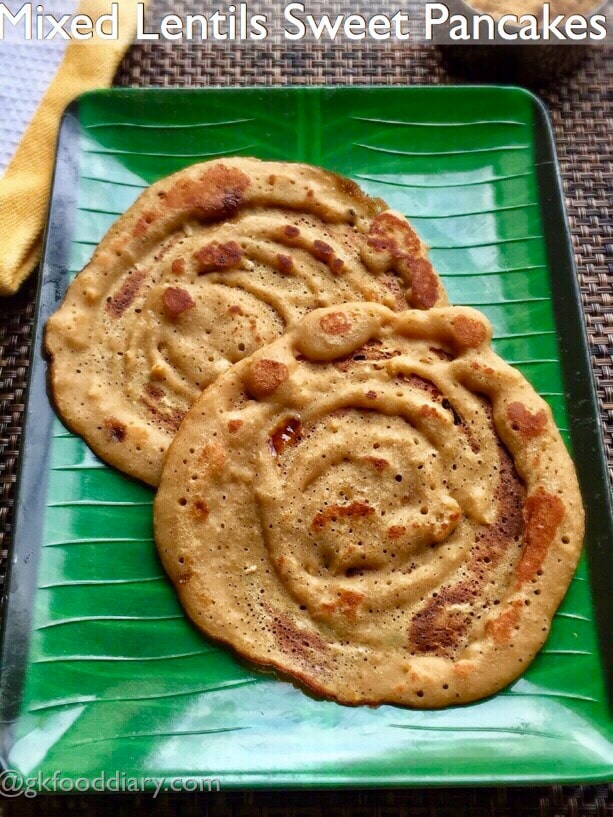 Green Gram Porridge (10 Months+) - Green Gram Porridge/ Whole Mung Porridge/ Pacha Payaru Kanji is a healthy porridge recipe made with green gram and jaggery. Green gram (a half cup of cooked green gram contains 1.4 mg of iron (approx)) and jaggery provides iron in this delicious porridge, and it is best suitable for babies and toddlers.
Check out another iron-rich whole mung/ green gram recipes too: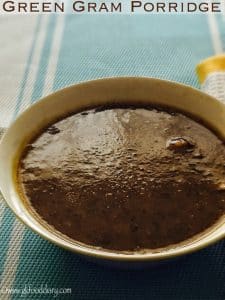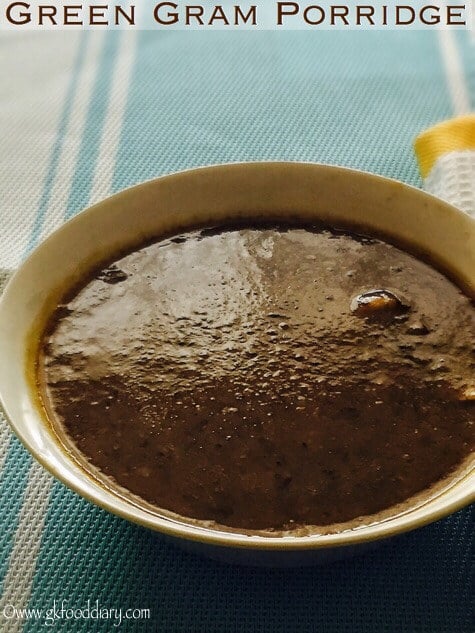 Bengal Gram Vada (1 Year+) - Masala Vada/ Masala vada/Paruppu Vada/ Lentils fritters is a crispy deep-fried snack made with chana dal, onions, coriander leaves, and cumin seeds. Bengal gram vada is a great way to add some iron (½ cup of cooked Bengal gram contains 2.2 mg of iron (approx)) and for sure children would love to dig in this iron-rich snack!
Here is one more iron-rich recipe with Bengal gram:  Roasted Bengal Gram Ladoo (1 Year+) for kids.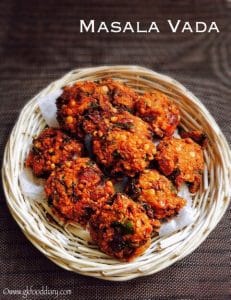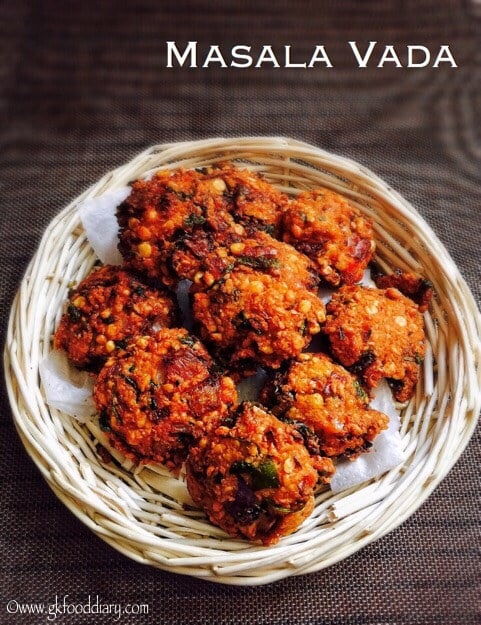 Moong Dal Kheer (8 Months+)  -Easy and healthy dessert made with moong dal, nuts, and coconut milk! This moong dal kheer is the easiest recipe to make with moong dal, tastes delicious and also rich in iron!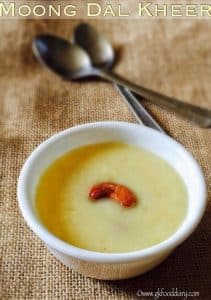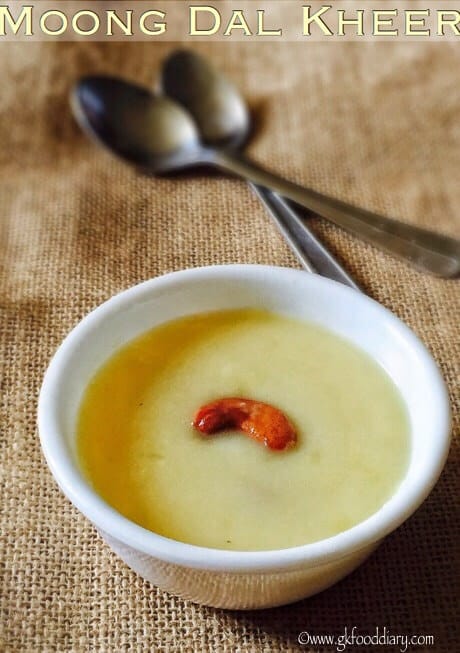 Moong Dal Khichdi (8 Months+) -Easy, quick, one-pot wholesome, comforting meal made with the pressure cooker. Dal khichdi is the best nutritious food for babies and kids with a healthy dose of protein and iron!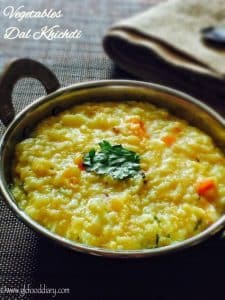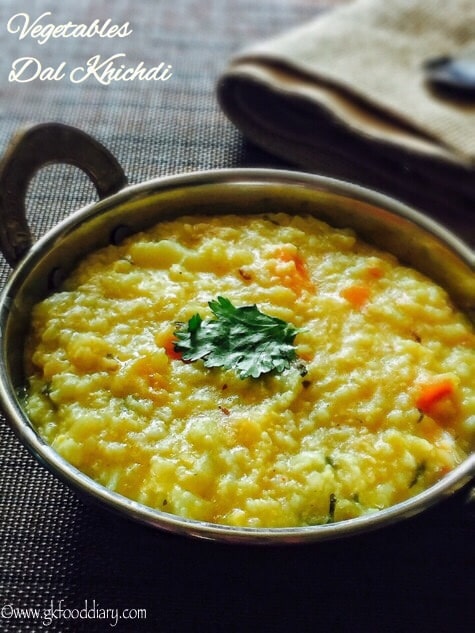 Toor Dal Rice (10 Months+) - Nutritious, mildly flavored rice made with toor dal. Dal rice tastes so delicious that kids will enjoy it and they get benefited from, the added iron( ½ cup of boiled toor dal contains 0.95 mg of iron (approx))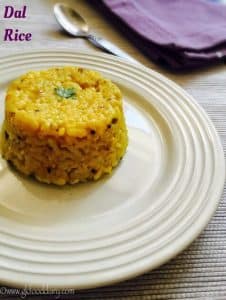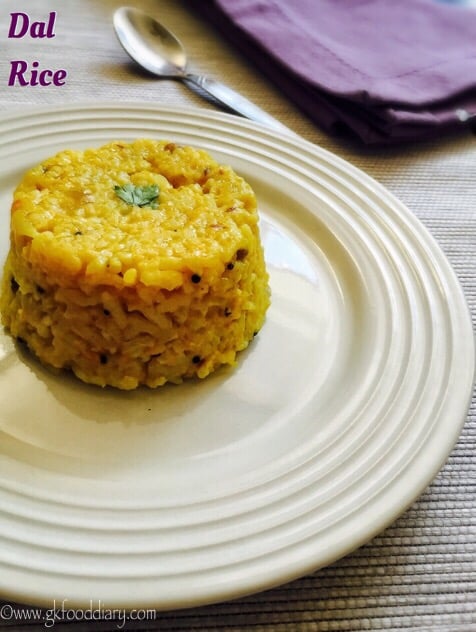 Pepper Dal (10 Months+)  - A comforting food for winters made with Indian lentils and tempered with freshly grounded pepper. It is a very easy recipe to make but yet tastes so delicious and a great way to add some iron in your kid's diet.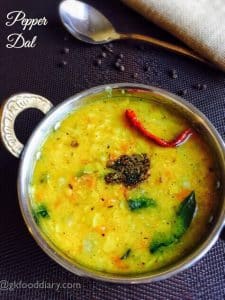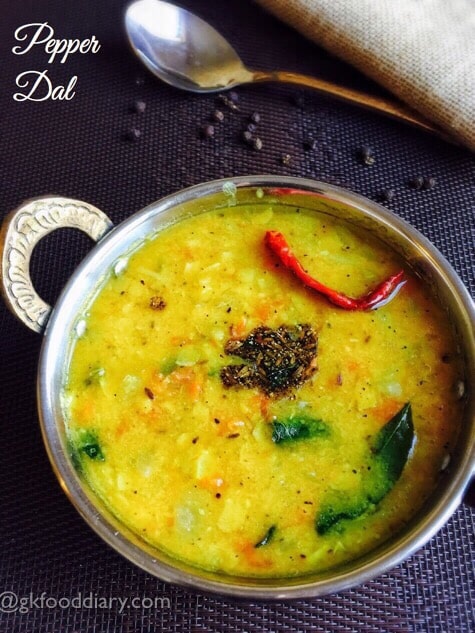 Toor dal Spinach Khichdi (10 Months+) -Easy, quick, one nutritious pot meal made with a pressure cooker. Spinach dal khichdi is a great way to scoop up some iron in a kid's diet.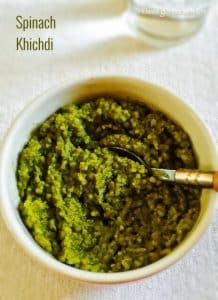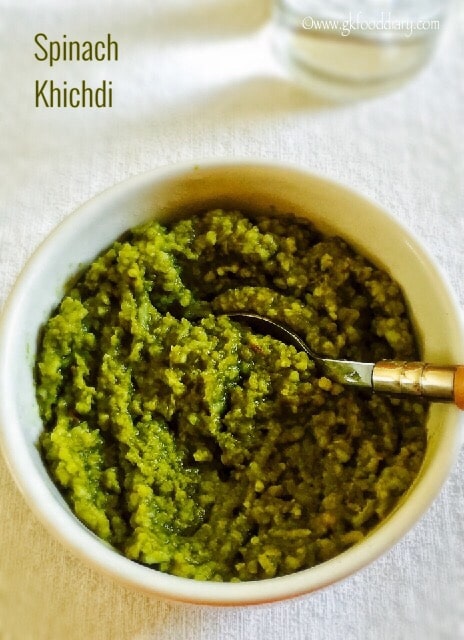 Also, Check out the full collection of lentils recipes
3. Whole Grains and Millet
Whole Grains and millets are pretty good sources of iron. Include Poha(Flattened Rice), Oats, Whole wheat flour, Multigrain flour, Bajra (pearl millet), Semolina, Whole wheat pasta, Quinoa in the form of upma, dosa, porridge, sweets in a regular diet to maintain the iron level in kids. Iron-fortified bread and Iron-fortified breakfast cereals are also other good options to add more iron to your child's diet.
Rajgira Ladoo (1 Year+) - Among the whole grains, Amaranth(rajgira) tops the iron-rich list and hence include it at least once a week in the form of ladoo, roti, kheer, etc. Rajgira Ladoo/Ramdana Ladoo/Amaranth Ladoo is a healthy ladoo recipe made with amaranth seeds and jaggery syrup. Also, try out other iron-enriched rajgira recipes: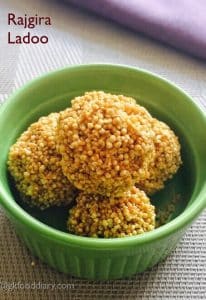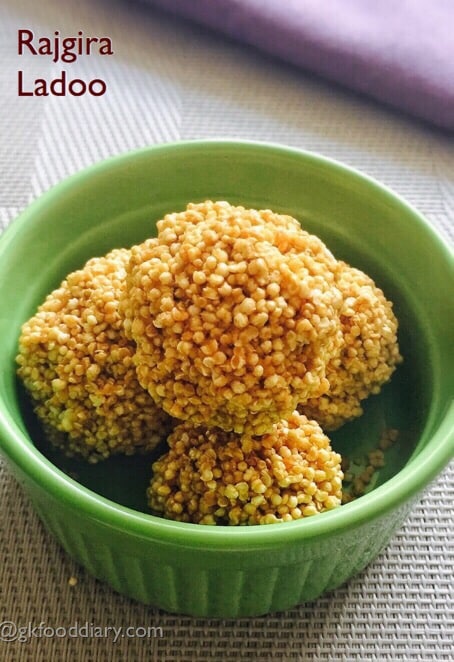 Poha Balls (1 Year+) - Easy and quick recipe made with poha, jaggery syrup, coconut, and nuts. Two iron-rich ingredients poha and jaggery combined to create this wonderful delicacy.
Also, Check out other poha recipes to boost the iron intake!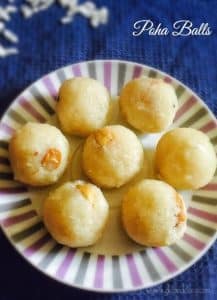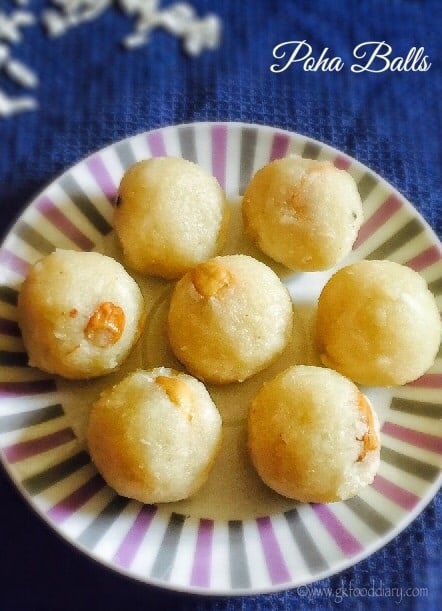 Bajra Dosa (10 Months+) - Pearl millet being rich in iron, it's essential to maintain the hemoglobin level of babies and kids. Bajra Dosa/Pearl millets Dosa/Kambu Dosa is healthy wholesome food for babies, toddlers, and kids. It is one of the easiest ways to include bajra in kids' diets and can be given to babies from 10 months once the baby started eating all family foods.
Also, check other bajra recipes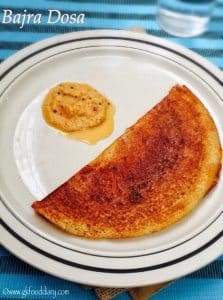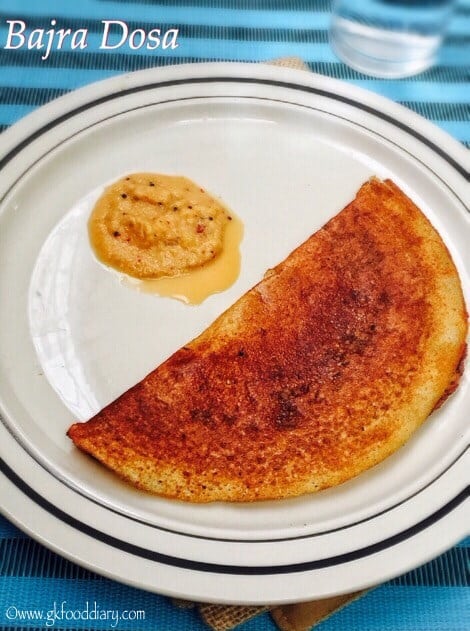 Broken Wheat Halwa/Broken wheat lapsi/Broken wheat Kesari (8 Months +) - Broken wheat/dalia and apple are good sources of iron and is a healthy dessert for babies, kids and for the whole family. This hearty dessert is every bit as delicious and still add some iron into your body.
Check out other iron-enriched dalia/broken wheat recipes
Oats Moong Dal Dosa (8 Months+) - Easy, healthy and wholesome dosa recipe with oats and moong dal which is apt for breakfast/dinner. Including oats regularly in kids helps to keep anemia at bay.
Check other iron-rich oats recipes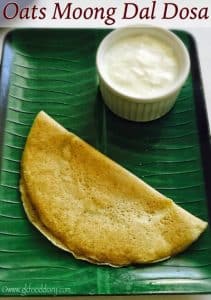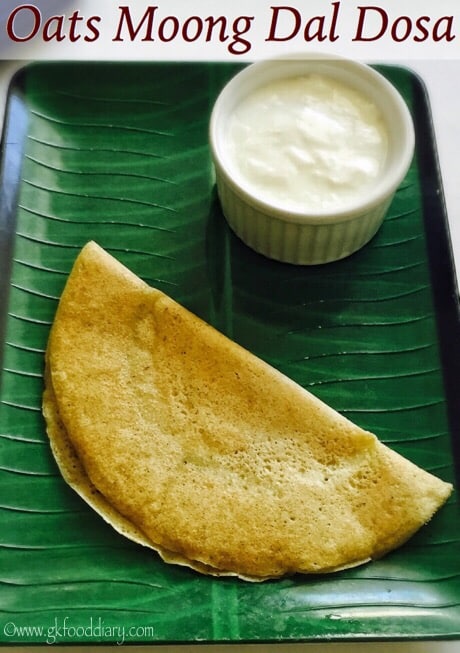 Quinoa Upma (1 Year+) - Quinoa a pseudo-grain, technically a seed is rich in iron and protein! 4 ounces of quinoa contains 4 mg iron (approx).  Quinoa upma is a great way to include quinoa & vegetables to the kids menu. It is a nice variation to the usual upma varieties and tastes good as well. Try yourself to believe it!
Other quinoa recipes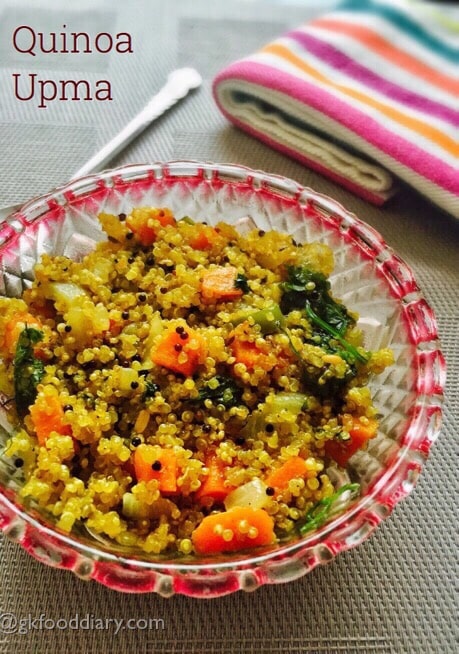 Avocado Pasta (1o Months+) - Avocado & whole wheat pasta both are good sources of iron, and it makes a super easy healthy breakfast or quick snack option for kids and family!
Check out other whole wheat pasta recipes
Barley porridge (6 Months+) - Barley is an excellent iron-rich source for vegetarian kids (1 cup of cooked pearl barley contains  2.1 mg of iron (approx)). This barley porridge makes for a smooth, iron-filled porridge that can be combined with any fresh fruit like banana or apple.
Also, try barley water for babies and kids. Barley Water (6 Months+)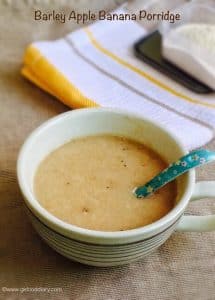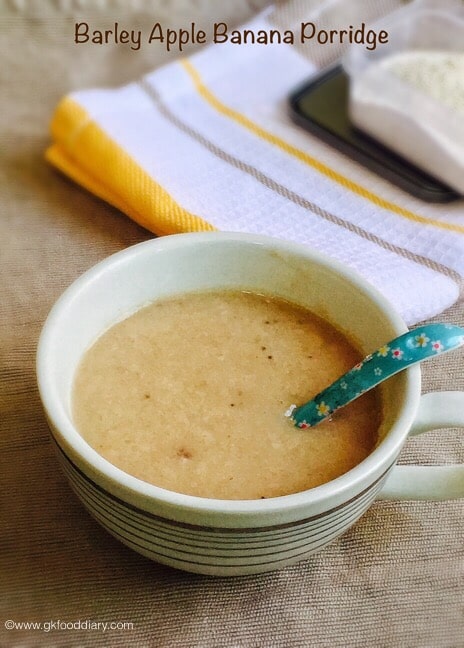 5. Dried Fruits, Nuts and Seeds
Dried fruits, nuts, and seeds are readily available sources of iron and super beneficial for non-meat eaters.  Its always good to take nuts or seeds in moderation to get the full benefits. Soaking the nuts/seeds helps in more iron absorption.
Dry Fruits and Nuts
Cashews, Almonds, Pistachios, ground nuts, raisins, prunes, figs, dried peaches, dates, and apricots are some wealthy sources of iron. Choose good quality sulfate-free nuts and dry fruits for the best results. You can give nuts and dry fruits as a snack in between meals for older kids. For small babies add to baby food in powdered or paste form as whole nuts are choking hazard.
Dry Fruits & Nuts Powder (8 Months+) - Powdered Mix of nuts and dry fruits which can be added to the porridge's, desserts, purees or milk. Other recipes you could try with nuts and dry fruits are listed below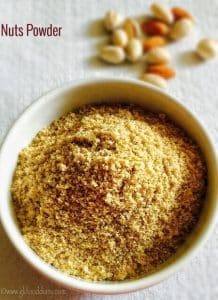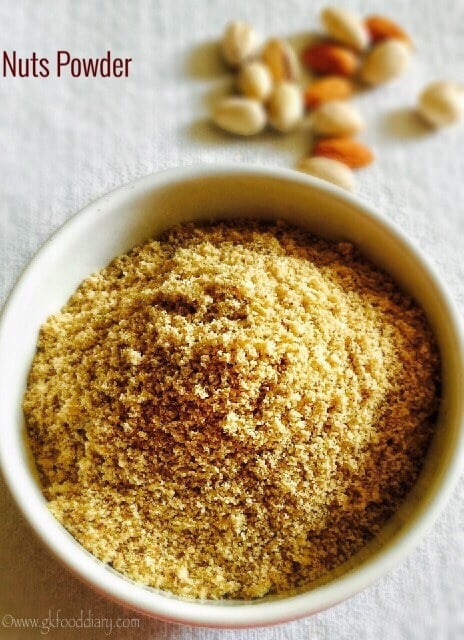 Seeds
Sesame seeds, fenugreek seeds, sunflower seeds, flax seeds, pumpkin seeds, mustard seeds, and coriander seeds are some excellent sources of iron which can be used to prepare rice, curry, ladoo, smoothies, chutney, dip, etc.
Sesame Peanut Ladoo (1 Year+)- Healthy, iron, and protein-rich balls made with peanuts, sesame seeds, and jaggery. This sesame ladoo can be given for one year and makes a tasty, healthy snack. Best iron-rich recipe for toddlers and kids that can help keep anemia at bay.
Other recipes with sesame seeds are: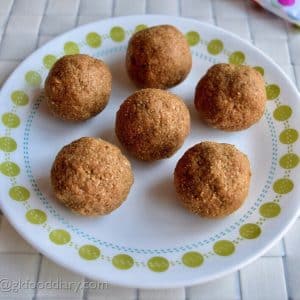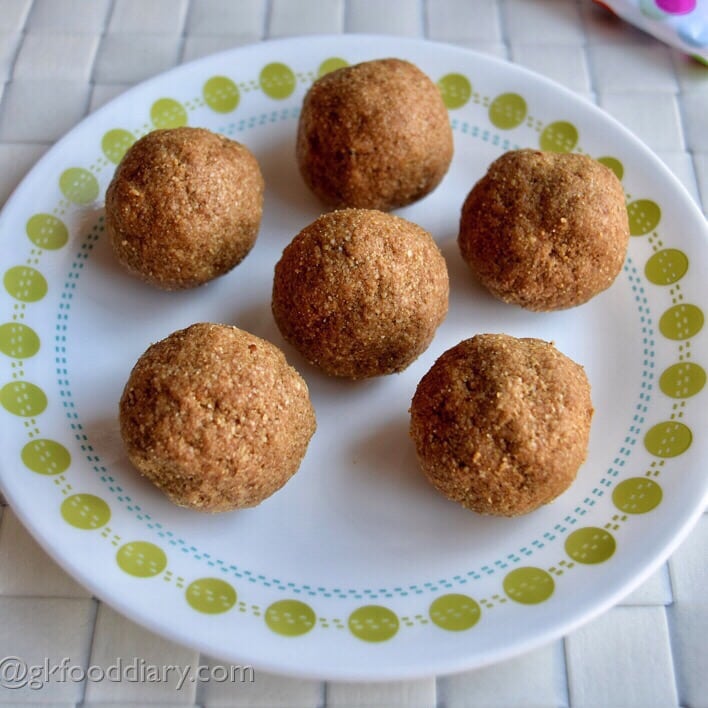 6. Vegetables
Vegetables are not the best source of iron compared to meat, but dark green leafy vegetables like Drumstick leaves, Curry leaves, Fenugreek leaves, Mint leaves, Coriander leaves,  Amaranth greens(mulai keerai), Spring onions are some excellent sources of iron and can be included in daily diet to get the full benefits. Other vegetables like Potato (with skin), Broccoli, Green peas, Beetroot, Pumpkin, Drumstick, Sweet potato, Tomatoes also have some amount of iron.
Check out some iron-rich vegetable recipes below
7. Fruits
Fruits contain the least amount of iron compared to other iron food sources, but fruits with their high vitamin C helps in overall iron absorption. Also, Fruits can be a great snack option for kids. Serve them whole or as a fresh fruit juice, milkshake or smoothie.
Some good sources of iron-rich and Vitamin C fruits include Amla (Indian Gooseberry), Pomegranate, Watermelon, Black Jamun, Black grapes, Plums, Strawberries, Avocado, Apples, Bananas, and oranges provide some amount of iron. As far as possible stick with fresh fruits rather than canned fruits.
Check out some iron-enriched fruit recipes
8. Others
Other pretty tasty and delicious sources of iron are Palm Jaggery, Palm Sugar, Jaggery, Dark Chocolate, and cocoa powder! Although the iron content isn't very high in palm jaggery/ jaggery, it still provides a good source of iron that helps to prevent anemia. Use this in sweets, kheers, and juices instead of sugar. Make sure to use good quality and fresh palm jaggery/jaggery.
Dark chocolate and cocoa powder is also a rich source of iron. One small piece of dark chocolate has 5 mg of iron, and a cup of cocoa powder has 23 mg of iron as per studies. Choose good quality pure cocoa powder and 80% dark chocolate. You can include them in cakes, cookies, etc. in moderation.
Some recipes with Palm Jaggery, Palm Sugar, Jaggery and cocoa powder
Important Note: 
The information provided here are guidelines and doesn't replace medical advice.
If your child's iron levels are too low, your doctor may prescribe to take iron pills.
Don't self-treat your child anemia with iron-rich foods. Always follow your child's doctor's instructions for treatment after a proper diagnosis.
Make sure you have introduced each food separately and checked for allergies.
Always check with your child' s pediatrician before giving any food.