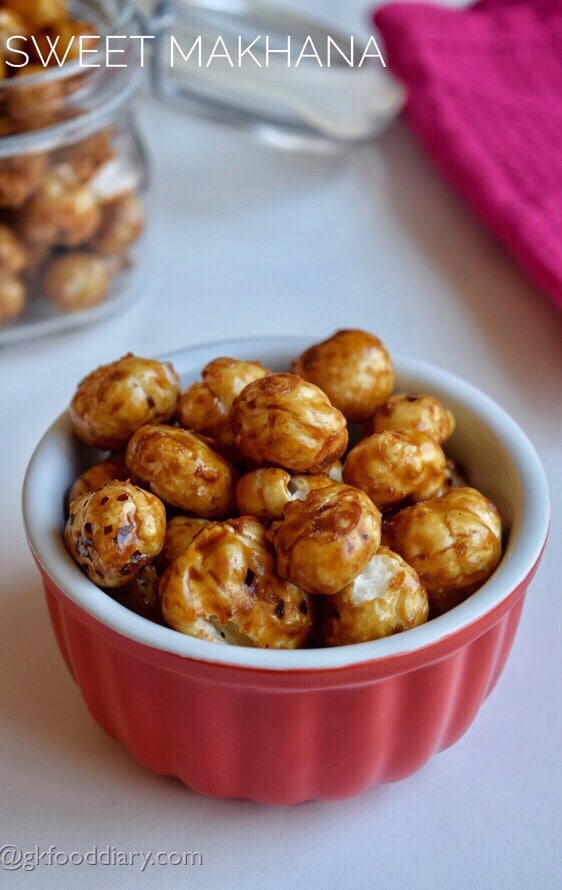 Sweet Makhana -roasted puffed lotus seeds/fox nuts sweetened with jaggery, which makes a healthy snack for kids. I have already shared a spicy version of roasted Phool makhana; this is a sweet version of it. It tasted good and got over in no time 🙂 Check out more Phool makhana recipes for babies and toddlers here.
Now let us check out how to make sweet makhana recipe for toddlers and kids
Sweet Phool Makhana Recipe for Toddlers and Kids | Gur Makhane
Sweet Phool Makhana -sweetened and roasted fox nuts. A great healthy snack for kids.
Ingredients
Phool Makhana - 1 cup

Ghee -1 tsp

Jaggery - ¼ cup + 2 tbsp

Cardamom -1
Instructions
Measure Phool makhana and Jaggery. Keep it ready.

Heat a teaspoon of ghee in a pan and melt it. Then add the Phool makhana to the pan and start roasting in a low flame.

Roast the makhana until crispy, and you should be able to break easily with your fingers. Once the Phool makhana is roasted well, remove from the pan. Then add in powdered Jaggery, 1 tablespoon of water along with cardamom. Heat it in low, medium flame until it starts to bubble up nicely.

Add in roasted Phool makhana at this stage and switch off the flame immediately. Then mix it gently.

Keep stirring continuously until the Jaggery is well coated with makhana. Remove the pan from the stove once done. Cool it down and store them in an airtight container.
Nutrition