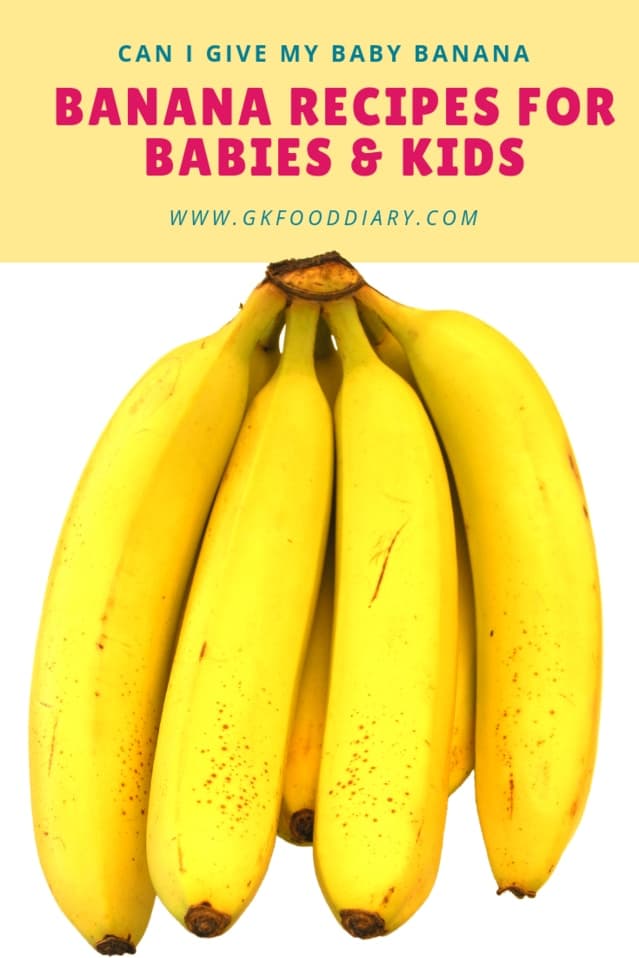 Banana is a superfruit and its a great source of energy, a variety of minerals, vitamins, and antioxidants. Mashed banana/banana puree makes the best first food for babies. As it is soft in nature, sweet in taste, easily digestible and less allergenic. Also, it helps in healthy weight gain in children.
Here are some ways to include banana in your baby's diet. Read more to know information about the nutritional benefits of banana, best banana varieties for baby, how and when to introduce Banana to baby, etc.
When can I introduce Banana to my baby?
You can introduce a banana to your baby from 6 months. When you start banana, begin with a small variety of mashed ripe banana/banana puree in the daytime. Avoid unripe bananas as it's not easily digestible and may cause constipation in babies. Gradually you can combine bananas with other fruits too. Some right combination to mix with bananas are:
How to select and store Banana for Baby Food
Choose yellow bananas with fewer brown spots. Only firm-ripe bananas should be given to babies. Raw bananas are not suitable for babies as they are hard to digest. Also, avoid overripe bananas for babies. Stop feeding the bananas to your baby if the baby is constipated or got cold after introducing a particular banana variety.
If you purchased, unripe bananas leave them at room temperature until it ripens. Don't store the unripe bananas in the refrigerator or plastic bags.
Best Banana Types for Baby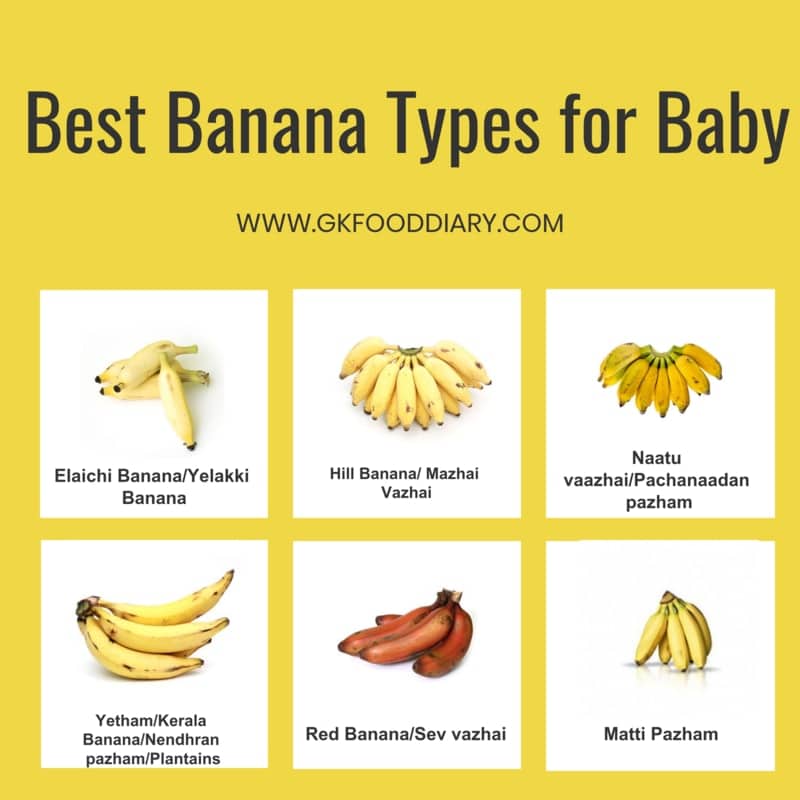 Many varieties of bananas are available across the world, here are some well-known banana varieties that are suitable for babies
Small banana Varieties –  Small banana varieties are sweet and easily digestible which is not hybrid is ideal for babies as the first food. In India, Elachi banana/Yelaki Banana, Hill banana (mazhai vazhai), Matti pazham (popular variety in south Tamilnadu) are the suitable type of bananas, to introduce for babies.
Kerala bananas/ Yetham/ Nenthram/ Ripe plantain - It is another nutrient-rich banana variety, which should be steam cooked and given to babies. Check here on the details about Kerala banana for babies here.
Red Banana/Sevazhai pazham: It can be introduced to babies around ten months after introducing small variety of bananas and Nendran/ Plantain variety. Red Banana is particularly useful for improving immunity, preventing anemia and constipation in babies.
Naatu vaazhai pazham/Pachanaadan pazham: Its a more nutrient and fiber-rich banana variety available in Tamilnadu. Nattu vazhai may cause indigestion for some babies and hence introduce it to babies after one year when they are eating a variety of family foods.
Hybrid variety bananas: They are believed to increase cold and cough in babies. Hence please avoid feeding them to your baby. Also If you are choosing long variety of bananas, opt for organic ones.
Nutrients in Banana
Here is the nutrition information of 1 small Banana (101 g)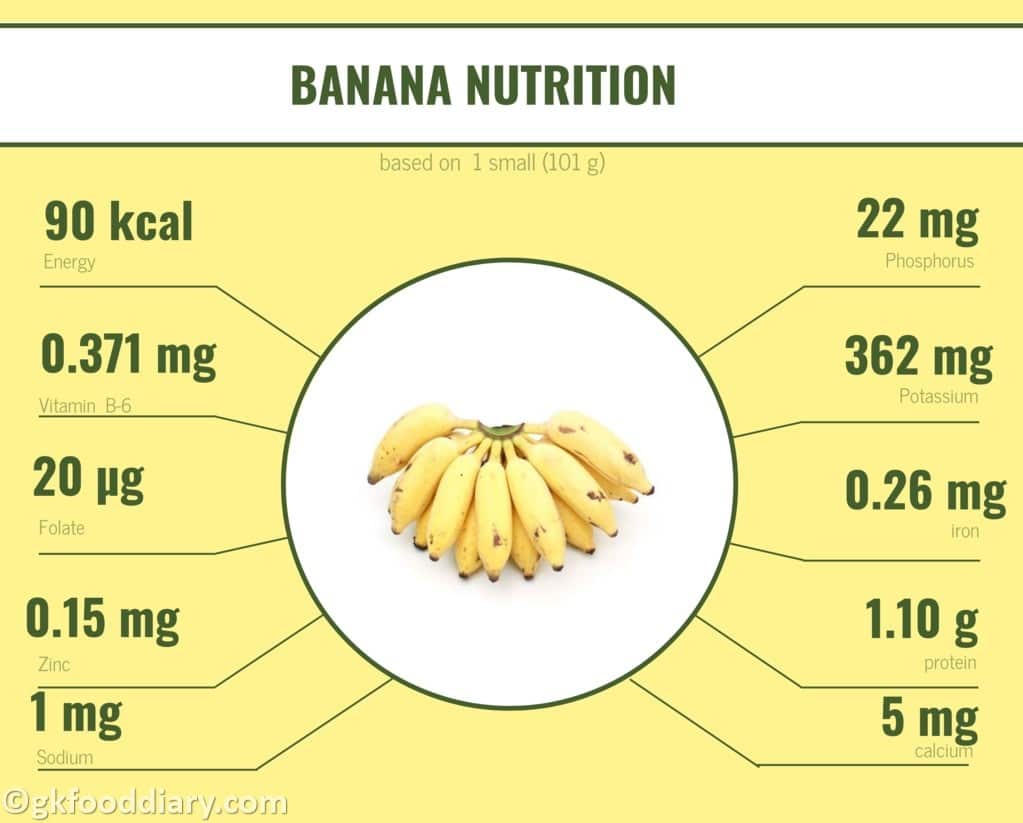 Health Benefits of Banana for Babies and Toddlers
Banans is a healthy Weight gaining food for babies and growing kids as its rich in starch.
Calcium in banana helps to improve children's bone health.
Bananas are loaded with dietary fiber and easily digestible which helps to prevent constipation in babies and kids. Word of caution here: Too much of banana intake may lead to constipation in some children
Potassium present in bananas contributes to good heart health.
It helps in treating upset tummies and diarrhea.
It gives instant energy and keeps your child active throughout the day.
Rich in Vitamins that encourage baby development.
 Banana Recipes for Babies, Toddlers, and Kids
Here are some delicious recipes to include bananas in your baby's diet.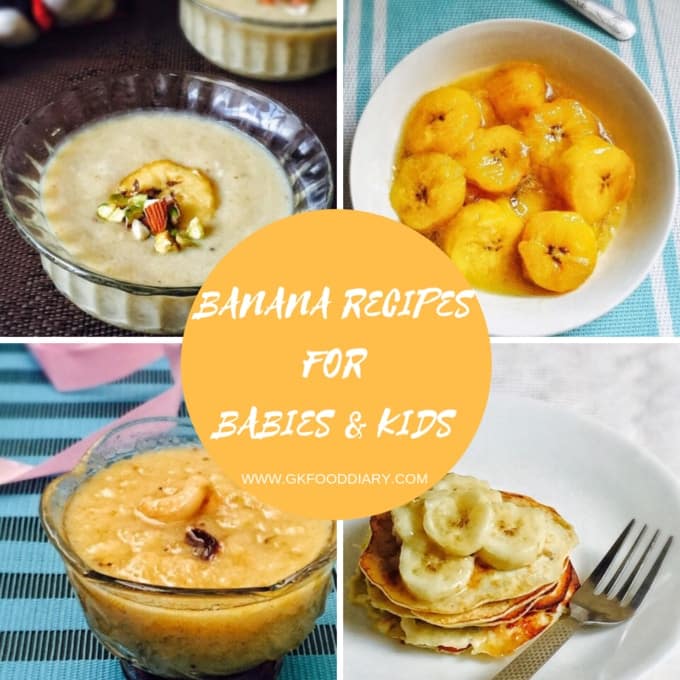 Raw & Ripe Kerala bananas/ Yetham/ Nenthram/ plantain Recipes for Babies, Toddlers, and Kids
Here is the collection of Kerala bananas/ Yetham/ Nenthram/ Ripe plantain recipes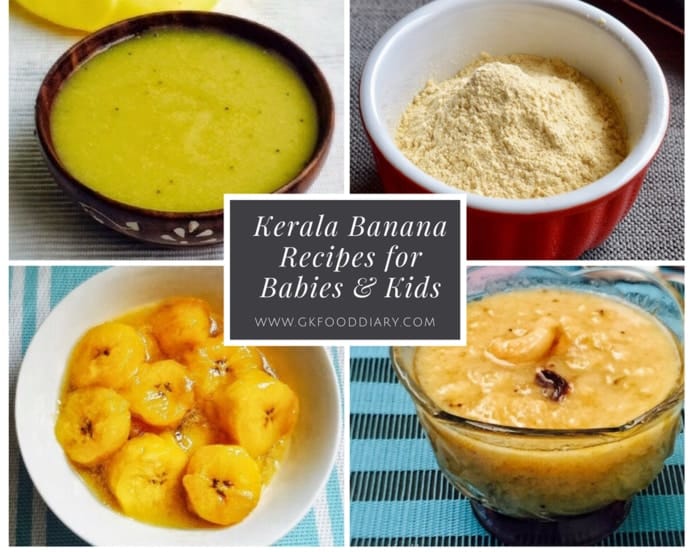 Do try all these yummy homemade banana baby food Indian recipes:)