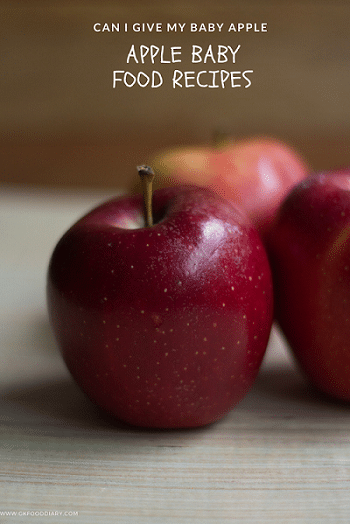 Apples are one of the most popular fruit and you can find them in every part of the world! Apples are full of fiber, antioxidants, and vitamins. Consuming an apple a day can keep most of the disease at bay.
Apple is a wonderful fruit for babies and growing kids. They are easily digestible and packed with nutrients. Apples are known for their versatility, you can prepare porridge's, snacks, kheer, cookies, cake, pancakes, juices, milkshakes, smoothies and much more with it!!
Here are the new, tasty and fun ways to incorporate apples into your child's diet with more information about the health benefits of apples, how and when to introduce Apple to baby, etc.
When can I introduce Apple to my baby?
Apples are one of the best first food for babies and can be given for 6 months. When you introduce apple to your baby, you can offer as apple puree/applesauce. Peel the apples, remove the seeds, cut into cubes, steam and puree it until your baby turn 8 months to ensure easier digestion. After 8 months you can include raw apples (without skin) in the form of puree/mash or grated. That can be given directly or mix it with cereals, porridge's, other fruit purees or any baby food.
You can also give cut raw apples as finger food to your baby/toddler after 8 months. It's a good idea to peel the skin until your child is able to handle the peels.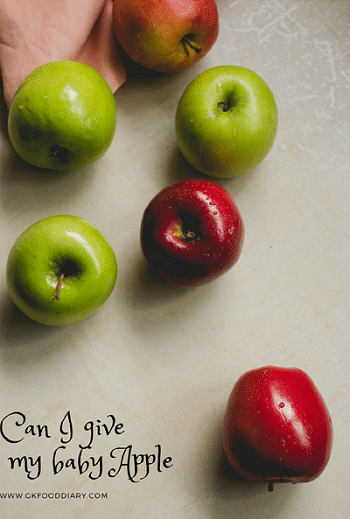 How to select and store Apple for Baby Food
Choose apples that are firm, discolored and no cuts/bruises. Buying organic is recommended if available.
There are different types of apples available in the market. Choose sweet tasting apples for baby. Gala, Red Delicious, Granny Smith, Fuji are some examples of sweet apple varieties.
Store the apples in the refrigerator after buying. Cut the apples when needed and use it immediately to avoid discoloring.
Nutrients in Apple 
Here is nutrition information of one small-sized red delicious apple (158g)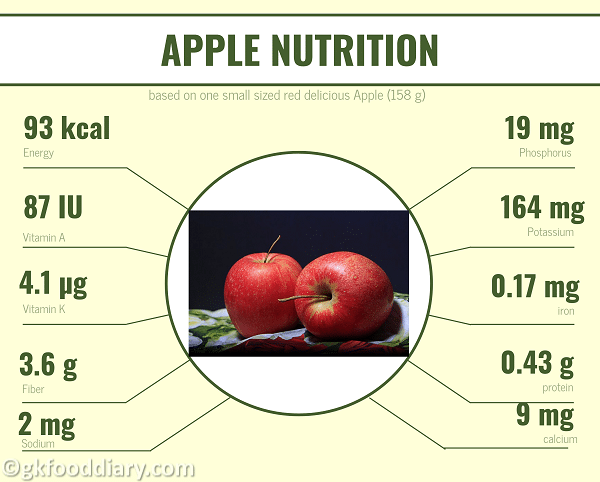 * Source - USDA
Health Benefits of Apple for Babies and Toddlers
Apples are a great source of fiber which is good for digestion and prevents constipation in babies.
Antioxidants in apples help to prevent many diseases including cancer.
Apples have a good amount of calcium and protein. That helps to build & maintain strong bones and teeth in children.
Vitamin A in apples supports the immune system, also it is good for skin and eye health.
Apples are good for dental health. Apples act as a cleanser to remove the bacteria in the mouth by activating activate the production of saliva in the mouth.
Eating apples regularly prevent babies and kids from skin diseases.
Apple is good for preventing/treating asthma in children according to some studies.
Apple Recipes for Baby & Toddler
Give these apple recipes a try, your baby will certainly fall in love with this delicious fruit. With over 15+ apple recipes to choose from, you won't be short of ideas!