Jump to:
Fruit Purees for Babies: a collection of homemade, easy-to-make, tasty, and nutritious fruit purees for babies with a step-by-step guide. Fruit purees are loaded with nutrients and vitamins and are easily digestible, making excellent food for babies.
Homemade fruit purees are less expensive and have preservatives free compared to store-bought baby food. Here are some easy and nutritious 15+ fruit purees for babies. Also, check out our collection of homemade baby food recipes for 6-12 months here.
Please bookmark this page for future reference, as I will update this post regularly. Click on each thumbnail image under each fruit puree heading for the detailed recipe. Choose recipes according to your baby's age which is mentioned in the brackets and the recipe heading.
Points to note while preparing fruit purees for your baby:
Steaming fruits are recommended for easier digestion until the baby is eight months old. Steaming fruits helps to break them down and ensure easier digestion in small babies. Please note that few fruits like banana, kiwi, and avocado are the exceptions and require no cooking.
Always serve the fruit purees fresh and warm, though some purees can be frozen. Better to consume the purees within 2 hours of the preparation.
Make sure to introduce each fruit separately before you try combination fruit purees with your baby.
You can mash the fruits with a fork or masher instead of using a blender/mixer.
If the puree is too thick after cooling down, you can adjust the consistency by adding breast milk/formula milk/ cow's milk, or warm water.
If the recipe calls for formula milk, make sure not to boil/cook it. Prepare the puree with water, and once the puree is warm, add prepared formula milk.
If your baby is allergic to any ingredient used in the fruit purees, please remove it while preparing.
15 Natural and Nutritious Fruit Purees for Babies:
1. Apple Puree/Apple Sauce (6 Months+) :
Apples are sweet, mild, and easily digestible, making them an ideal first food for babies. The apple sauce is loaded with Vitamin C, one of the favorite purees for most babies. Choose sweet-tasting apples like Red Delicious and Gala variety to make this puree.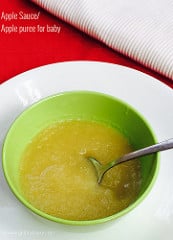 Check out Apple Puree recipe here
2. Avocado Puree (6 Months+) :
Avocados are rich in nutrients, and this avocado puree can be made quickly as no cooking is required. Some babies don't prefer the bland taste of avocados. Hence it is a good idea to mix avocados with bananas. Make sure to use ripe avocado for baby food.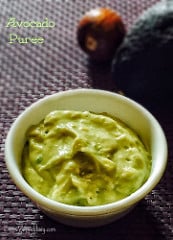 Check out Avocado Puree recipe here
3. Pear Puree (6 Months+) :
Pears are sweet and loaded with fiber which prevents constipation in babies. Pear puree is an ideal first food for babies next to apples, as they are less allergenic. Choose ripe pear for making this pear puree.
Check out Pear Puree recipe here
4. Banana Puree (6 Months+) :
Banana is another excellent food for babies, loaded with potassium and sweetness. It is so creamy and light on the baby's little tummy.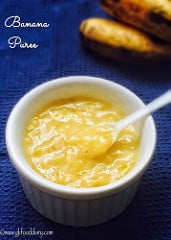 Check out Banana Puree recipe here
5. Muskmelon Puree/Cantaloupe puree (6 Months+) :
Muskmelons are juicy and soft. Hence it is an ideal fruit for babies. This muskmelon puree is loaded with antioxidants and fiber, which helps to prevent digestion issues and constipation in babies.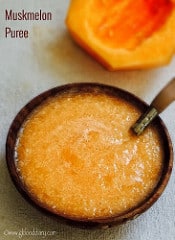 Check out Muskmelon Puree recipe here
6. Papaya Puree (6 Months+) :
Papaya is a juicy and nutritious food for babies. This papaya puree tastes good, even plain, but if your baby prefers to combine them with apples or bananas after introducing each fruit separately.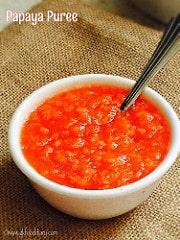 Check out Papaya Puree recipe here
7. Prunes Puree (6 Months+) :
Prunes are filled with fiber and fight against constipation. This prunes puree can be served plain or added to baby cereals or porridge.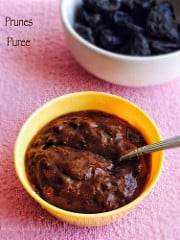 Check out Prunes Puree recipe here
8. Kiwi Puree (8 Months+) :
The Vitamin C-rich kiwis are acidic and are not as good as the first food for babies. This kiwi puree is a great way to introduce kiwi to babies; it's also effortless to make as it requires no cooking.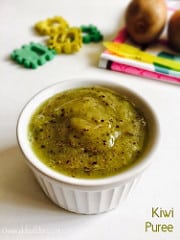 Check out Kiwi Puree recipe here
9. Mango Puree (8 Months+) :
Mangoes are sweet and loaded with vitamin A, but it is not an ideal first food for babies because of its acidic nature. This mango puree is quick to make puree as no cooking is evolved.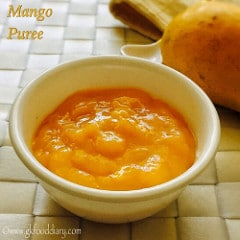 Check out Mango Puree recipe here
10. Watermelon Puree (8 Months+) :
Watermelon is a healthy & nutritious fruit that is good for the baby's eye development and heart health. This watermelon puree is ideal for babies from 6 months, and babies will surely love it for its sweet taste.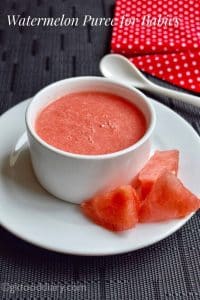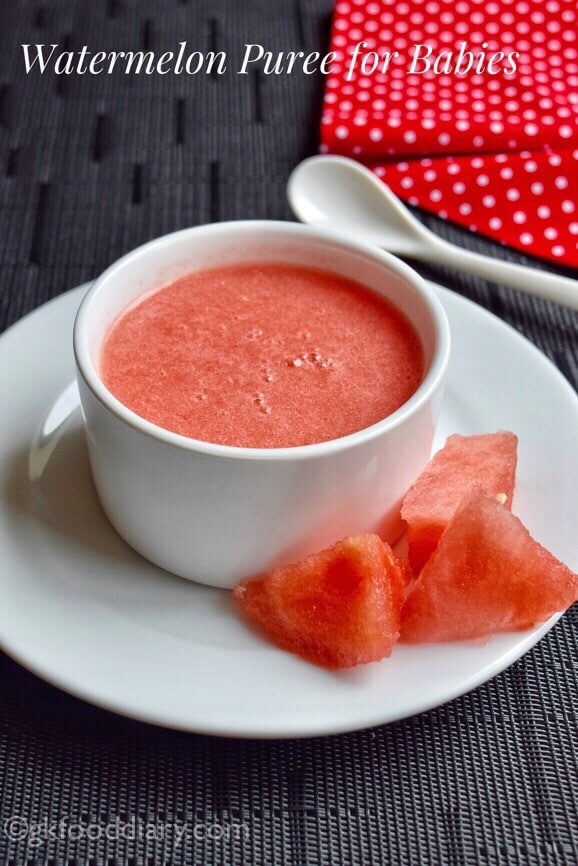 Check out Watermelon Puree recipe here
11. Apple Pears Puree (6 Months+) :
Apple and pears make a great combination, and this apple pears puree is a perfect way to introduce the flavor of combination fruits to your baby. Make sure to give apple and pear separate before you try this apple pears puree.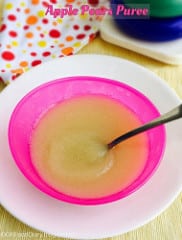 Check out Apple Pears Puree recipe here
12. Apple Puree with Banana (6 Months+) :
Apple banana puree is rich in nutrients, flavor, and taste. It also makes a filling and wholesome food for babies. Make sure to introduce apple and banana separately before you try this apple banana puree.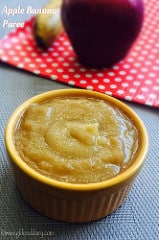 Check out Apple Banana Puree recipe here
13. Nendran Kerala Banana Puree (7 Months+) :
Steamed Nendran banana puree is a nutrition-rich and filling food for babies. It helps in weight gain too.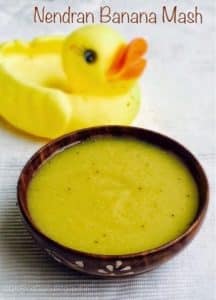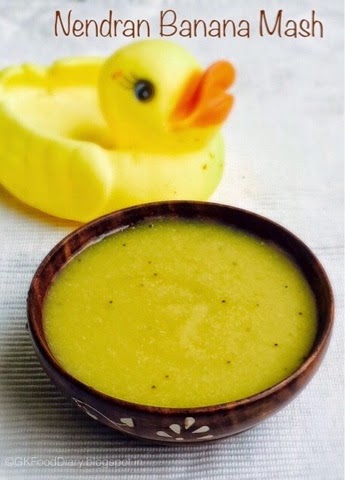 Check out Nendran Kerala banana mash recipe here
14. Cranberry Apple Sauce (8 Months+) :
Cranberry Apple Sauce/Cranberry puree – healthy cranberry apple sauce recipe for babies made with fresh/frozen cranberry and apples. It is a nutritious food for babies as cranberry is rich in Vitamin C, which helps to improve immunity.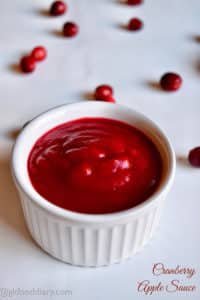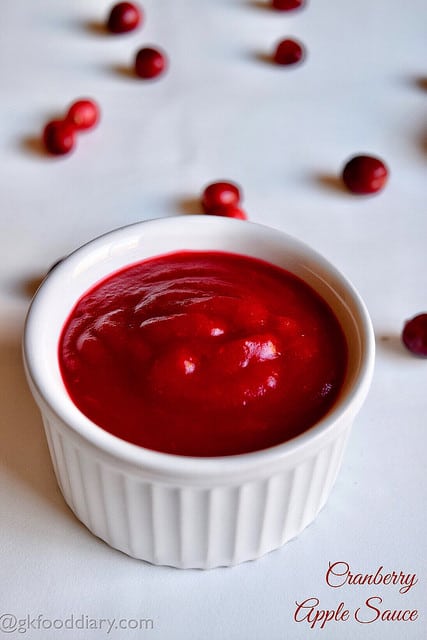 Check out Cranberry Apple Sauce recipe here
15. Plums Puree with banana(6 Months+) :
Plums are rich in Vitamin C and fiber, making excellent food for babies fighting constipation. Adding Banana to this plum puree makes it creamy and yummy and also compliments the sharpness of the plums.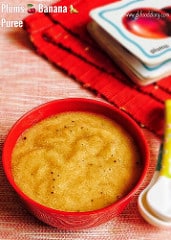 Check out Plums Banana Puree recipe here
16. Chikoo banana puree (7 Months+) :
Chikkoo/Sapodilla/Sapota is full of fiber. It helps in preventing constipation in babies. This chikoo banana puree is a tasty and creamy puree for babies, and there is the least possibility that a baby can say no to this. It also requires no cooking, and hence this puree is ideal during travels.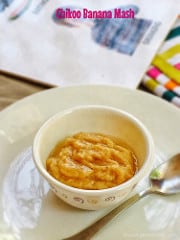 Check out Chikoo banana mash recipe here
17. Paneer Fruits puree (8 Months+) :
Nutritious calcium and protein-packed puree recipe for babies with Paneer, aka cottage cheese and fruits. You can add any of your baby's favorite fruits and make this puree. It tastes so good that babies will love it!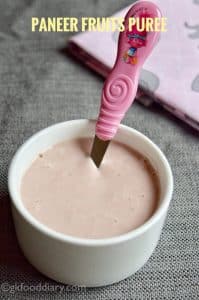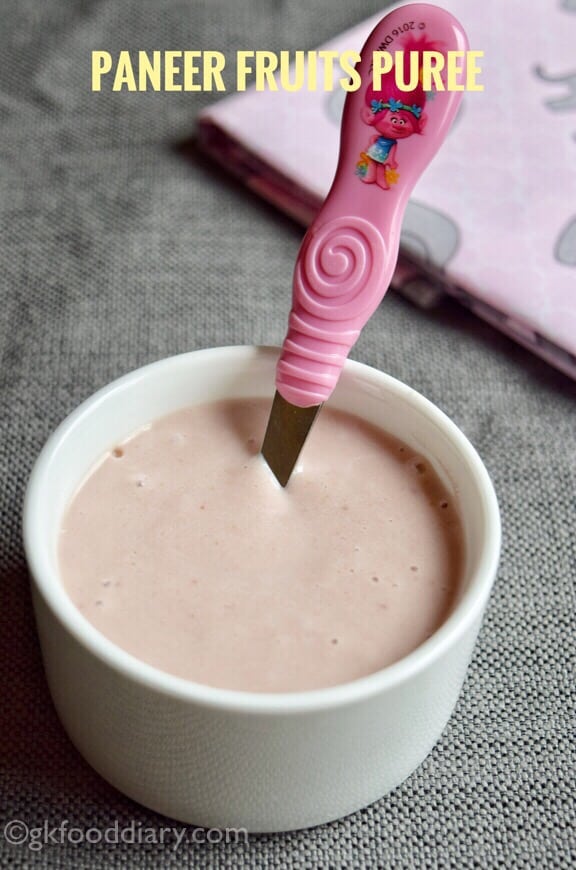 Check out Paneer Fruits Puree recipe here
18. Dried Figs puree (6 Months+) :
Dries Figs (also known as Anjeer/Athi Pazham) is an excellent dry fruit and the best remedy to relieve constipation in babies, toddlers, and kids. When you give figs puree to babies for the first time, start with ½ teaspoon to 1 tsp. Gradually increase the amount according to the baby's tolerance level.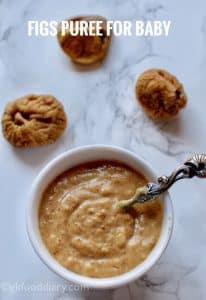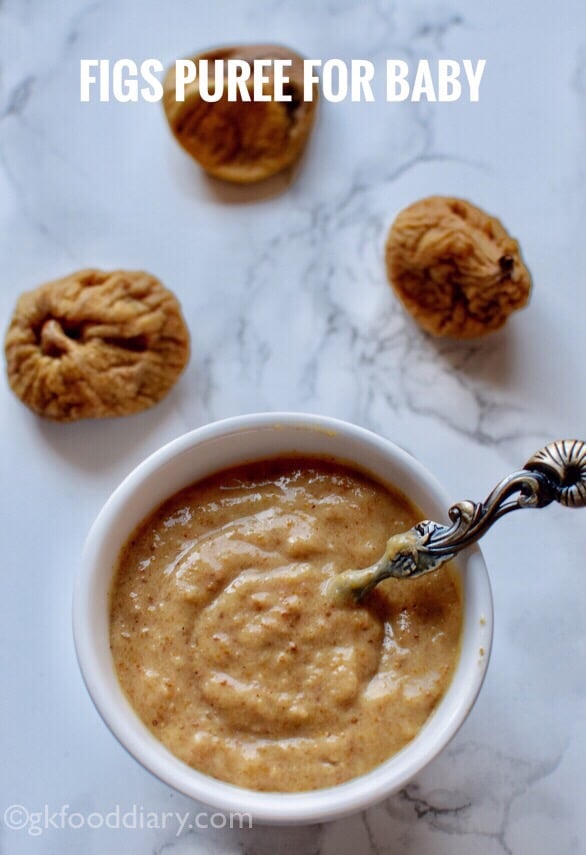 Important Note:
Ensure you have introduced each fruit separately and checked for allergies before trying any combination of fruit purees.
Always check with your pediatrician before giving any food.
Avoid salt and any sugar for at least one year.