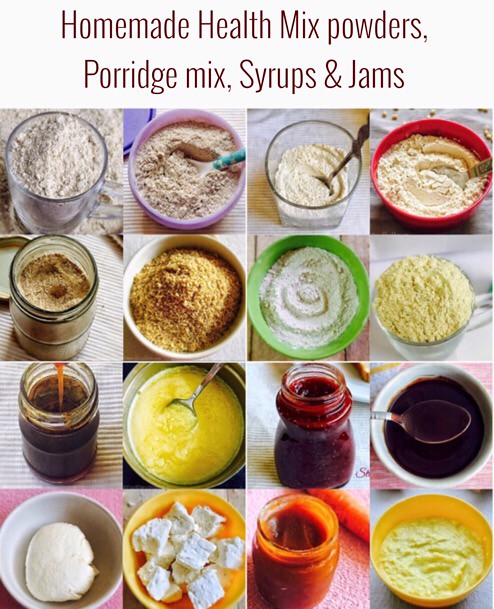 Homemade Health mix powder & essentials - As a mother, I believe in everything homemade, Homemade is always better for babies, toddlers, kids (even for adults) than any branded products available in the market as its preservatives free and more importantly you know exactly what goes into your baby's mouth!  Also, it tastes much better than any store-bought product. Believe me, making everything homemade is easier than you think! But I agree that it's a little time consuming but it's definitely worth the effort!
Why is this homemade best for your baby?
Although packaged and ready-made are easily available near your doorsteps, feeding homemade is beneficial to your baby. Here is why.
It is fresh, delicious, economical and eco-friendly.
You know precisely what your baby is eating.
Can alter or make your own combinations based on your baby's needs and likings.
Protect your baby from artificial ingredients and preservatives.
Made with lots of love!
Bookmark this page for future reference as I will be updating this post on a regular basis with different health mix powders & homemade essentials for babies, toddlers, and kids. Click on each thumbnail image or the link given below for the recipes. Choose recipes according to your baby's age which is mentioned in the brackets along with the recipe. Please refer to the notes section given at end of this post for the points to remember before making these powders & recipes for your baby!  If you are looking for more healthy homemade baby food recipes check here.
I will update this post with different recipes on a regular basis
Health Mix powders:
[MyAdscode2]
Essentials (Homemade)
Notes:
Never introduce more than 1 food at a time when introducing solids to your baby.
Check for allergy symptoms when you introducing new food to your baby and stop feeding your baby if you find any symptoms.
If your baby is allergic to any specific ingredient, remove it from the recipe.
If the recipe calls for more spices, adjust it according to your baby's age and preference.
Always check with your pediatrician before introducing any new food.
Sugar, salt, cow's milk, and honey is not recommended until 1 year of age
You may also like: