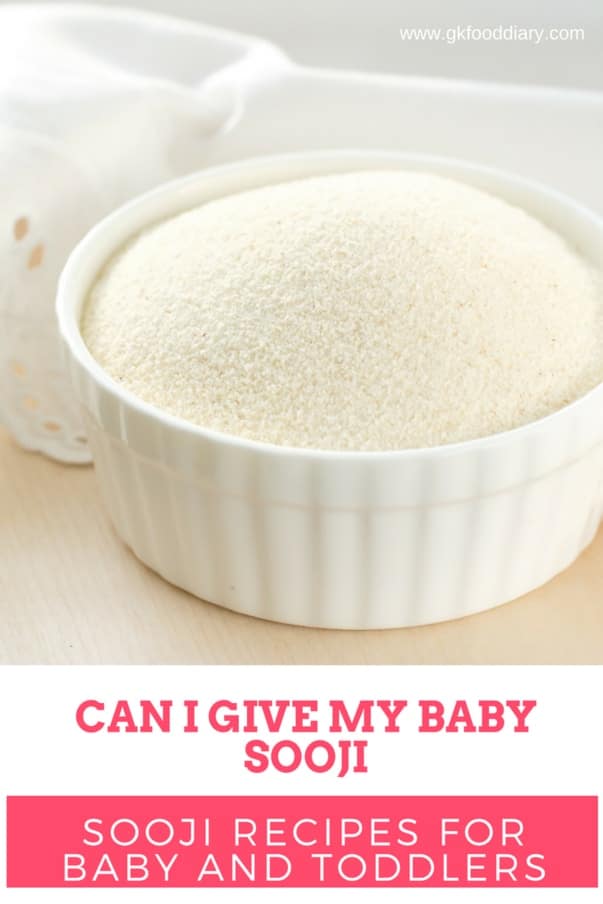 Sooji/suji/is known as rava or semolina, or cream of wheat is a coarsely ground grain made from durum wheat. Its often used in India for making porridge, halwa, pancakes, upma, etc. Sooji has a granular texture, great taste, easily digestible and versatile. Hence its often recommended for babies and toddlers.
Here are some ways to include sooji in your baby's diet with more information about the nutritional benefits of sooji, how and when to introduce sooji to baby etc.
When can I introduce Sooji to my baby?
You can introduce sooji to your baby once the baby completes six months. Note that sooji contains gluten, and hence, it can be unsafe for babies with a gluten allergy. When you introduce sooji, begin with sooji porridge made with homemade sooji cereal, Gradually you can try other sooji recipes such as Sooji Apple Kheer, Sooji Porridge, Sooji Banana Halwa, etc. 
How to select and store Sooji for Baby Food
Sooji is slightly less in nutrients compared to other whole grains. Hence it should be given in moderation. Always include vegetables, fruits, milk, or nuts while cooking sooji to balance the nutrients.
Water amount and cooking time vary on the sooji variety (fine/medium).
Buying organic sooji is preferable for babies, if available.
Nutrients in Sooji
Here is the nutrition information of 1 cup of sooji (165 g)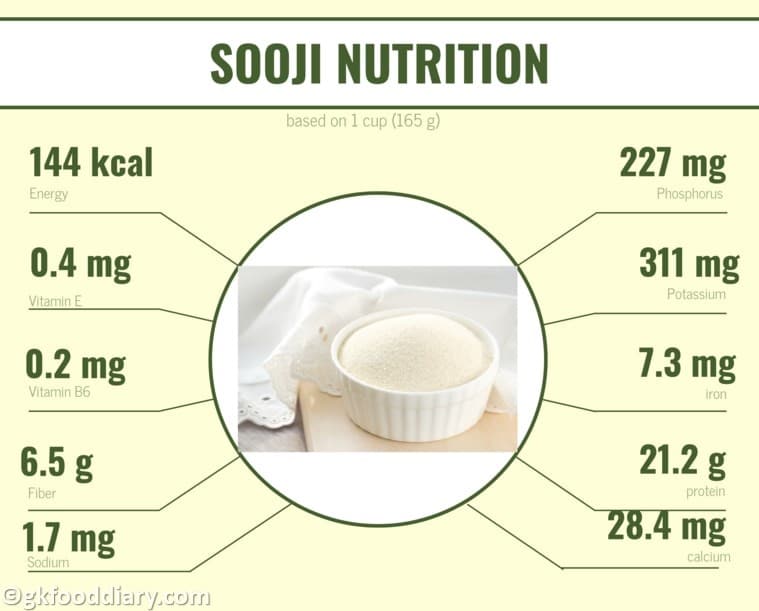 * Source - Nutrition Data 
Health Benefits of Sooji for Babies and Toddlers
Sooji is an easily digestible grain; hence, it is ideal for babies and small children during illness.
Rich in fiber and hence prevents constipation in babies.
Gives instant energy hence keep the child active throughout the day.
Sooji contains a reasonable amount of iron which prevents anemia.
It also has a significant amount of phosphorus and magnesium, which helps in bone development and supports the nervous system.
Selenium in sooji helps to prevent infections and strengthens the immune system in babies and kids.
Sooji  Recipes for Baby & Toddler
Aren't these sooji recipes tempting enough for you to try immediately?