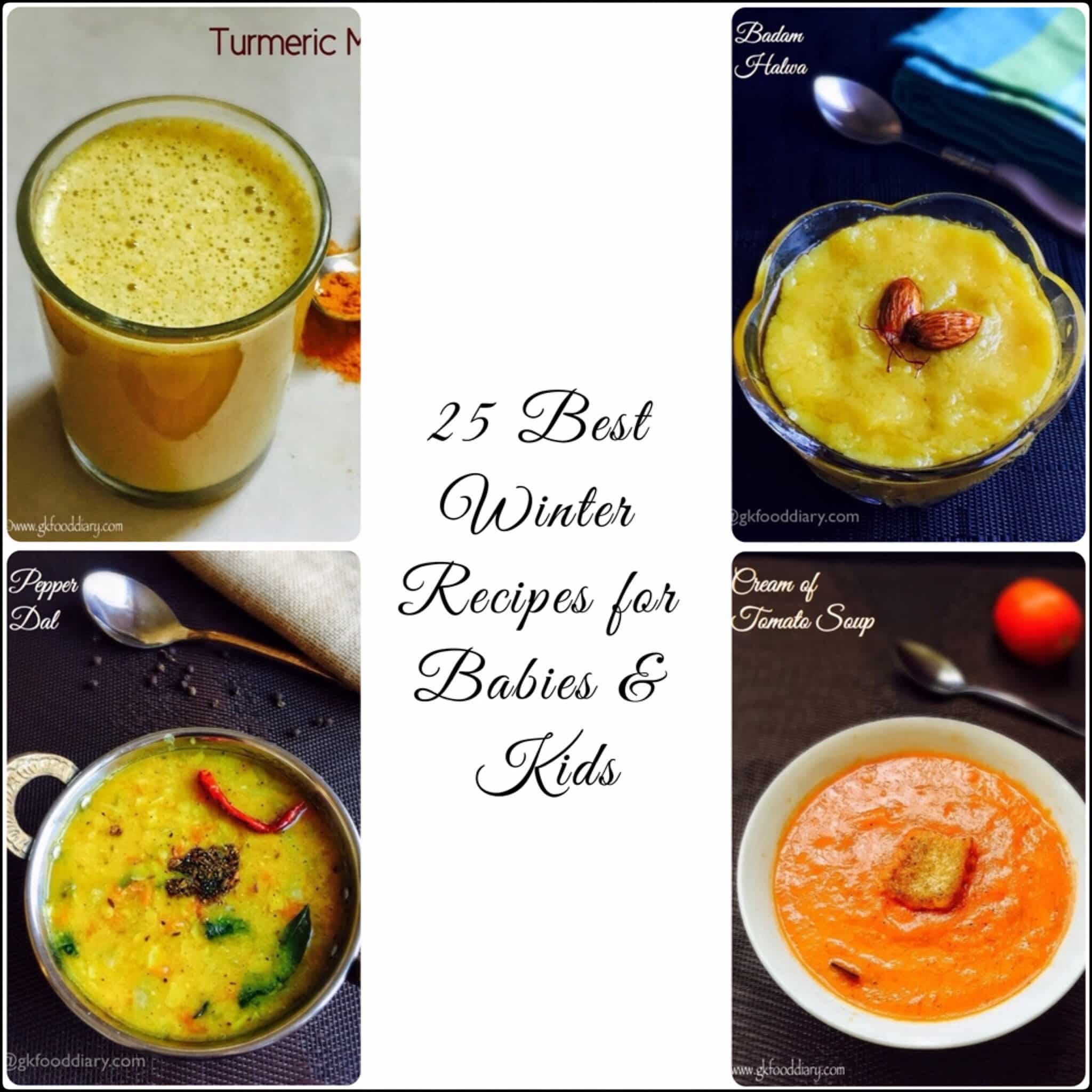 Winter Recipes for Babies - Winter season is very special for kids as they enjoy the weather but its important to keep your child warm and comfortable. As cold and flu virus catch easily this season, including healthy foods improves immunity and fights off the diseases. Also, kids (adults too) are hungrier in winter as the body temperature drops and that leads to increased appetite.
So here is the collection of some hearty, warming, tempting and nutritious recipes which are classified into four categories.
Sweets/Desserts
Beverages
Soups
Main Course
Click on each thumbnail image given below for the recipes. Choose recipes according to your baby's age, it is mentioned in the brackets along with recipe heading. Please refer to the notes section given at the end of post for the key points to remember before trying this recipes to your kids during winter season. Also, Check home remedies for cold and cough and foods to give during cold and cough in children which might be helpful in winters.
Winter Special Foods for Babies, Toddlers, and Kids:

Sweets & Desserts:
1. Badam Halwa/Almond Halwa (1 Year+):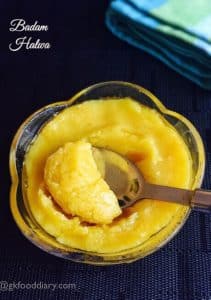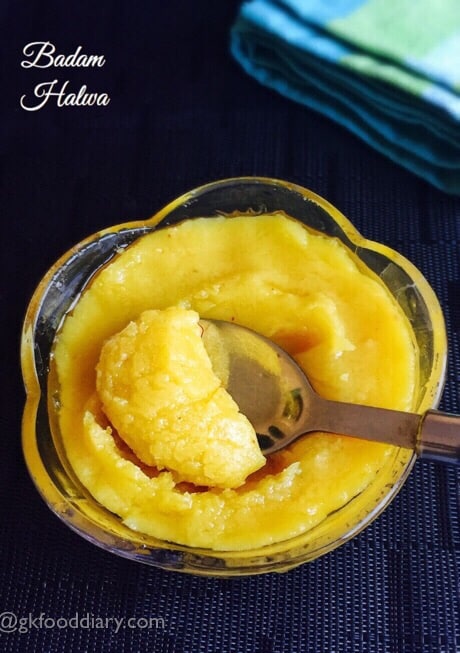 Winter is the best season to have almonds daily as it helps to keep the body warm and proteins content in almonds strengthen the bones. Its always recommended to eat soaked almonds to ensure easier digestion and better nutrition absorption. This almond halwa is a traditional Indian dessert prepared during winters with soaked almonds, milk, sugar and ghee. Store the almond halwa in the refrigerator and give a spoonful of halwa everyday morning to your child to stay warm and healthy!
Check out Almond halwa recipe here
2. Besan Ka Sheera/Besan halwa (10 Months+):
Besan ka sheera is made with chickpea flour and it is a delicious dessert and also the best remedy for cold and cough which is common during winters.
It can be prepared in halwa consistency or porridge form as per your preference. If preparing this for a sick child, give it in pouring consistency. 
Check out Besan Ka Sheera Recipe here
3. Dry Fruits Ladoo (10 Months+):
Dry fruits in any form is good during winters as it keeps the body warm and provides the much-needed nutrients. It is one of the best ways to include dry fruits and nuts in children's diets as it satisfies their sweet tooth. Any available dry fruits and nuts can be used to make this healthy ladoo. Give your kid one ladoo per day in breakfast to derive energy for the rest of the day. 
Check out Dry Fruits Ladoo Recipe here:
4. Carrot Halwa (1 year+):
Carrot halwa is prepared with fresh juicy carrots, milk, nuts and loads of ghee which makes a great dessert for winters. It is a traditional delicious dessert in India served during winters to keep the body insulated and warm. Don't miss to indulge and relish the carrot halwa in winters!
Check out Carrot Halwa 
Recipe here:
5. Dates Kheer/ Dates Pudding(8 Months+):
Dates are one of the superfoods for winters as it keeps the body warm and provides essential nutrients to boost energy. This dates kheer is easy to prepare and surely a hit among kids as its super tasty. Enjoy a bowl of full goodness with this healthy kheer during winters!
Check out Dates Kheer Recipe here:
6. Beetroot Dates Halwa (8 Months+):
Beetroot is another winter vegetable loaded with Vitamin c to boost immunity. When it combined with dates, it makes a deliciously healthy dessert for your kids even small babies. Enjoy this healthy and guild free dessert with your kids as a family this winter.
Check out Beetroot Dates Halwa Recipe here:
7. Dates Almond Balls (10 Months+):
Dates almond balls are a protein-packed healthy snack for winters with the goodness of almonds and dates. Its also it is very easy to make, delicious, filling and helps to stay energetic. Make a batch and store it in an airtight container, give it to your kid when they demand something tasty.
Check out Dates Almond Balls Recipe here:

Beverages:

Soups:


Main Course:
Important Note: