Mango Phirni Recipe for Toddlers and Kids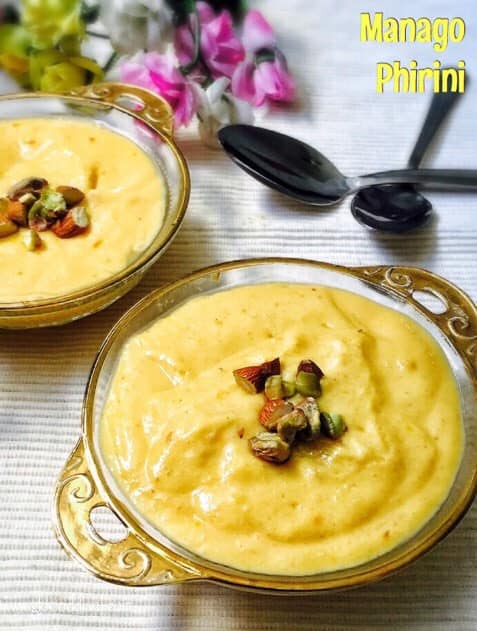 Basmati Rice - 1.5 tbsp
Mango - 1 medium sized (1/2 cup of mango pulp)
Sugar/Brown sugar/palm sugar - 2 tbsp
Milk - 2 cups
Cardamom - 1
Cashews - 5
Pistachios - 5
Almonds - 5
Ghee - 2 tsp
Saffron - few
Keep all the ingredients ready. Wash and peel mangoes. Mash or puree the mangoes, keep it ready. Rinse rice well and soak it in water along with cashews & almonds for at least 15 minutes. Peel the skin of almonds if desired. Set aside. In a thick bottomed pan, take 2 cups of milk and simmer it for 10 minutes.
In a blender grind soaked cashews & badams and rice together to a slightly coarse paste by adding little water. Set aside.
Once the milk becomes slightly thick,  add rice paste. Also add crushed cardamom and mix well. Now cook everything in a low flame for 10 to 12 minutes or until rice gets cooked well. Make sure to stir it occasionally otherwise the rice may stick at bottom.
Once the rice is cooked, add sugar and saffron. Mix well and cook until it becomes thick and pudding like consistency is reached. It may take 5 to 7 minutes.
Once the phirni is ready, add mango pulp. Mix well and switch off the flame. Once the mango Phirini is cooled down, pour it in serving bowl and refrigerate it for at least one hour .