Mango Kulfi Recipe for Toddlers and Kids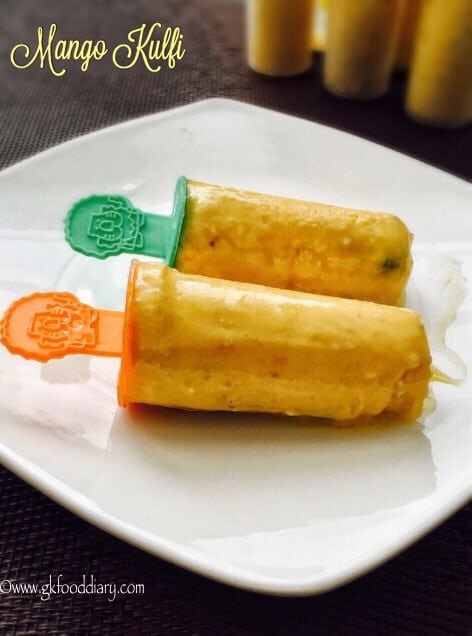 Mango puree - 1 cup
Brown Sugar / Sugar - ½ cup
Whole milk - 2.5 cups
Corn Flour - 1 tbsp
Almonds - 2 tbsp
Cashews - 2 tbsp
Pistachios - ¼ cup
Saffron - a generous pinch
Cardamom powder - ¼ tsp
Wash the mangoes in running water thoroughly. Place it on a cutting board and slice the fruit vertically into 3 pieces. Then scoop the mango pulp. Then take the mango pulp along with cardamom powder in a juicer/blender. Blend everything till smooth. Take a bowl and add saffron to 2 tbsp of milk along with corn flour. Mix well and Set aside.
Soak almonds, cashews and pistachios in water for 15 minutes. Then grind them to a paste with little water to a slightly smooth paste.
Boil milk in a heavy bottomed pan and simmer it until it reduces from the original quantity for 10 minutes. Add the ground nuts mixture to it and mix well.
Now add sugar. Give a quick stir and then add saffron corn flour mix and mix well without any lumps. Heat it further for 5 more minutes with occasional stirring.
Once the mixture is thick, add mango puree. Mix well. Switch off the flame once done and cool it down.
Once the mixture is cooled, add it to kulfi/popscile moulds and close it with a lid or stick.
Now Place the moulds in a freezer and freeze it overnight or at least 6 hours. After freezing, take the moulds from the freezer and wash it in tap water for 10-15 seconds. Then unmould it and serve the kulfis!
Serving size:
10-12 Kulfis