Roasted Phool Makhana Recipe for Babies, Toddlers, and Kids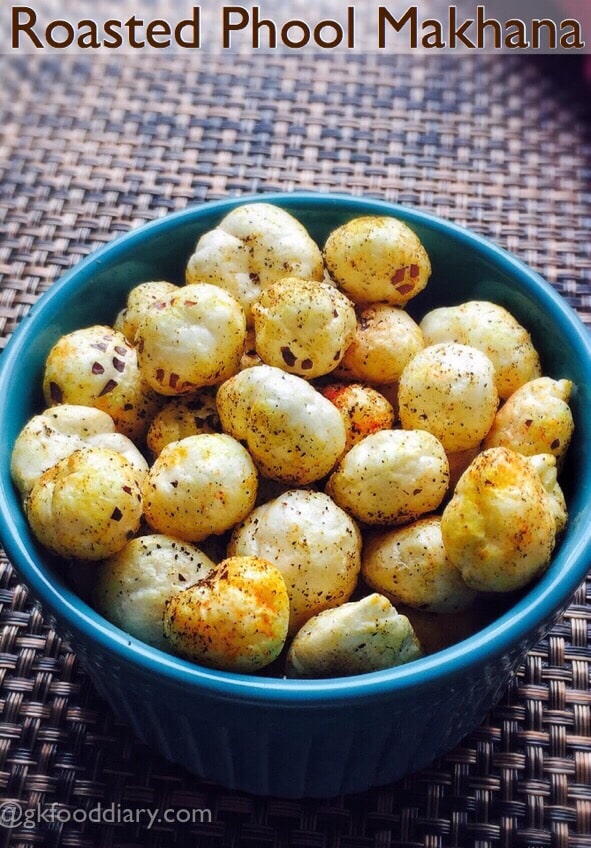 Phool Makhana - 2 cups
Ghee -3 Tsp
Turmeric powder - ¼ tsp
Black Pepper powder - ¼ tsp
Red chilli powder - ¼ tsp (optional)
Salt - as required
Measure and take 2 cups of Phool makhana. Heat 2 tsp of ghee in a pan and melt it.
Then add the Phool makhana to the pan and start roasting in a low flame. Also, keep the spice powders and salt ready in a plate.
Once the Phool makhana is roasted well and crispy, add one more tsp of ghee and add in spice powders quickly.
Switch off the flame immediately and give a stir until the spice powders are mixed well with a roasted Phool makhana. Remove the pan from the stove once done. Serve it immediately or store them in an airtight container.
Recipe by
GKFoodDiary - Homemade Indian Baby Food Recipes
at https://gkfooddiary.com/roasted-phool-makhana-recipe-babies-toddlers-kids/