phool Makhana Kheer Recipe for Toddlers and Kids | Amaranth Pudding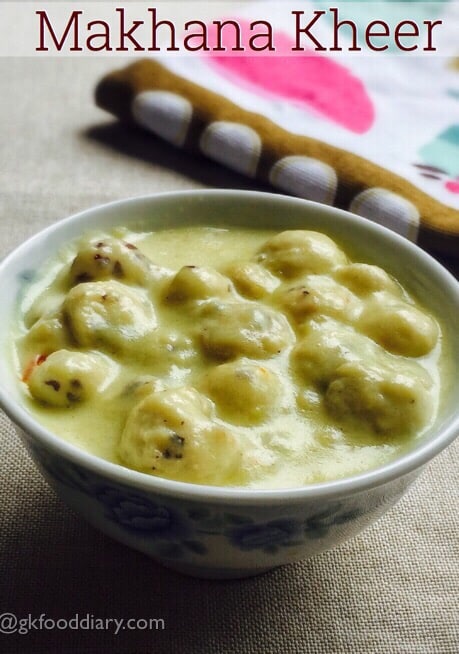 Phool Makhana - 2 cups
Cashews - 10
Powdered cardamom - ¼ tsp
Milk -2 cups or ½ liter
Ghee/Clarified Butter - 1 to 2 tsp
Unrefined Sugar/ Powdered palm Jaggery or jaggery or brown sugar -2 tbsp
Measure phool makhana and cashews. Keep all other ingredients ready. Take and Cut the phool makhana into two, check for warms if any.
Cut and check for all the makhana's. Then dry roast the makhanas in a heavy bottomed pan until it turns crispy.
Take one roasted makhana, eat one & check whether its crispy and not chewy. Once the makhana is roasted well, remove it form the pan and switch off the flame. In the same pan, add cashews and roast it for 30 seconds. Remove from the pan and cool it down.
Transfer 1 cup of roasted phool makhana, roasted cashews and cardamom to a blender/mixer/food processor. Grind them to a smooth powder. Cool it down and set aside. Reserve 1 cup of roasted phool makhana to add in the kheer at the final stage.
Take a thick bottomed pan and add a tsp of ghee, roast the cashews for a minute. Remove from the pan once done and set aside. Pour milk in the same vessel and boil it in low medium flame.
In the mean time soak saffron in 2 tbsp of milk and keep it ready. After 7-10 minutes boiled milk must be reduced in quantity and becomes thick.
At this stage. add saffron milk and followed by sugar.
Mix well and cook everything in a low flame for 5 minutes. Then add powdered phool makhana mix  little by little and give a stir quickly. Make sure there are no lumps formed. Boil everything until the kheer becomes thick. Stir it occasionally  otherwise it gets stick to the bottom.
Once the kheer is thick, add the reserved 1 cup of roasted phool makhana and mix well. Cook it further for 3 minutes. Finally, add ghee roasted nuts. Once done, switch off the flame.
Recipe by
GKFoodDiary - Homemade Indian Baby Food Recipes
at https://gkfooddiary.com/phool-makhana-kheer-recipe-toddlers-kids/