Coconut Dosa Recipe for Toddlers and Kids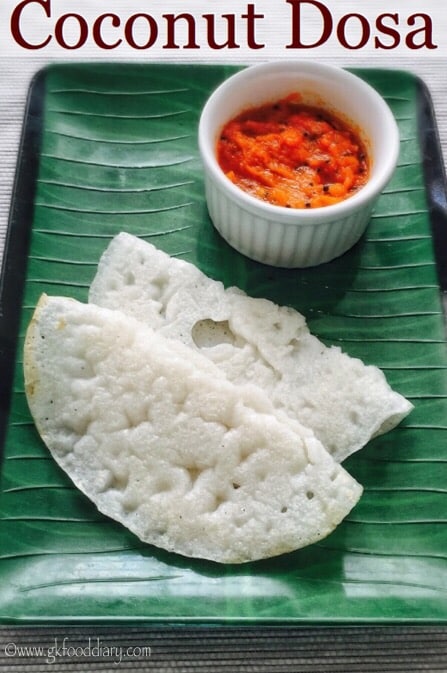 Recipe type:
Breakfast/Dinner
Rice - 2 cups
Grated Coconut - 1 cup
Water - as needed
Salt- adjust as per taste
Wash and soak rice for at least 3 hours or overnight.
Add in 1 cup of grated coconut to a blender. Then add soaked rice to the same blender.
Start grinding the rice with grated coconut by adding little water in frequent intervals.Grind them to a smooth paste. Then transfer the rice coconut batter to a separate vessel. Now add required salt. Mix well. You can ferment the batter for 6-8 hours. Fermentation step is optional.
The batter consistency should be slightly thin, add water accordingly before making dosas. For making dosa's ,Heat a pan, spread the dosa with one laddle of batter and drizzle it from the corners and finishing off in the middle. Drizzle oil and Cook it for 3 minutes. Once done flip the dosa and cook it for a minute. Remove from the pan once done.
Serving size:
10-12 Dosas (approximately)