Vanjaram Fish Fry Recipe (Vanjaram Meen Varuval/Seer Fish Fry)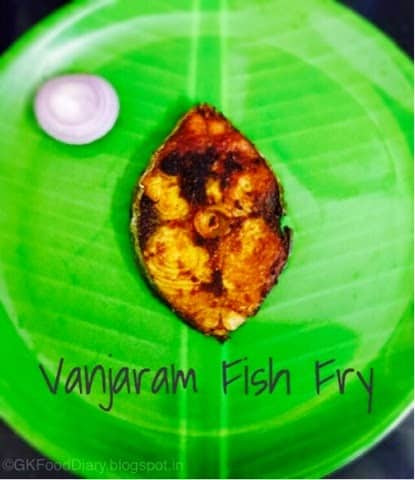 Oil - 2 tbsp
Vanjaram fish - 3 big ones
Red chilli powder - 1 tsp
Coriander powder - 1 tsp
Ginger garlic paste - ½ tsp
Turmeric powder -1/4 tsp
Salt - to taste
In a plate , take red chilli powder, turmeric powder, coriander powder, ginger garlic paste and salt. Mix it well with your hand. Add little water if needed.
Coat the fish pieces with the mix on one side well and repeat the same for other side too. Marinate the fish pieces for 30 minutes at least. I kept it in refrigerator for 2 hours.
Heat oil in a tawa, place the fish pieces carefully and fry it for 5 minutes. Then turn the fish pieces with care and cook it for 3 minutes or until done.
Recipe by
GKFoodDiary - Homemade Indian Baby Food Recipes
at https://gkfooddiary.com/vanjaram-fish-fry-recipe-vanjaram-meen/