Homemade Idli Dosa Batter Recipe | How to make Soft Idlis | Breakfast Recipes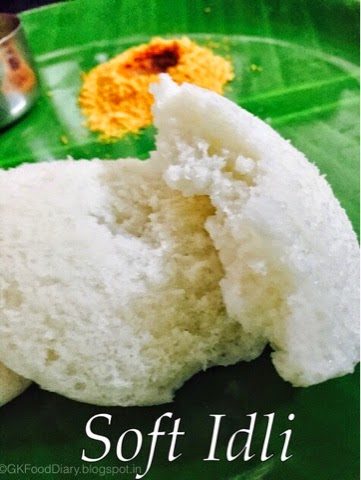 Idli Rice - 3 cups (1 cup=250 ml)
Urad dal - ½ cup
Methi seeds - ½ tsp
Water - as needed
Crystal salt - 3 tsp or adjust as per taste
Measure Idli rice, Urad dal and fenugreek using measuring cup. Then Wash & soak rice and urad dal with fenugreek seeds separately for three hours at least.
Start grinding the urad dal first by adding little water say ¼ cup. After 5 minutes, wipe the urad dal and fenugreek sticked in the wall of grinder with your hands. Add ¼ cup of water now and let the grinder run.
After that add ¼ cup of water for every 5 to 10 minutes and keep grinding.
When the bubbles starts to appear and the batter is fluffy, it's done. I have added approximately 1 and ¾ cup of water to grind the urad dal and it took 30 minutes to grind the urad dal.Transfer the urad dal batter to a separate vessel.
Then filter the water completely from soaked rice and grind by adding ½ cup of water. For every 5 to 10 minutes keep adding water.
Grind the rice till smooth or little grainy. I have added 2 cups of water for the rice to grind smooth.Transfer the rice batter to the same vessel and mix with urad dal batter well with your hands after adding required salt.
Let the batter ferment for overnight or for 12 hours. Next day the batter should be raised as shown.Now you can start make idlies using the batter. Heat the idly pot with one cup of water and fill the mould of idly plate with batter. Steam it for 8 to 10 minutes. Then unmould the idlies from the plate.
For dosa's add little water to the batter and make.
Recipe by
GKFoodDiary - Homemade Indian Baby Food Recipes
at https://gkfooddiary.com/how-to-make-homemade-idli-dosa-batter/