Murungai Keerai Poriyal Recipe | Drumstick Leaves Stir Fry | StirFry recipes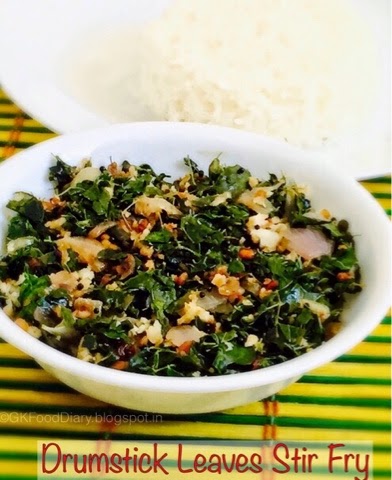 Murungai Keerai - 2 cups tightly packed
Onion - 1 big sized
Grated coconut - 3 tbsp
Sugar - a pinch (optional)
Salt  - to taste
Seasame Oil - 2 tsp
Mustard Seeds - 1 tsp
Urad dal  - 1 tsp
Red chillies - 2
Remove the drumstick leaves from the stalk and wash the greens twice.Keep  aside.Chop the onion finely and make it ready.
Heat a pan with oil and add the items to temper. Once mustard cracks and urad dal turns brown, add red chillies and fry for a minute. Now add the onions and sauté till it becomes transparent.
Then add the drumstick leaves along with sugar & salt. Fry the drumstick in low flame until it shrinks in volume & gets cooked. This may take 5 to 7 minutes. No need to add water as the greens will leave out water.
After the drumstick leaves got cooked, add coconut and mix well for 2 minutes. Once everything comes together, switch off the flame.
Recipe by
GKFoodDiary - Homemade Indian Baby Food Recipes
at https://gkfooddiary.com/murungai-keerai-poriyal-recipe/