Sakkarai Pongal Recipe | Sweet Pongal Recipe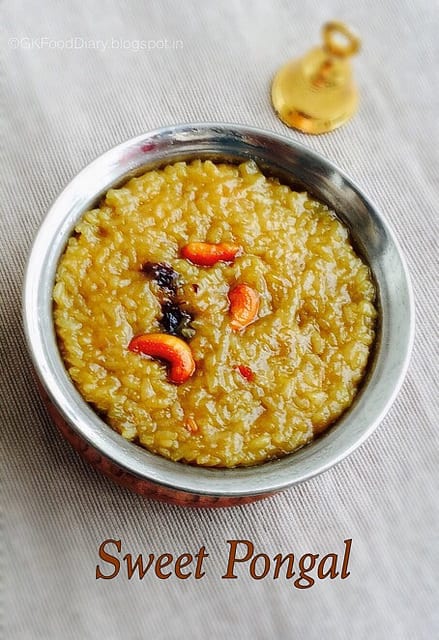 Raw rice - ½ cup
Moong dal - 1 to 1.5 tbsp
Jaggery - ½ cup
Salt - a pinch
Water - 2.5 cups
Cashews - 1 tbsp
Raisins - 1 tbsp
Cardamom powder - ¼ tsp
Edible camphor - a tiny pinch
Ghee - 4 tsp
Measure rice, moong dal and jaggery using a measuring cup and keep it ready. Heat a tadka pan with ghee and add cashews and raisins. Fry the cashews until golden brown and raisins fluff up. Set this aside.
Heat jaggery in a sauce pan with ½ cup of water until it dissolves completely. Strain the jaggery water in another vessel  to remove impurities. Keep aside.
Heat a small pressure cooker with a tbsp of ghee and roast the moong dal for 3 minutes. Then wash the raw rice well and add it to the cooker. Mix well and add required amount of water. Bring it to a boil and pressure cook it for 4 whistles in medium flame.
Once pressure releases, open the cooker and mash it well with a ladde.   Once mashed well, add jaggery water to it and mix well. Switch on the stove and place the pressure cooker over it. Cook  everything in a medium flame for 5 minutes.
While cooking, add 1 tbsp of ghee, salt, cardamom powder and edible camphor. Add milk or warm water if the pongal is getting too dry. Once everything comes together and the pongal is slightly thick add fried cashews and raisins. Mix well with the pongal and switch off the flame once done.