Chikoo Banana Mash for Babies | Sapota Banana Mash | Baby Food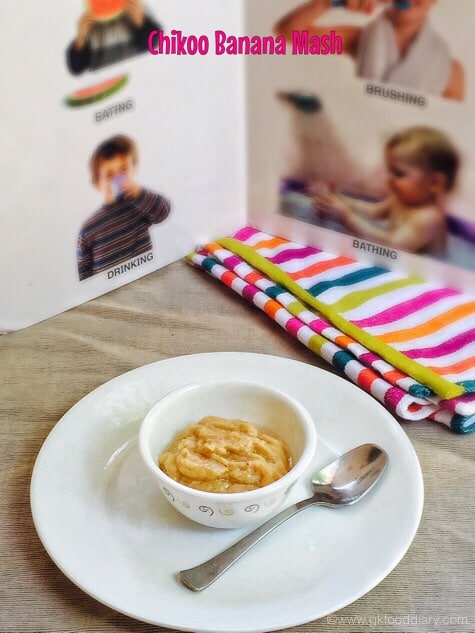 Chikoo - 2 small sized
Banana - 1 medium sized
Sterilise the bowls and spoons used for feeding your baby in a vessel with hot water for five minutes and keep it immersed in the same vessel until use.
Wash chikoo/sapota in running water well. Peel the skin off from the chikoo with a peeler. Cut them into two vertical pieces and remove the seeds. Then chop them into equal size small cubes. Peel the banana and chop them into thin circles.
Blend the chopped chikoo and banana pieces in a blender for 5 seconds. Don't blend it to a smooth paste. Alternatively u can mash it well with your hands or using a masher. Add water if it is too thick .
Recipe by
GKFoodDiary - Homemade Indian Baby Food Recipes
at https://gkfooddiary.com/chikoo-banana-mash-for-babies/