Raisins for Babies, Toddlers, and Kids, Uses, and Benefits of dry grapes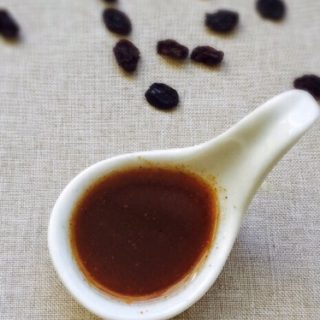 Dry Grapes/ Raisins - 1 tbsp
Water - ¼ cup
Jaggery - ½ tsp (optional)
Measure and take raisins. Rinse the raisins in running water well to get rid of the traces of chemicals if any. Soak the raisins in water for 4-5 hours at least or overnight.
Once the raisins are soaked well, grind them along with jaggery (if using) in a blender with the water used for dipping. Grind it to a smooth paste.
Strain the juice using a filter. Serve immediately.
Recipe by
GKFoodDiary - Homemade Indian Baby Food Recipes
at https://gkfooddiary.com/how-to-prepare-dry-grapes-juice-baby-constipation/