Kiwi Sorbet Recipe for Toddlers and Kids (without an ice cream maker)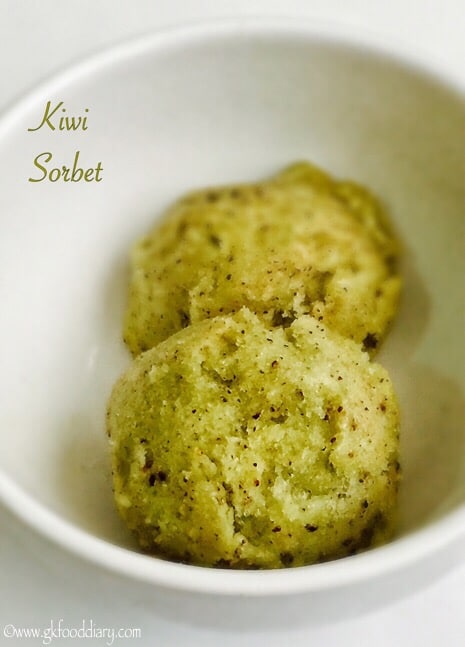 Kiwi - 5 nos
Honey/Sugar - 3 tbsp
Lemon Juice - 1 tbsp
Wash the kiwi in running water thoroughly. Place it on a cutting board and slice off both the end of the fruit. Insert a spoon in between skin and flesh of the kiwi fruit. Rotate the spoon around the fruit and pop the fruit from the skin. Then slice the fruit vertically or horizontally.
Keep honey and lemon juice ready. Then take the chopped kiwi pieces, honey and lemon in a juicer/blender.
Blend everything till smooth. Then transfer the blended kiwi puree into a freezer safe container.
Place the container in a freezer and freeze it . After 2-3 hours, take the container from the frezzer.
Transfer the contents to a blender and blend again to a smooth paste. Do repeat this every 2-3 hours to get a smooth consistency.
Then freeze it overnight and scoop out the next day. First it will be like a hard crystal, after 10 minutes it will be smooth.
Recipe by
GKFoodDiary - Homemade Indian Baby Food Recipes
at https://gkfooddiary.com/kiwi-sorbet-recipe-for-toddlers-and-kids/