Ragi Moong Dal Powder Recipe for Babies | Moong Dal Ragi Cerelac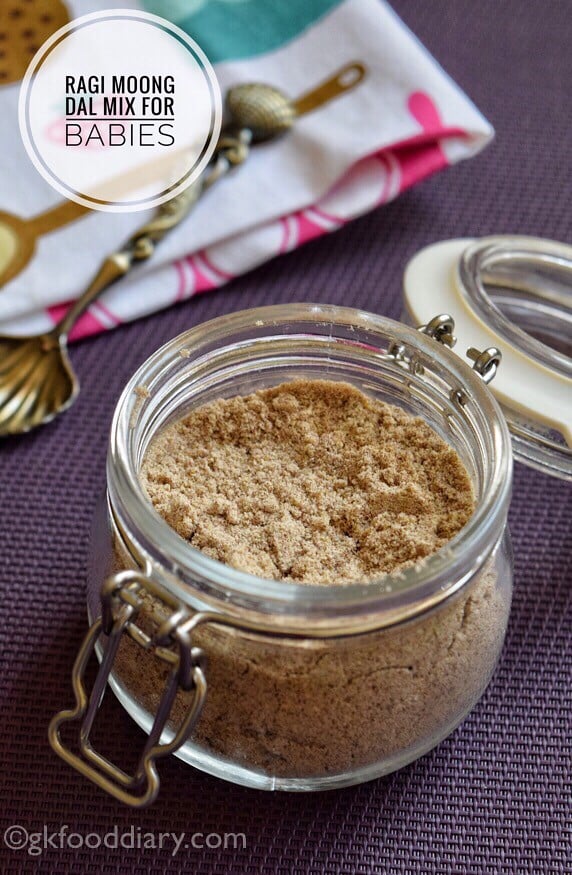 Ragi Seeds - ½ cup
Moong dal - ¼ cup
Almonds - 2 tbsp (optional)
Measure ragi, moong dal, and almonds in a measuring cup and keep everything ready. Take ragi in a vessel and wash it by rubbing well with your hands. It has lots of mud so repeat the process 2 to 3 times unless it is clean and get rid of all dirt.
Soak the ragi in fresh water for 12 hours. Keep it covered (with provision to some air to enter) while soaking. After 12 hours, open. The color of the ragi will be changed after soaking.
Then drain the water completely. You can sun dry the ragi for 5-6 hours, or you can directly start roasting in a pan. Transfer the drained ragi to a thick bottomed pan and dry roast the ragi in a pan in low flame for 5 minutes or until it's toasted. Remove from the pan and cool it down.
Heat a pan and dry roast the almonds until it is hot to touch. Remove roasted almonds from the pan and transfer to a bowl. Let it cool down for some time.
Then wash the moong dal thoroughly in running water and dry it under the sun for 30 minutes or you can directly start roasting in a pan. Add the drained moong dal in the same pan and dry roast it until it changed to a golden brown. It may take five minutes. Remove the roasted moong dal from the pan and transfer it to a plate.
Take the roasted ragi to a dry mixer jar and blend it to a smooth powder.
Once almonds and moong dal are cooled down, grind it together in the blender to a smooth powder.
Then sieve it with a sieve and collect the sieved powder in a big plate. Once done, cool it down and store it in an airtight container.
Recipe by
GKFoodDiary - Homemade Indian Baby Food Recipes
at https://gkfooddiary.com/moong-dal-ragi-powder-for-babies/