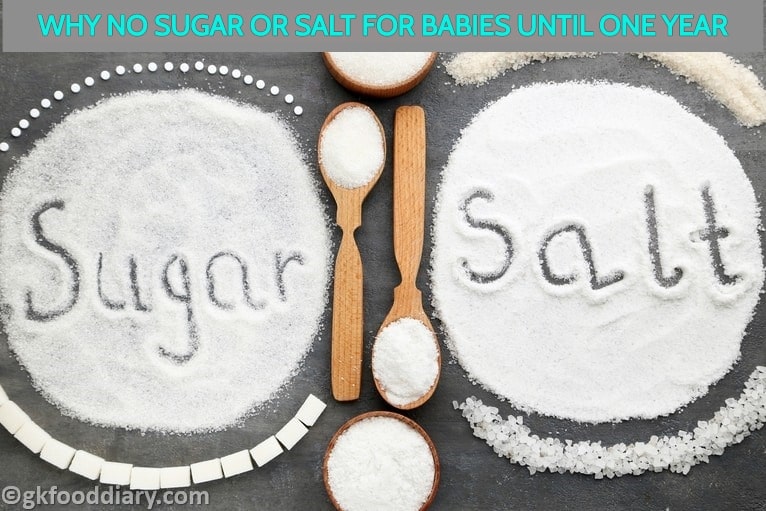 Why no Salt and Sugar for babies? As a parent, you are always get advised by pediatricians or fellow moms not to add salt and sugar to baby's food before one year. Wondered why? Here is the answer why no sugar and salt for babies below one year.
Taste preferences for sugar and salt are mostly natural in babies. Many will agree that sugar & salt will give happiness and enjoyment of food. This happy relationship becomes a problem when it is excess. It is especially harmful to infants and small children as they have a fragile system.
Also too much salt or sugar means the baby will not enjoy the natural taste of foods and vegetables. And, this habit began early and probably lasted throughout life. Read further to know in detail how salt and sugar affect growing babies
Why No Salt for Baby Before One Year?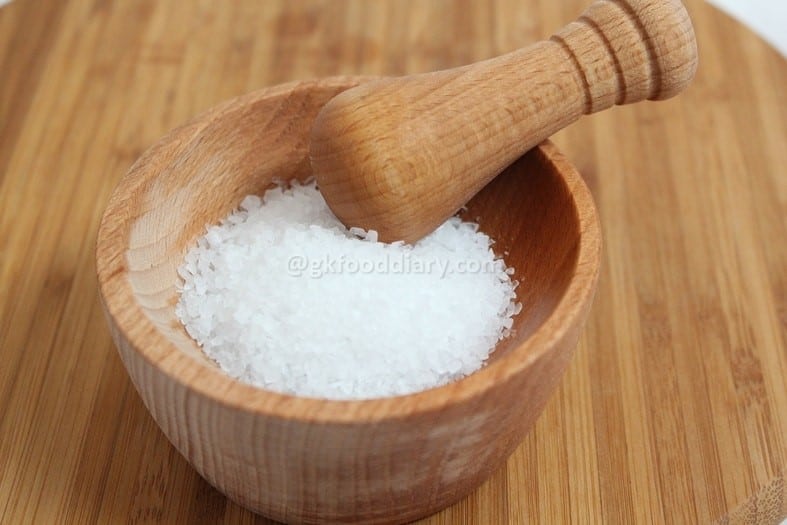 Before your baby is six months old, they get all the salt requirements from breastmilk/ formula milk. Babies age 6-12 months need less than 1000 mg (approximately less than 1 g of salt) a day. Their kidneys are too immature to deal with more salt than the recommended amount. It is easy to get that salt amount naturally in foods without adding salt.
Breast milk/Infant formula milk and most of the Foods such as fruits, vegetables, lentils, eggs, etc. naturally contain salt, and there is no need to add extra salt to your baby's food for one year.
The below table shows the Salt Requirement for babies, toddlers, and Kids:
| Age | Salt Per Day | Tsp |
| --- | --- | --- |
| Less than one year (0 to 12 months) | less than 1000 mg or 1g (0.4 g of sodium) | 0.18 teaspoon |
| 1 to 3 years | 2000 mg or 2 g (0.8g of sodium) | 0.35 teaspoon |
| 4 to 6 years | 3000 mg or 3 g (1.2g of sodium) | 0.53 teaspoon |
| 7 to 10 years | 5000 mg or 5 g ( 2 g of sodium) | 0.88 teaspoon |
| 11 years and above | 6000 mg or 6 g (2.4 g of s0dium) | 1.05 teaspoon |
Your baby's kidneys can't handle more salt than the recommended amount and may damage the kidney which does some vital functions in our body. Eating excess salt may also cause brain damage, High Blood Pressure, hypertension, kidney diseases, etc. as they grow. Babies don't know the difference between salted and unsalted food, hence encourage good habits from the start.
What about Salt Content in commercial Baby & Toddlers food?
Although most of the parents prefer preparing homemade baby foods for their baby, there are some unavoidable circumstances they may opt for commercial baby foods. Salt has been omitted from commercially prepared baby foods such as baby food jars or cereals. But it is essential to read the labels before buying.
Also, remember that toddlers also need minimal salt. Toddlers (1-3 Years) require only 2 g of salt per day.  But the salt amount in commercial toddler's food still generally high. Examples: Breakfast Cereals, Pasta Sauces, Canned Vegetable Juices, Canned Vegetables, Canned Soups, cheese, bread, chips, etc.
Note that the food labels in the commercial baby or toddler food won't mention salt directly. Instead, it is written as Sodium. 2.5 g of salt is equal to 1g of sodium. Hence always multiply sodium amount * 2.5 to get the salt level. For example 800 mg sodium means 800 * 2.5 = 2000 mg or 2 g of salt. It is good to avoid food containing more than 0.6g of sodium per 100g which is considered high in salt.
HOW TO MAKE BABY FOOD TASTY WITHOUT ADDING SALT?
You may feel that the baby food tastes bland without salt but don't worry your little star can't differentiate them. Most mothers get tempted to add salt as the baby refuses to eat when starting solid foods. They may reject the food due to a sudden change from breastmilk/formula milk. So please feed them with confidence.
If your baby still finds the food bland without salt, try flavoring the food by adding spices like ginger, garlic, cumin seeds, pepper, mustard seeds, sesame seeds, etc. in little amount. Check out our baby food recipes for 6-12 months baby which are tasty and flavorful using spices and other seasonings. Also if you are giving family meals to your baby, make sure to remove a cooked portion before adding salt.
When is it safe to add salt to Baby Food?
After one year, you can add a pinch of salt to maximum of 0.35 tsp(little less than 1/2 tsp) per day. Follow the salt requirements table given above to meet the sodium requirement of his body as your baby grows. You can also wait for a few more months if your baby is enjoying the food without salt and for his immune system to become more powerful.
Why No Sugar for Baby below One Year?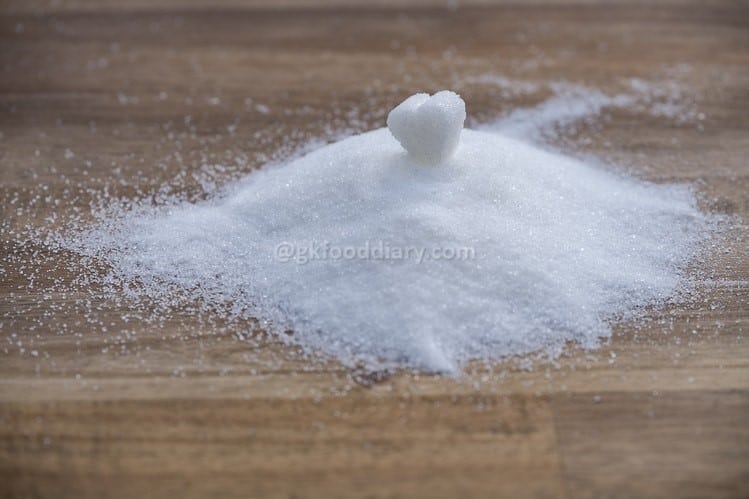 The preference for sweet taste appears to be inborn in most babies. But what's so bad about sugar? The white sugar is refined, loaded with harmful chemicals and has zero nutrients. Sugar can also replace nutritious foods, contribute to overweight, and cause dental cavities. Your baby doesn't need sugar before 12 months; it will help to prevent obesity, cardiovascular heart disease and diabetes in the future.
Why is Sugar is Harmful to Babies below 1-year-old
Though babies can have homemade desserts like kheer, halwa, etc. for any special occasion. When you are making desserts, remember that sweet doesn't always mean sugar, and you can prefer fruit purees or dried fruits instead.
Sugar is best avoided in the first one or two years of life for the below reasons:
Sugary items fill the little tummy without providing essential nutrients
They may stick to the teeth, sugar helps the bacteria to grow, and this causes early tooth decay
Excess sugar intake may lead to reduced immunity in children
Children to become sweet tooth for life if more sweets are introduced at a young age
Makes the baby overweight and leads to obesity when babies eat more sweets regularly
What about Sugar water?
Sugar water is believed to relieve babies from colic pain. But No research evidence helps to ease the pain; it may just distract the baby from the pain. If given in overdose, it may cause severe issues including seizures. Also, too much sugar water will affect the babies' natural desire for breast milk/formula milk. So it is better to avoid sugar water for babies below one year.
HOW TO make  BABY FOOD tasty WITHOUT ADDING Sugar?
Use mashed banana or other fruits, breast milk or formula milk to sweeten food, if needed. Use fresh sweet fruits/fruit purees like apple, banana, pear as sweeteners or add in minced or pureed dry fruits such as figs, raisins, apricots, etc. Here is the list of handy and safe sweeteners for the baby before 12 months rather than sugar
Can I add Jaggery, Palm Jaggery/ Palm Sugar or other natural sweeteners to Baby Food?
Jaggery, palm jaggery, palm candy, and palm sugar are mostly used in India as a healthy sweetener. These are natural sweeteners loaded with nutrients. But for babies below one year, it may not be a good idea to give them as a sweetener regularly as the baby develops sweet tooth in the early years itself. You can add them to baby's dessert occasionally when making desserts after consulting with your baby's pediatrician.
Jaggery, palm jaggery, and palm candy are suggested in a rural area by many pediatricians, for the babies who suffer from malnutrition as they may be a cheap energy source for them. But the babies living in urban areas are getting all the nutrients through proper care, and they don't need jaggery or any other natural sweetener in their diet.
When is it safe to add Sugar or other healthy sweeteners to Baby Food?
You can add cane sugar (nattu Sakkara), palm candy (Panam Karkandu), palm jaggery (karupaati), coconut sugar, honey after one year in moderation. Please avoid white sugar as it is processed with harmful chemicals.
Here are some healthy homemade sweeteners suitable for toddlers and kids
Always remember that Once your baby acquires a love for salt or sugar, it will be a hard habit to break. Prevention is the best approach!
Please note that exclusive breastfeeding/formula feeding is recommended until six months.
The information provided here are guidelines and doesn't replace medical advice.
Check with your doctor immediately if your baby has a poor appetite, vomiting or diarrhea, as dehydration leads to dangerous effects. The doctor may help you to determine the cause of the problem and treat it.
Always check with your pediatrician before introducing any new food.
You may also like: