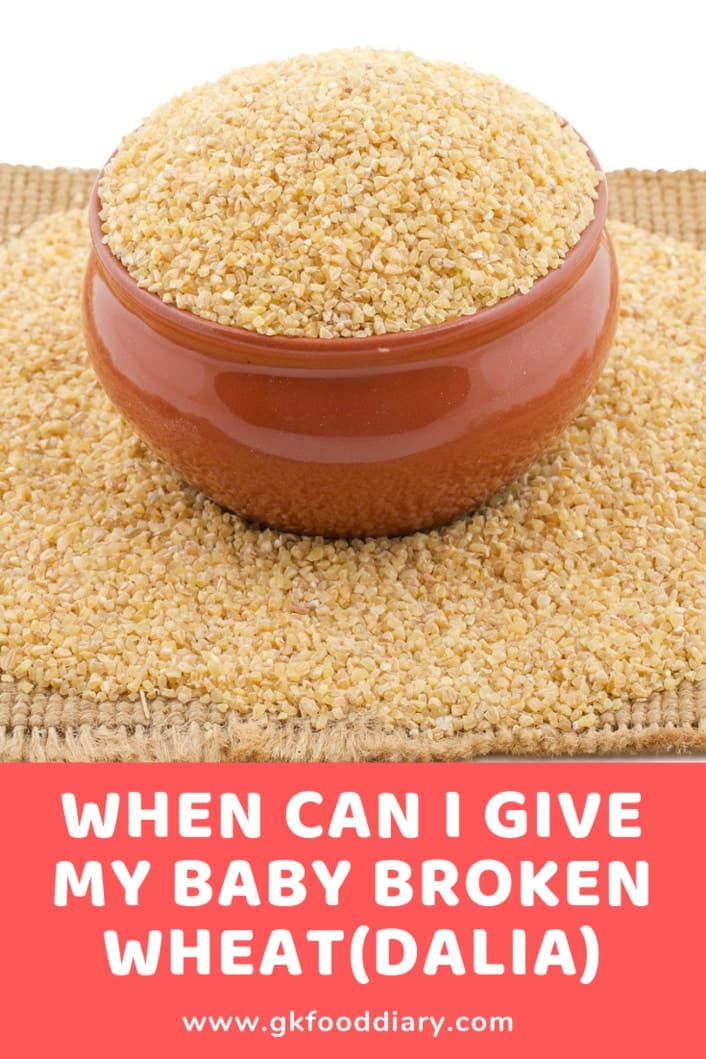 Dalia Recipes for Babies, Toddlers, and Kids - Broken wheat/Cracked Wheat/Dalia/Lapsi/ Samba Rava/ Godhuma Rava is made of whole wheat grain. It is a nutritional food for babies, toddlers, and growing kids. It has anti-inflammatory properties and loaded with dietary fiber, which is useful for preventing constipation in kids.
There are many delicious ways to include broken wheat, and here are some ways to incorporate this healthy whole grain in your child's diet. Read more to know information about the nutritional benefits of Broken wheat, how and when to introduce broken wheat or dalia to the baby etc.
When can I introduce Broken Wheat to my baby?
Broken wheat can be given to babies from 8 months after introducing basic vegetables, fruits, and grains.  You can start with broken wheat porridge when you begin. Start with 2 tablespoon of broken wheat porridge and increase the amount gradually as the baby grows.
How to select and store Dalia for Baby Food
Broken wheat is available in different sizes: Large, medium, small, or fine variety. The small broken wheat variety is best to start with when you introduce cracked wheat to your baby for the first time. As it has a fine texture, the consistency of Daliya porridge or Khichdi is very soft, which makes it easy for babies to swallow.
You can buy broken wheat from grocery stores or online stores like Amazon. Store in an airtight container after buying. Place it in a cool, dry, and dark place.
Nutrients in Broken Wheat
Here is the nutrition information of  ½ cup of raw, broken wheat (75 g)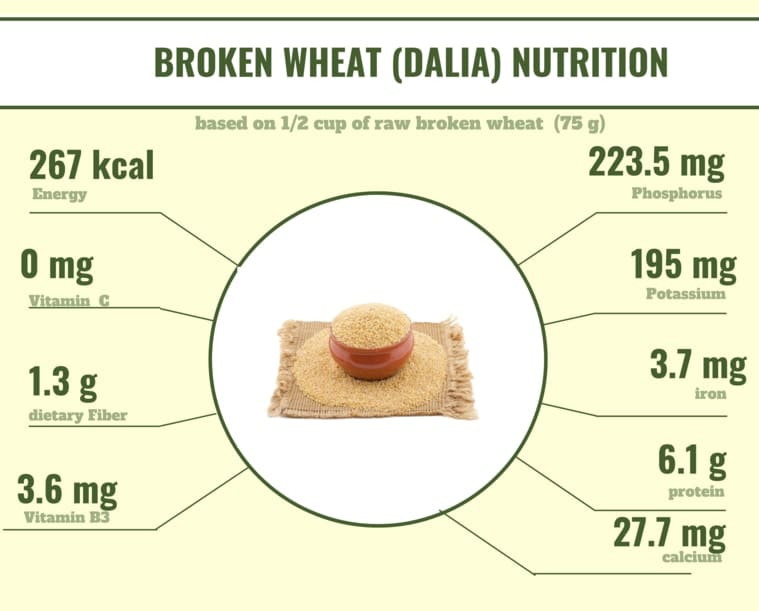 Source: USDA
Health Benefits of Broken Wheat/Dalia for Babies and Toddlers
Broken wheat is rich in dietary fiber, which is beneficial for treating constipation in babies and kids.
Iron in dalia keeps anemia/iron deficiency at bay and keep the child energetic.
Dalia is a rich source of proteins, and it helps to gain muscle mass in children.
The broken wheat has essential vitamins & minerals. It supports overall growth in babies and kids.
Helps to increase appetite in kids if dalia is included in the child's diet regularly.
8 Broken Wheat Dalia Recipes for Babies Toddlers, and Kids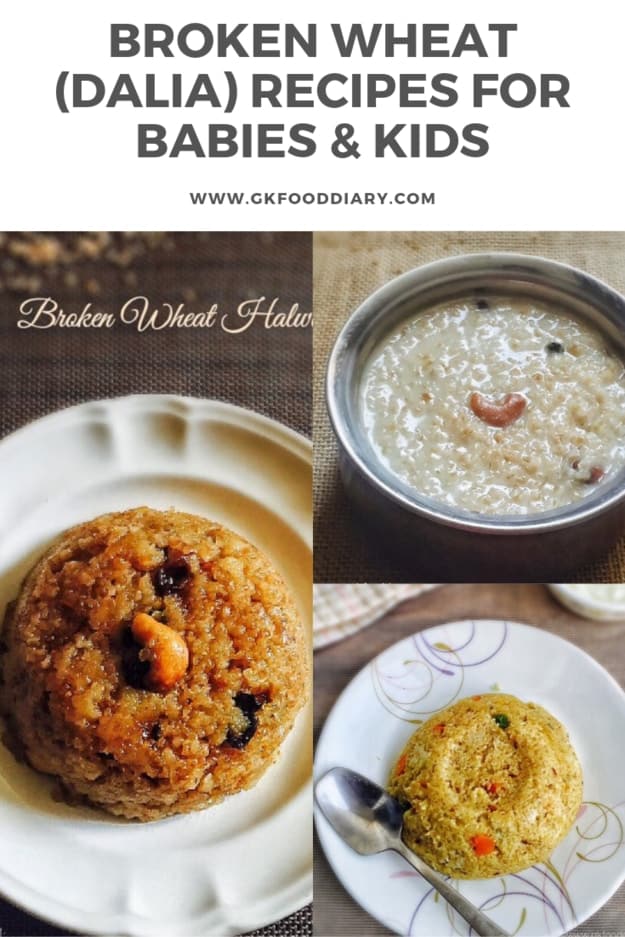 Here are some recipes to include cracked wheat or dalia in your child's diet.
Broken wheat porridge is the best choice when you introduce cracked wheat to your baby. It is a filling food for babies and keeps them satisfied for long hours. Add cows milk to this porridge after your baby completes one year.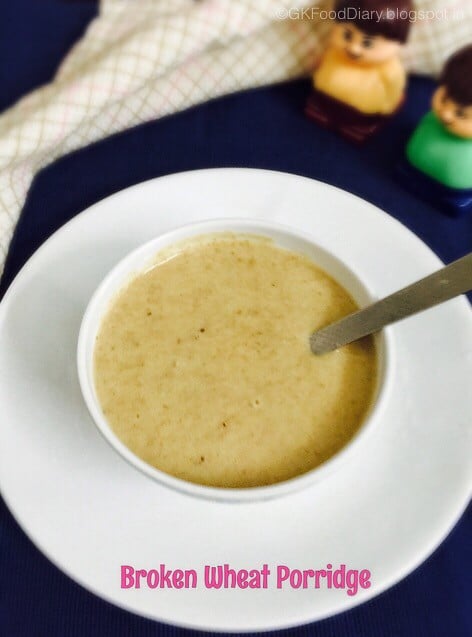 Dalia Kheer is a healthy dessert made with broken wheat, nuts, and coconut milk!  Do try this broken wheat kheer a try and am sure your little one & the whole family will like it!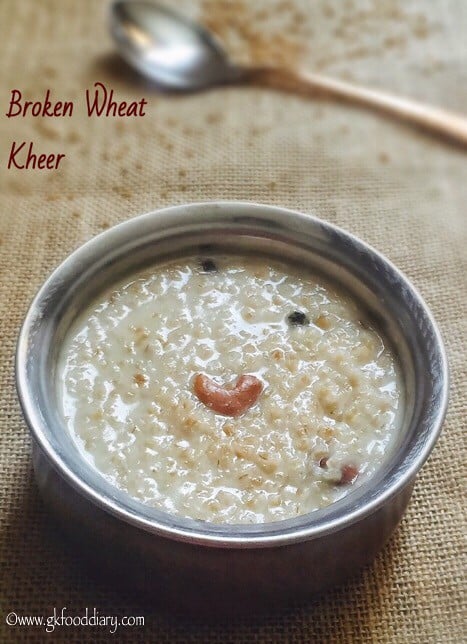 Daliyakhichdi is healthy, wholesome, and comforting food for babies and kids. It's a quick fix meal that can be served for breakfast or dinner.

Instant dalia khichdi mix comes handy, useful during travels and whenever you want to make instant dalia Khichdi recipe for babies. Introduce this mix to your baby after introducing dalia and moong dal separate.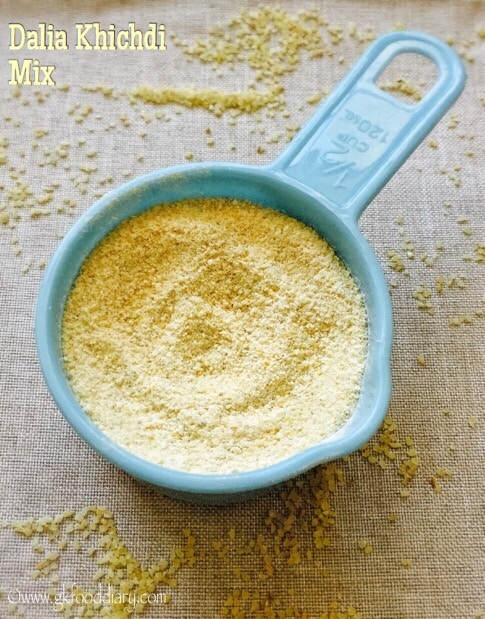 Quick dalia or broken wheat khichdi recipe for babies using homemade Dalia khichdi mix! It is beneficial during travel if you want to give homemade food to your baby. Dalia Khichdi tastes bland without salt, hence add vegetable purees to this khichdi to make it more wholesome, healthy and tasty!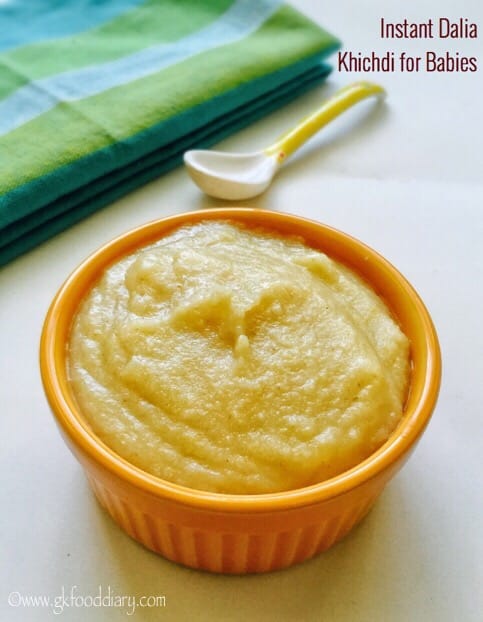 Sweet Dalia /Sweet broken wheat upma /Gur Ka Dalia is a healthy nutritious breakfast for toddlers, kids, and the whole family. This sweet dalia is loaded with fiber, proteins, and iron, hence its perfect for growing kids!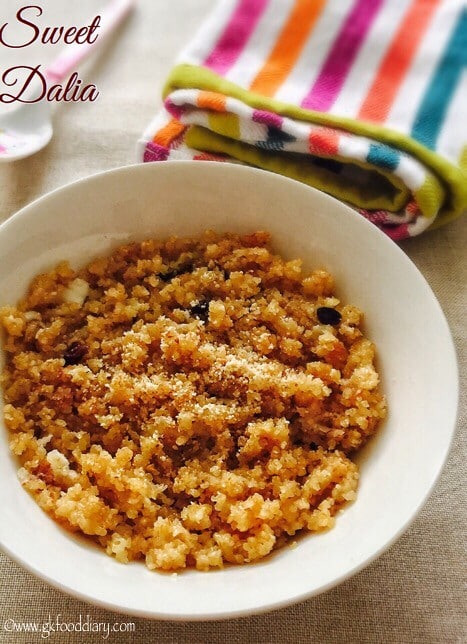 Healthy dessert with Broken wheat, apple, and ghee! It tastes so good that your baby will love it for the soft texture!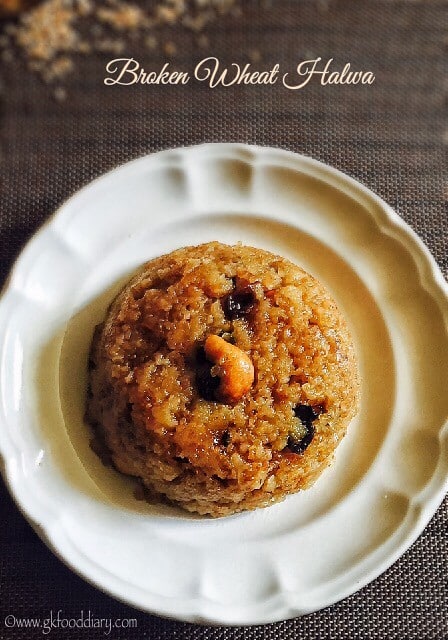 This cracked wheat milk porridge is a creamy porridge which is prepared by soaking and extracting milk. It is a husk free method; it tastes different and good variation to the usual porridge's.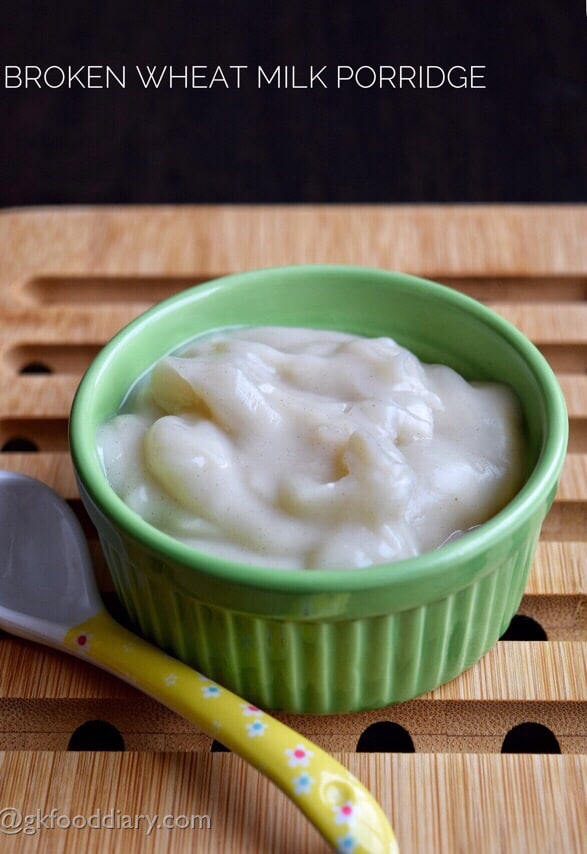 Do try to include broken wheat in your weekly menu for the benefit of your baby and family 🙂