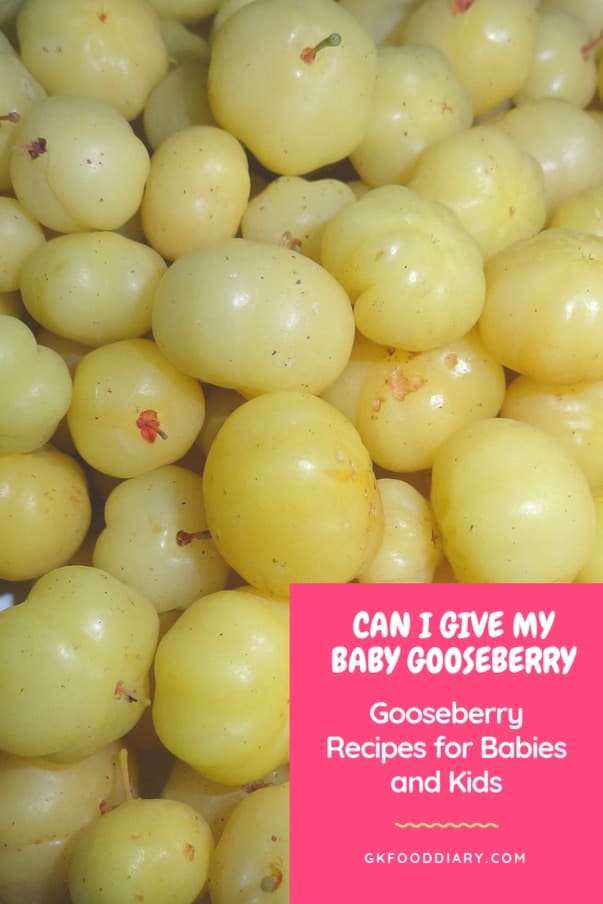 Gooseberry Recipes for Babies - Gooseberry/Amla is an excellent source of vitamin C and also loaded with calcium, Iron, Phosphorous, Vitamin B, etc. Amla is widely used in Ayurveda for various medicinal purposes. It is a great immunity booster for kids.  Also, giving Gooseberry along with iron-rich foods helps in iron absorption in children and adults.
Indian gooseberry/ Amla is the main ingredient in Chyawanprash. Chyawanprash is a nutritious jam that has been used in Ayurveda for thousands of years. It offers a wide range of health benefits, including hair growth, eye care, treating digestions issues & heart problems.
Here are some ways to include the superfood "gooseberry" in your baby's diet. Read more to know information about the nutritional benefits of Gooseberry, how and when to introduce Gooseberry to the baby.
When can I introduce Gooseberry to my baby?
Gooseberries are high in Vitamin C and acidic in nature. Hence it is recommended to introduce Gooseberry after one year once the baby is introduced to a variety of foods. You should watch for allergies after giving Gooseberry. If the baby shows any allergic reaction like rashes or tummy upset, stop feeding them. When you introduce, you can offer a little amount of amla juice/amla jam or tiny cut steamed amla pieces. Gradually increase the quantity based on your baby's tolerance level.
How to select and store Gooseberry for Baby Food
Gooseberries are widely available in the autumn & winter season. And it is the right time to consume them. Choose gooseberries with deep green color without dull skins or blemishes. After buying them, store it in a kitchen counter or refrigerator. To remove dirt or residues, always wash the gooseberries thoroughly with saltwater before use.
Nutrients in  Gooseberry
Here is the nutrition information of 1 cup of raw gooseberries (150 g)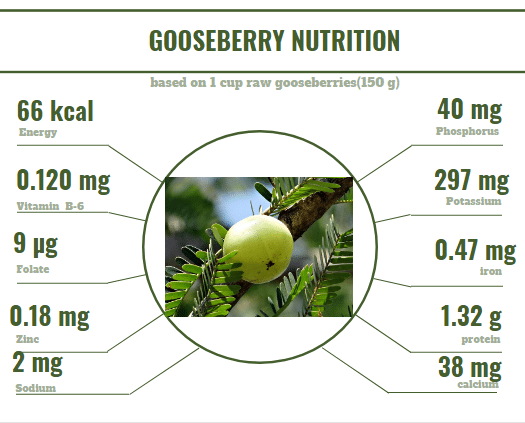 Health Benefits of Gooseberry/Amla for Babies and Toddlers
Vitamin C in Gooseberry is useful for improving immunity and fight diseases
Anti-inflammatory properties in amla support bone health
Aids in hair growth
Vitamin A in Gooseberry is beneficial for eye health. It helps to improve children's eyesight.
Increase appetite in children
Remove toxins from the body as its rich in antioxidants
Treats constipation as its rich in fiber
Prevents anemia as it helps in iron absorption
Gooseberry Recipes for Babies, Toddlers, and Kids
Here are some recipes to include Gooseberry in your children's diet.
This gooseberry juice is one of the best ways to include them in your kid's diet. The quantity of gooseberry juice should be given less (say ¼ cup) when you introduce this juice to your child as more amount might lead to stomach upset in some children. Gradually increase the dosage as per your child's tolerance level.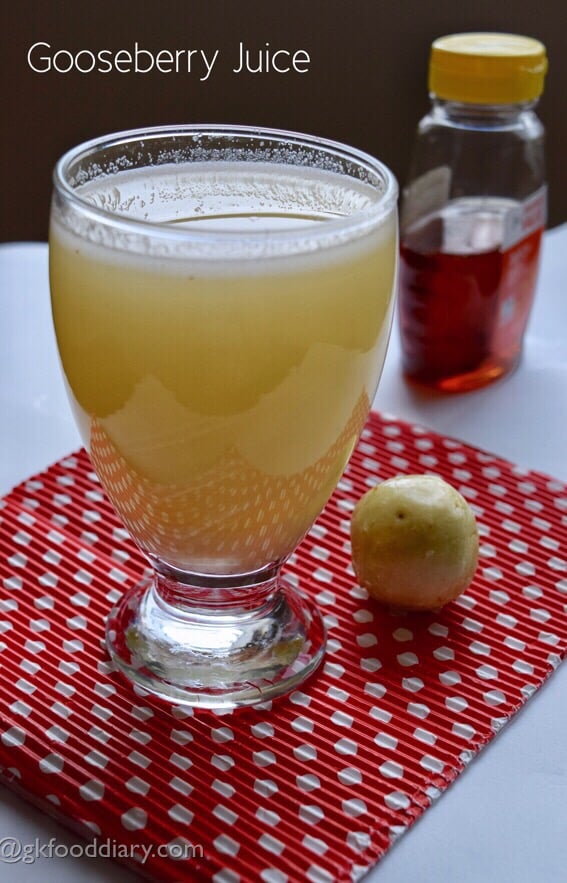 Quick, homemade, preservatives free, pectin-free jam recipe with Indian gooseberries!  This gooseberry jam is an excellent option to include the gooseberries in kids' diet as it tastes good, and the sour taste is well balanced with a sweet flavor. It is very quick to make in minutes and can be enjoyed with whole wheat bread, idli, dosa, roti, or even as such.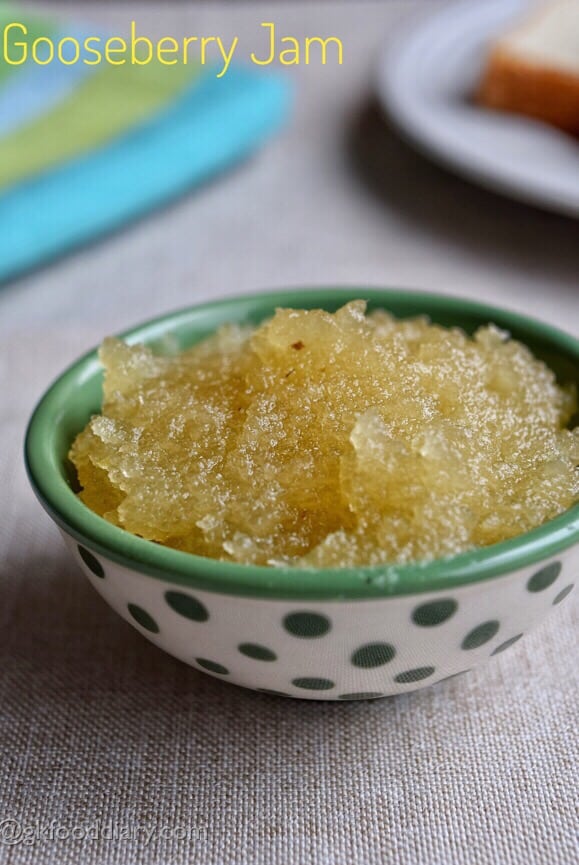 An easy, quick, and tasty meal made with Gooseberry and little spices, which is apt for travel and
lunch box
too. This gooseberry rice tastes good and very simple to make, as well. It can be given to kids after one year or once they started eating with the family!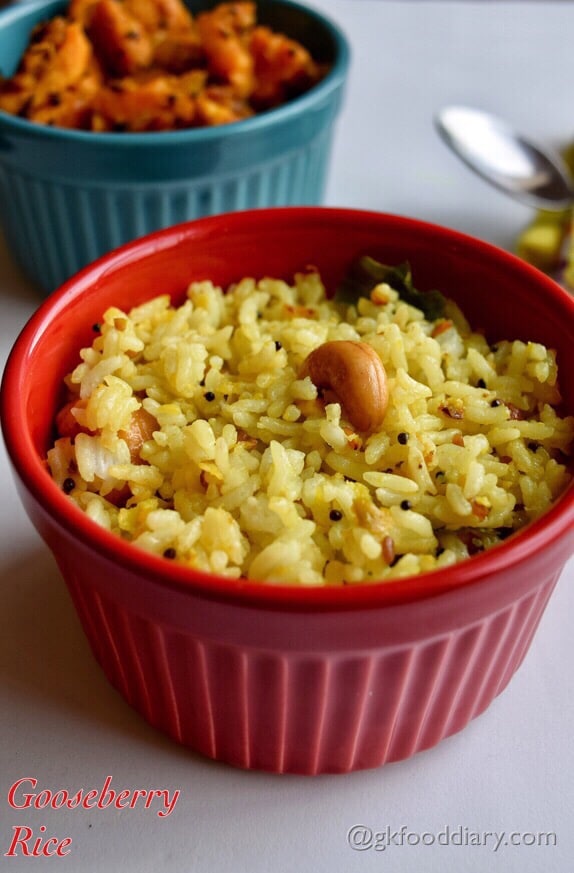 Do try to include all these nutritious gooseberry recipes in your kids and family diet 🙂