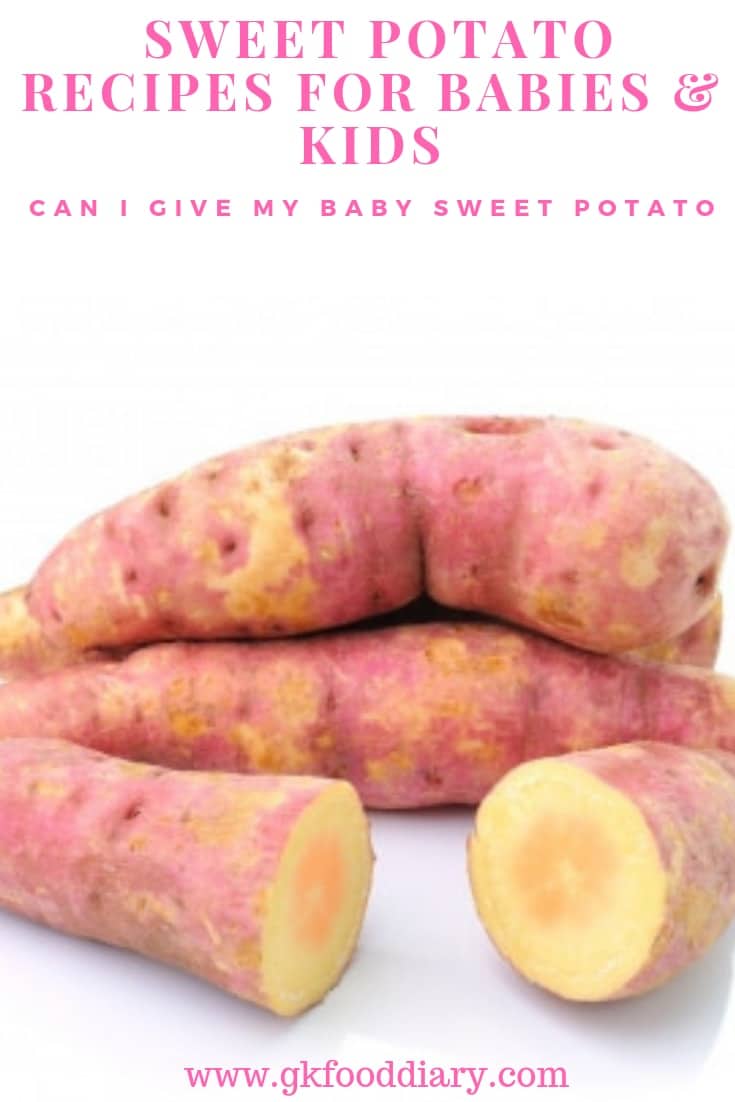 Sweet potato is a versatile vegetable and one of the great first food for babies. As sweet potatoes are soft, creamy texture, delicious taste, and less allergenic nature. Sweet potatoes are high in Vitamin A & E, also loaded with more health benefits. Hence including them in children's diet is essential for their growth & development.
Here is some information about when and how to introduce the sweet potato to a baby, health benefits of sweet potato, etc. Also the collection of sweet potato recipes, which are super healthy and tasty too.
When Can I introduce Sweet Potatoes for my Baby:
Sweet potatoes are less allergenic and suggested as one of the best first food for babies. So you can begin sweet potatoes to babies from 6 months, and sweet potato puree/mash is right, to start with.
How to select and store Sweet Potato for Baby Food
Select a sweet potato in medium size with less bruise, without brown spots.
Store the sweet potato in a cool, dry place. Don't store them in a refrigerator. It stays good for at least ten days.
There are different varieties of sweet potatoes available in the market. Among those varieties, Japanese sweet potatoes, garnet sweet potatoes, and jewel sweet potatoes are suitable for baby food as it is sweet compared to other types.

Japanese sweet potato- The skin is purple/pink, has white flesh inside and  tastes very sweet
Garnet sweet potato - The surface is reddish/deep orange, has orange meat inside and tastes moderately sweet.
Jewel sweet potato - The skin is orange, has deep orange flesh inside and tastes moderately sweet.
How to cook Sweet potato for Baby Food
Sweet potatoes can be prepared in various ways as given below, but it tastes good on each method.
Baking - Preheat oven for 425 degrees F. Prick sweet potatoes with small knife and place in a baking tray. Bake it for 45 minutes or until tender, and the skin is wrinkled. Peel the skin once it's cooled down.
Boiling  - Cut sweet potatoes into small pieces and cook it in a saucepan with water till its immersed level until soft. Peel the skin once it's cooled down.
Pressure cooking - Cut the sweet potatoes into 1-inch pieces and pressure cook it in a cooker with water till its immersed level until soft. Peel the skin once it's cooled down. More details on pressure cooking sweet potatoes given in the steps below.
Steaming - Peel and cut sweet potatoes into small pieces and steam it using a steamer until soft. Check here for more details on steaming sweet potatoes.
Nutrients in Sweet Potato
Here is the nutrition information of  1 medium cooked sweet potato (114 g)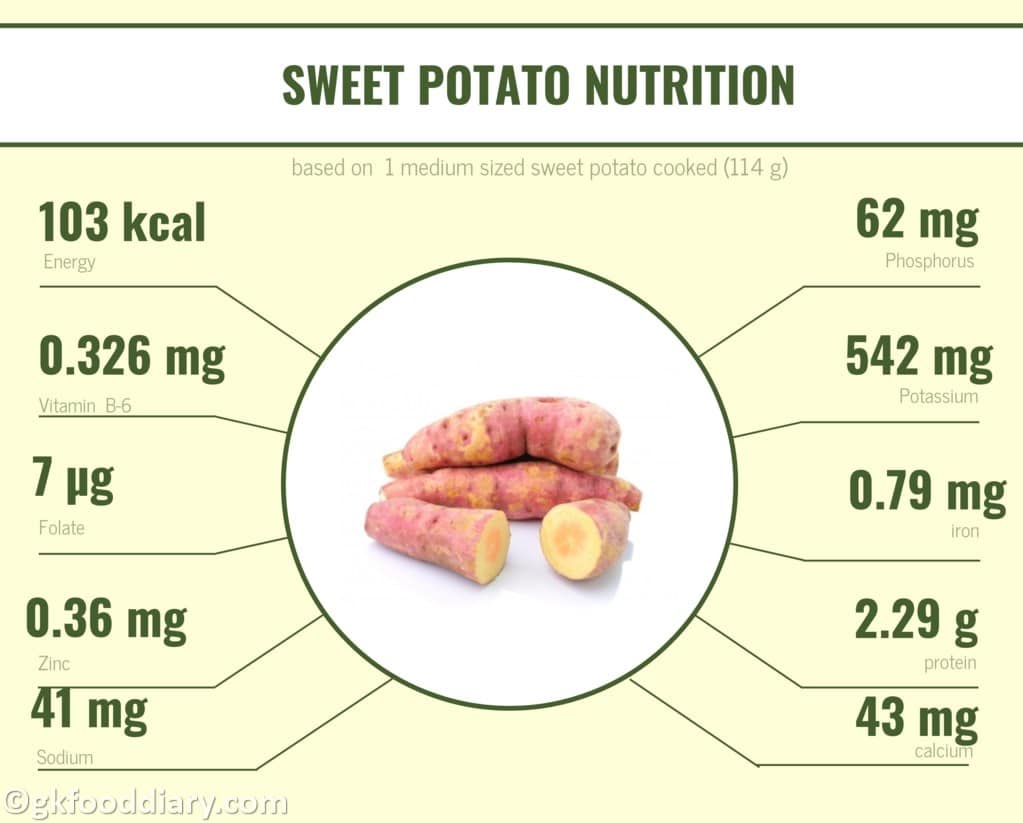 Health benefits of Sweet potatoes for Babies and Kids
Healthy Weight gain food for babies and growing kids as its rich in natural sugars
Rich in calcium and iron, which is necessary for growth in babies and kids
Loaded with Vitamin A, which helps to maintain good eyesight
Rich in Vitamin C and E that encourages healthy glowing skin
High in fiber that helps to relieve from baby and toddlers constipation
Excellent source of dietary fiber which helps to maintain a healthy digestive tract
Sweet Potato Recipes for Babies, Toddlers, and Kids
Click on each thumbnail image or the link given below for the recipes. Sweet potatoes can be given to babies from 6 months, but some sweet potato recipes are better suited to slightly older babies. Hence choose recipes according to your baby's age which is mentioned in the brackets along with the recipe. Please refer to the notes section given at the end of this post for the points to remember before making these sweet potato recipes for your baby!
Do try all these nutritious sweet potato baby food Indian recipes:)
Notes:
Never introduce more than one food at a time when introducing solids to your baby.
Check for allergy symptoms when you are introducing new food to your baby and stop feeding your baby if you find any signs.
If your baby is allergic to any specific ingredient, remove it from the recipe.
Please avoid green chilies and red chilies at least till two years.
If the recipe calls for more spices, adjust it according to your baby's age and preference.
Always check with your pediatrician before introducing any new food.
Sugar, salt and honey are not recommended until one year of age.
UPDATE:
This post was originally published in June 2017 and has been completely updated with additional details for more accuracy and comprehensiveness.