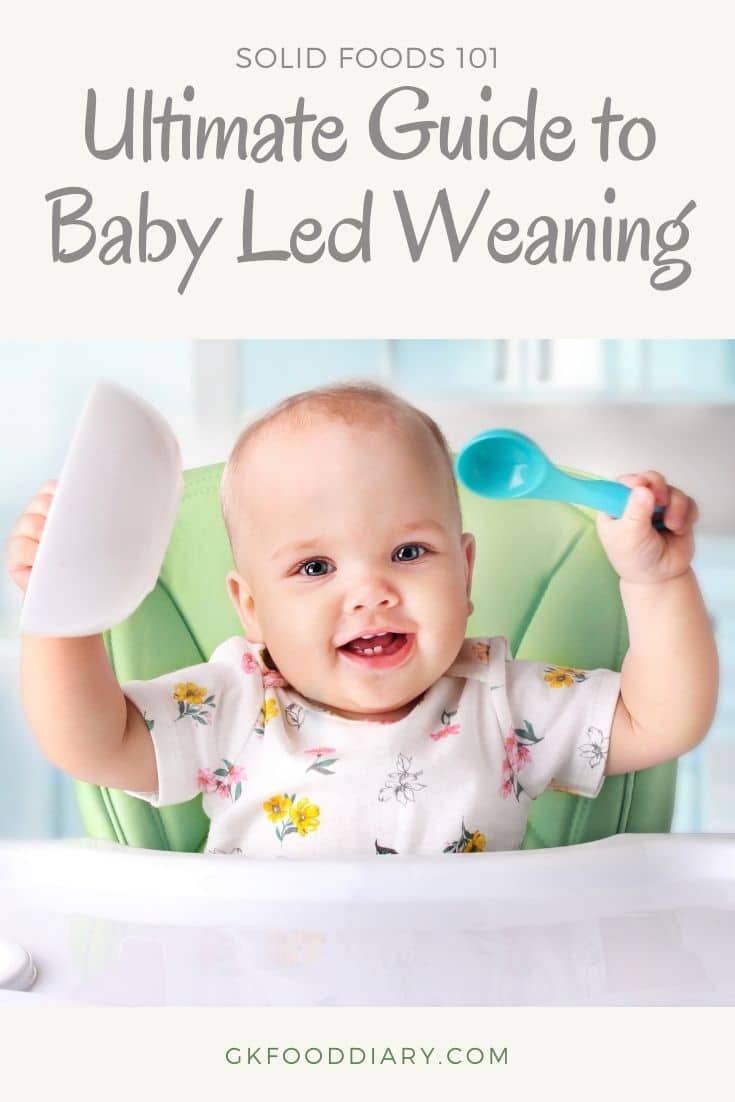 Your Ultimate Guide to Baby-Led Weaning - Weaning is one of the most exciting periods in your young child's life, though, for many parents, it can prove tricky. What should be your baby's first solid foods? When should you start weaning your child? And the ever-present fear, what if you're doing it wrong?
It's essential to familiarize yourself with baby-led weaning before it's time to begin the process. That way, you will be more confident and will likely enjoy an easier, faster weaning process.
This is what we're going to do in this article, provide you with 101 on how to "do" baby-led weaning.
First off, what is baby-led weaning?
As the name tells us, baby-led weaning teaches your child to eat solid foods for the first time, but with the baby taking the lead. We're all familiar with the image of the Mommy or Daddy sitting beside their baby's high seat, and scooping various mushy purees into the baby's open mouth, also known as traditional weaning, but now, we have an alternative approach.
Rather than following the above pattern, baby-led weaning invites parents to step back and allow the child some independence. In this type of weaning, the child is presented with an assortment of baby finger foods and left to his own devices.
Tip: Obviously, we're not saying leave your baby alone in the kitchen, as that can be dangerous. Instead, stand to one side, and allow your baby to make their own choice.
Presented with a varied choice of finger foods, the child will then begin mimicking the scooping motion he's already seen in his parents, and older siblings, countless times in an attempt to bring the food to his mouth.
But why? What's the purpose of baby-led weaning, and is it better?
Naturally, we are always a little wary about ditching tradition. And what was so wrong about spoon-feeding your baby purees for a couple of months? Well, nothing. It's just that baby-led weaning supports and strengthens the child's skills.
Like what?
Motor Skills - In baby-led weaning, the child is in charge of grabbing finger foods (often cut up, or broken into small pieces, for ease of use), and bringing them to his mouth. This helps strengthen the baby's hand-eye coordination through its repetition. It also improves agility by encouraging the child to focus on grabbing food and bringing it to a set goal (his mouth).
Chewing - Remember that your baby is new to this whole chewing skill. And while chewing is a natural reflex that doesn't need to be learned, it does need to be perfected. That's what we're doing through baby-led weaning.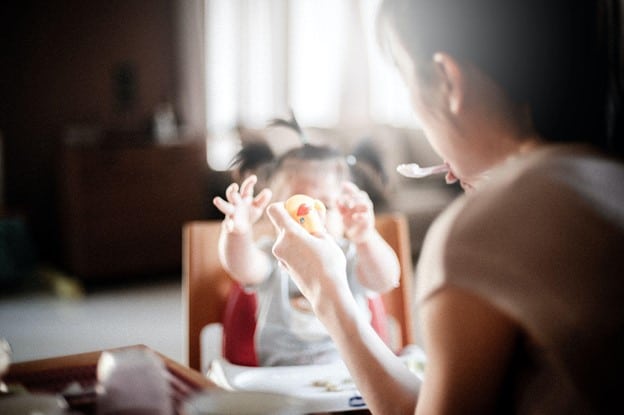 Self-regulation - A common problem parents encounter with their small children is overfeeding. Since a baby isn't in charge of their feeding, in the beginning, they can not stop eating when they feel full. They can't tell you to stop scooping food into their mouth. However, when the baby is in the driver's seat, they decide when they no longer wish to eat. While this may seem like a small feat to you, it is very important for a small child, as it encourages resilience and independence.
Healthy Eating Habits - We're all familiar with the vast array of baby food jars available in the supermarket, though few of us consider the potentially unhealthy ingredients packaged inside. Parents of older children often complain about how difficult it is to get their child to eat healthy things, like vegetables, but fail to see that this goes back to their baby days. Baby-led weaning focuses primarily on healthy, natural snacks, which will nurture a lifelong habit of healthy eating within the child.
How to Start Baby-Led Weaning
Many parents who try baby-led weaning are excited to do it, and understandably so. It is, after all, a significant moment in your child's development when they are finally capable of feeding themselves. However, make sure you don't jump the gun in your excitement to help your child.
Begin baby-led weaning slowly, and don't go too crazy with the foods you use. Experts on nursing and childcare recommend starting with single foods to determine a child's allergies.
The 3-Day Rule
Also, ensure you allow your child some time to get used to a specific food type before introducing a new one. For instance, if you've just started feeding your child apples, you should wait for a little before introducing them to bananas. Allowing roughly three days to pass between new foods lets the child become used to the idea of a certain meal, making them more likely to accept the next one.
It's also important that during those three days, you keep trying. For instance, if the child rejects the apple the first time you offer it, this shouldn't automatically mean you give up on apples. Rather, it might be good to keep offering your child slices of apple throughout those three days, and only then, if you've had no luck, stop.

What foods should be used for baby-led weaning?
You're undoubtedly wondering which foods are best to use while weaning your child. As we mentioned above, it's essential that you begin with various finger foods, cut up into small, easy-to-chew pieces. Although baby-led weaning assigns the child a lead role, remember not to get overzealous and cut up the child's food into small pieces.
1.   Baked/ Steamed sliced apple.
Since we already mentioned it, we thought it best to start with it. Apple is an excellent food for a baby, as it cures many stomach troubles. Try switching from the traditional apple puree instead of slicing the baked/Steamed apple into small baby-appropriate slices without the peel.
2.   Avocado.
Avocado is another big favorite among parents since it contains healthy (unsaturated) fats and fiber. Of course, you will want to use a ripe avocado that's not too hard nor too mushy. The biggest issue with avocados as baby food is that it can be quite slippery.
Pancakes and omelets tend to have a similar texture, so we're putting them in the same category. Slice up either of these into small cubes, and serve them to your child. To add an Indian twist, you can try serving your child pancakes made with ragi (finger millet) and oats.
4.   Steamed Broccoli.
Broccoli has always been a tricky food for parents, but again, if you teach a child early on that it is healthy and yummy, they're less likely to object to it later on. Serving your child with steamed broccoli florets will deliver a yummy dose of fiber, iron, and healthy carbs.
Paneer fried with little ghee makes a perfect finger food for babies. Paneer is packed with protein and essential nutrients. This panner fry is a good option for babies as a mid-morning or evening snack.
6.   Banana Slices.
Banana is again another big favorite for baby-led weaning, because of its mushy consistency. It is easy for the child to grab a banana slice, and eat it without too much effort, not to mention its myriad of health benefits!
7.  Chapati / Paratha
Chapathi / Roti /Paratha is made from wheat flour, oil/ghee. It is easy for the bay to grab a slice and eat. Don't cover with too much oil prefer ghee.
Steamed, this traditional rice cake becomes soft and easy to chew, which delivers a dose of healthy nutrients, thanks to the lentil batter used in its composition and the rice itself.
9.   Moist Meats.
Some meats are appropriate for baby-led weaning, but only when they are moist, and easy to chew, and have been cut up into tiny pieces for ease of use. This goes for chicken, which has a chewy consistency easy to choke on, but also other meat types that you need to be careful with.
Lastly, well-cooked pasta is a wonderful addition to your baby-led weaning starter pack. It is easy for the baby to grab and, ideally, moist and easy to chew (which is what makes it such a favorite with older children).
What to avoid:
When beginning your baby-led weaning journey, you will want to stay away from such foods that are potential hazards for your baby, such as:
Rugged, raw fruit;
Seeds and nuts (whole);
Salad or spinach leaves;
Chips, popcorn, and other such hard snacks;
Big chunks of meat, fish, etc.;
Anything that seems too big or too hard should be avoided.
When to start baby-led weaning?
Baby-led weaning should start when your baby is around six months old, when traditional weaning would start. For some, this may be a little later. It's important to remember not to hurry your child but rather enjoy the whole baby-led weaning journey together!
You may also like: