Jump to: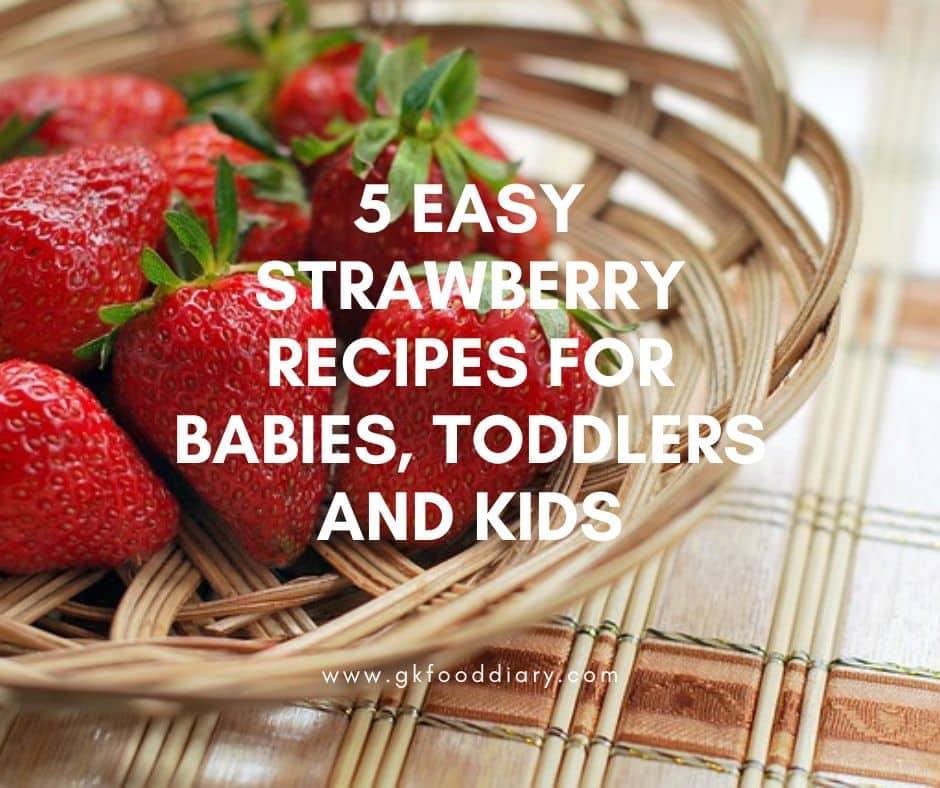 Strawberries are loaded with Vitamin C and antioxidants, which makes excellent healthy food for babies, toddlers, and kids.
When to Introduce Strawberries for Babies:
Strawberries are one of the potential allergens; hence, adding strawberries for babies during 10-12 months is recommended. But recent studies are suggesting introducing allergen foods sooner. Therefore consult with your doctor about the same. When you introduce, you can offer mashed strawberries or cut tiny pieces of strawberries as finger food if your baby can handle the same. The small seeds of the strawberries are entirely edible; hence, removing the seeds is unnecessary, but buying organic strawberries is highly recommended.
How to Select Strawberries :
Look for a strawberry fruit with a skin not bruised, no visible cuts, and leaves with beautiful green color. Choose ripe and organic strawberries for the best results.
5 Easy Strawberry Recipes for Babies, Toddlers, and Kids
2. Strawberry Lassi Recipe for Babies, Toddlers, and Kids
3. Strawberry Ice cream Recipe for Toddlers and Kids
4. Homemade Strawberry Jam Recipe for Toddlers and Kids
5. Strawberry Muffins Recipe for Toddlers and Kids
Expert Tips on Strawberry Baby Food
Choose ripe and organic strawberries for the best results.
Wash the strawberries thoroughly before you proceed with the recipe.
Ensure to introduce strawberries and other ingredients separately before trying this strawberry milkshake/other mixed.
Always check with your doctor before giving any new food to your baby.
You could skip fresh cream and make a smoothie, but fresh cream gives a rich taste to smoothies.
For babies below one year, prefer juices, smoothies, and soups occasionally, as that might replace breastfeeding or formula feeding.
Skip honey/sugar for babies below one year.
Adding corn flour gives a nice texture to the ice cream. Instead of corn flour, you could use custard powder or milk powder.
You can try this ice cream/milkshake with any fruit you choose. A method is the same.
The more you blend, the creamier your ice cream will be.
Adjust sweetness according to the taste of the strawberries.