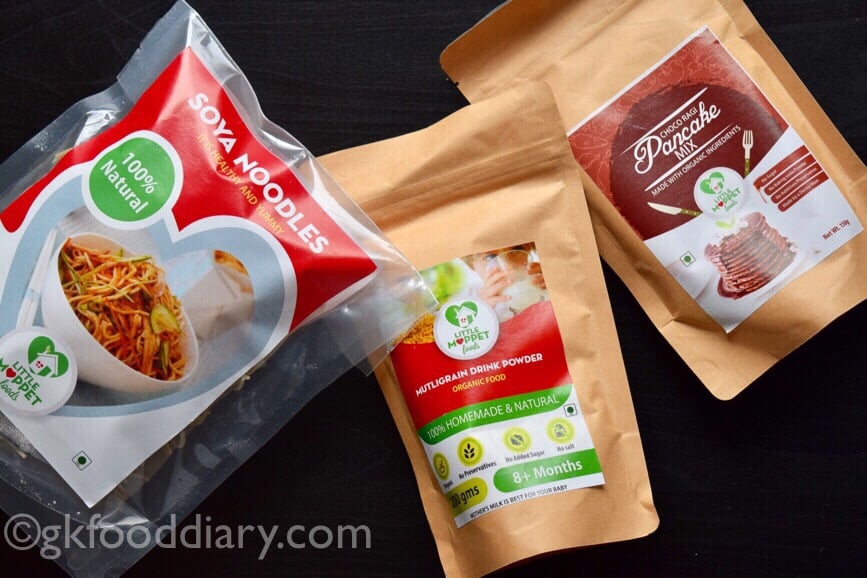 Hope you have read my review about Little Moppet foods for Babies. Now here is my review for Little Moppet foods for Toddlers.
My Thoughts On Little Moppet Foods For Toddlers 
Let us check the review of each product "Little Moppet Foods for Toddlers" in detail.
1. Choco-Ragi Pancake Mix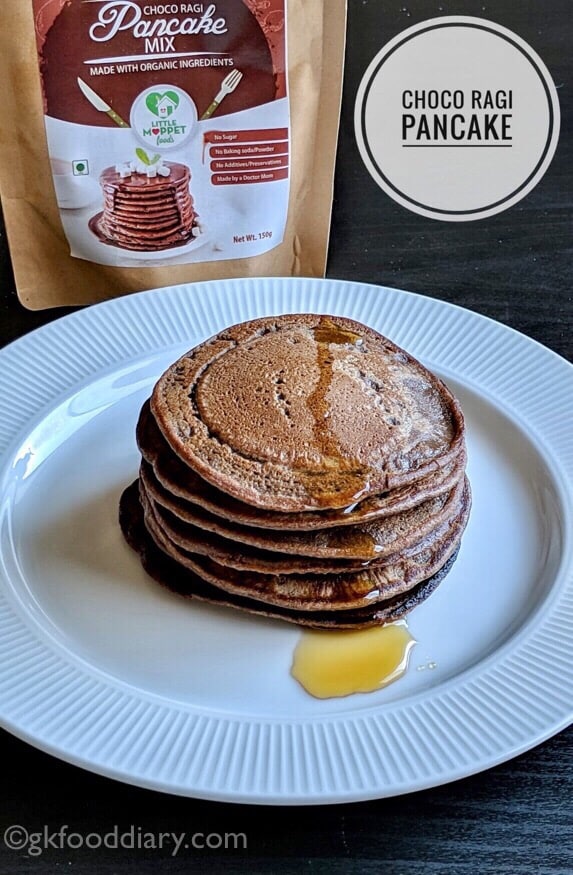 Product Description
Age Recommendation: 1 year and above
Ingredients: Finger Millet, Whole Wheat Flour, 100% pure and natural cocoa powder
My experience with Choco-Ragi Pancake Mix
Unlike most other pancake mixes, this one is free from sugar, salt, and artificial flavoring. You can give this pancake mix to your children without any guilt as its made from whole grain flour and pure cocoa powder.  Ragi gives a touch of fiber and other essential nutrients.
I always prefer simple and different recipes for a Sunday morning after a long routine week! So I have tried this "Choco ragi pancake mix " for a relaxing Sunday breakfast for myself and my little daughter. It turned out good, fluffy and tasty too. Just make sure to serve it with your children's favorite syrup or fruits if your child has a sweet tooth as no sugar added in the pack!
Here is the method I followed for making this choco ragi pancake:
For 1 cup of "Choco ragi pancake mix," take one egg (add one banana if you are a vegetarian), 1 tablespoon of butter, ¾ cup of milk and 1 tablespoon of jaggery.
Mix until smooth.
Heat a frying pan and pour ¼ cup of the batter onto the griddle.
Add 1 teaspoon of butter and brown on both sides and serve hot. Tada your pancake is ready! Serve with Maple syrup/honey/ dates syrup or even fruits!
Where to buy Choco-Ragi Pancake Mix
Click Here To Buy: Choco-Ragi Pancake Mix
2. Soya Noodles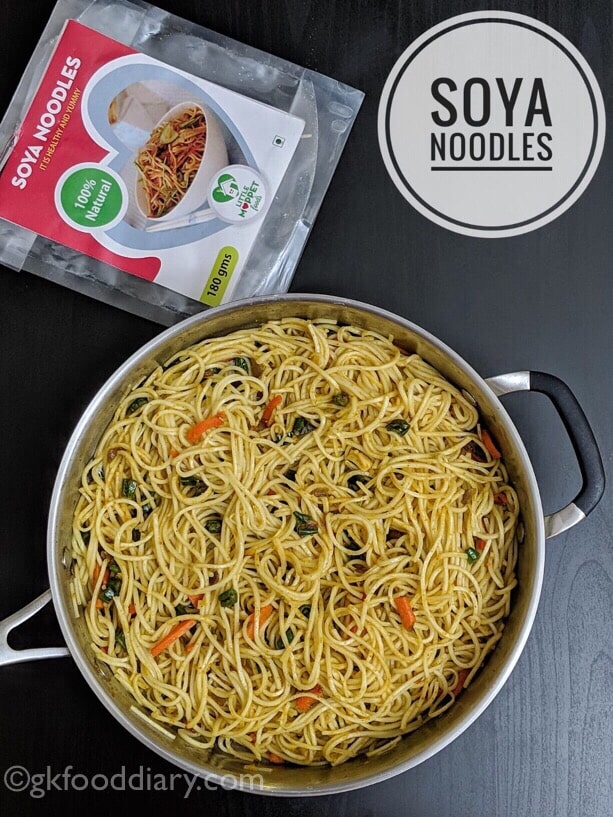 Product Description
Recommended Age: 1+ years to adults.
Ingredients: Noodles – Fortified wheat flour, Soya flour, Millet flour (Samai, Varagu, Kuthiravolly millets), Edible Vegetable Oil, Salt, and Purified water. Taste Maker – Chili powder, Salt, Turmeric powder, Pepper, Ginger, and Spices.
My experience with Soya Noodles
Noodles are a type of instant food enjoyed by children around the world.  Though instant noodles may be convenient and require only a few minutes to prepare, most of the brands are not healthy to eat them regularly. But the Soy noodles from Little moppet food is appealing as it made from soy flour and other whole grain flours. Also, this product is free of MSG or any harmful additives.
I have tried this "Soya Noodles" for dinner, prepared and cooked in 20 minutes or less from start to finish. As an additional benefit, I used up all the veggies in my fridge:)  I have added green chiles in the recipe as I thought the tastemaker would be less spicy. But I was wrong, and the noodles turned spicier because of the extra green chiles, the spiciness in the tastemaker itself is just perfect for kids and family. However, the taste was no lesser than the other instant noodles.  As such, it works great as a satisfying snack or meal. You can even pack it for your kid's lunch box, and they will surely love it! You can cut the veggies and keep it ready the previous day itself which makes it even quicker.
Here is the method I followed for making soya noodles:
In a large pot of boiling salted water, cook 180 g of soy noodles for 5 minutes; drain well.
Take a pan and heat olive oil. Add two garlic, one small onion, 1 cup of vegetables of your choice and cook, occasionally stir it, until tender and crunchy, about 5 minutes; set aside.
Stir in cooked noodles, tastemaker and 2 tablespoon of parmesan cheese (optional) until well combined, about 2-3 minutes.
Serve immediately.
Where to buy Soya Noodles
Click Here To Buy: Soya Noodles
3. Multigrain Health Drink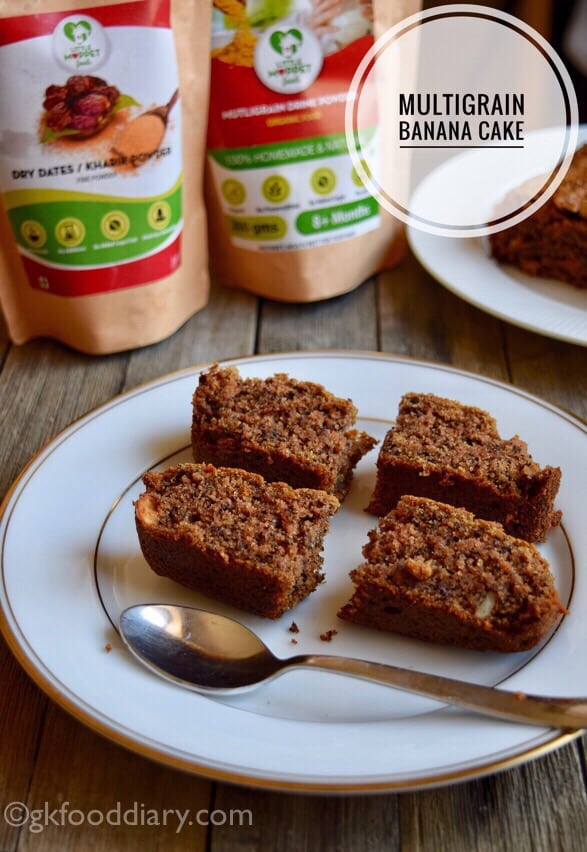 Product Description
Age recommendation: 8 months+
Ingredients: Barnyard Millet (Jhangora), Finger Millet (Ragi/Nachni), Foxtail Millet(Kangni), Kodo Millet (Kodra),Little Millet(Kutki), Pearl Millet (Bajra), Sorghum (Jowar), Corn, Sago (Sabudana), Horsegram, Sesame Seeds, Almonds, Pistachios & Cashew nuts. No added sugar or preservatives.
My experience with Multigrain Health Drink 
The multigrain health drink from Little Moppet foods is prepared with several millets and nuts. It can be added to hot milk for babies above one year and given as porridge for babies below one year.
I tried giving my preschooler this multigrain drink as an evening drink by merely mixing 2 teaspoon of multigrain health drink powder, 1 teaspoon of powdered palm sugar it to 1 cup of hot milk. She liked it and had it without any complaints:)
I wanted to experiment more with this multigrain mix as it has many millets. So I tried the multigrain banana cake, and it came out super tasty. I slightly tweaked this whole wheat banana cake recipe a bit and came up with this multigrain banana cake! We all loved it so much 🙂
The cake was not dense, with healthy goodness of millets!  I was awed by the outcome, and anyone could easily fall for this healthy cake!!
Here is the method I followed for making this multigrain banana cake:
In the whole wheat banana cake recipe, replace half of the wheat flour with multigrain health mix, i.e., ¾ cup of whole wheat flour and ¾ cup multigrain health mix.
I have also replaced half of the sugar quantity with dry dates powder from Little Moppet foods, i.e., ¼ cup of sugar and ¼ cup of dry dates powder.
Follow the whole wheat banana cake recipe for remaining steps, bake the cake and Enjoy with your family!
Disclosure
Little Moppet Foods have sent their products for an honest review. I was not encouraged or compensated to write a positive review. All opinions are my own.