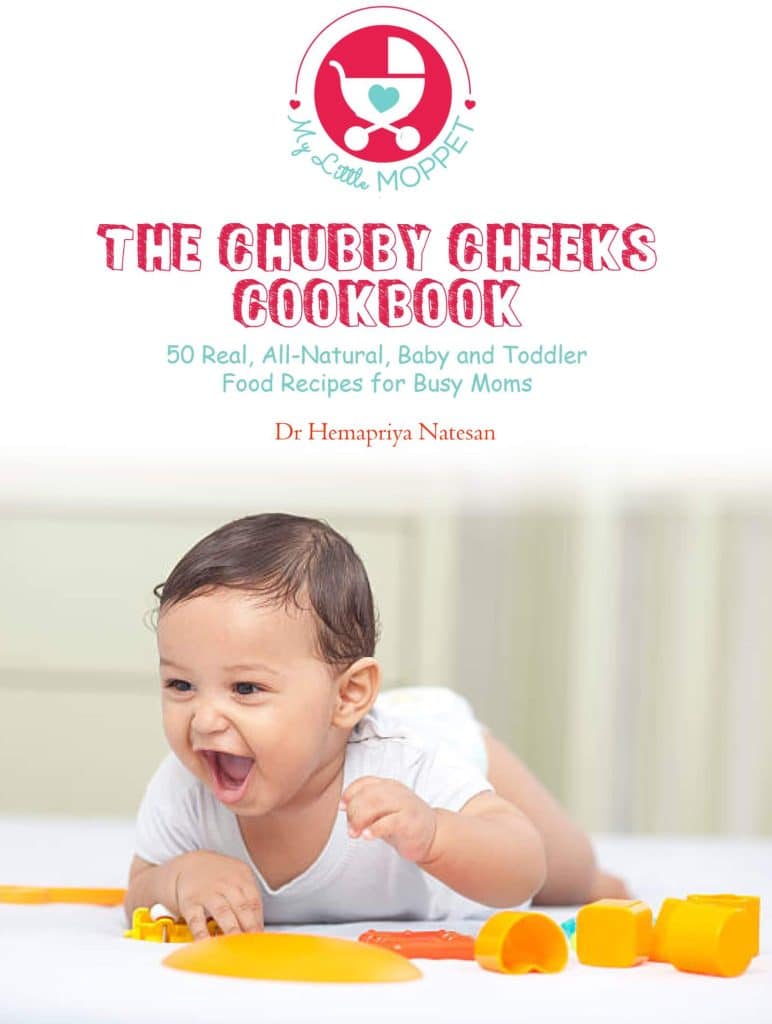 Most parents are so worried about weight gain in children and look for ways to gain weight despite the healthy foods they are providing them. Here is a cookbook for babies, toddlers and kids by Dr. Hemapriya Natesan, founder of My Little Moppet.
This Chubby Cheeks eBook is a good resource for parents, with children of all ages who are looking for healthy weight gain recipes. I received a copy of this eBook to review and I absolutely loved this book:)
Chubby Cheeks eBook Contents
The E-book has a wide range of recipes that will help your child get to a healthy weight and gain all essential nutrients. Dr. Hemapriya gives more than just recipes in this book, she gives a wealth of information and helpful tips on underweight kids. The book is broken down into two main parts:
Part 1: Gives you Basics of Weight gain, how to help your underweight child and answers all your queries about weight gain in children. I particularly liked this section as it focuses on healthy eating habits with wholesome & balanced diet, also covers almost everything to help you boost weight gain in your child.
Part 2: The Recipes!They are organized by wide category of weight gaining foods. The recipes are suitable for weaning babies to school going kids even the whole family can enjoy!
There's also a great section on storage & tips, cooking techniques as well as why no sugar and salt for babies under one year.
Chubby Cheeks eBook Recipes
This book features 40 plus delicious,nutritious, fresh and versatile recipes. Each recipe section includes suitable age, storage & serving guideline, nutrition information and tips on how to safely feed your child.  The recipes are well written and accompanied by great photos with the ingredients list followed by recipe directions.
I love that the recipes in the book are quick & easy to make,not much complicated, all require easily available familiar ingredients mostly from your pantry. They also have an array of options to help encourage your child to try new things.
I tried the dry fruits energy balls recipe from the e-Book and served it to my little one and family. Everyone loved it and they were so quick & easy to make!
Would I recommend this e-Book for fellow parents
Yes. Chubby Cheeks eBook is a great book for anyone wanting their child gain weight healthily with the best nutrition as possible. As the recipes written in the book is simple and easy to make which makes it suitable for both the novice and seasoned cook.
I really enjoyed this eBook. Without information overload, Dr. Hemapriya gives you all the knowledge you need to make things as easy as possible to feed your underweight child well.
To know more information about the eBook and to download, click here. Use coupon code 'gk10' to get a 10% discount.
Acknowledgement
Photos included in this post with permission by Dr. Hemapriya Natesan.
Disclosure
I received a copy of this book to review but was not encourage or compensated to write a positive review. Opinions are 100% my own.
You may also like: