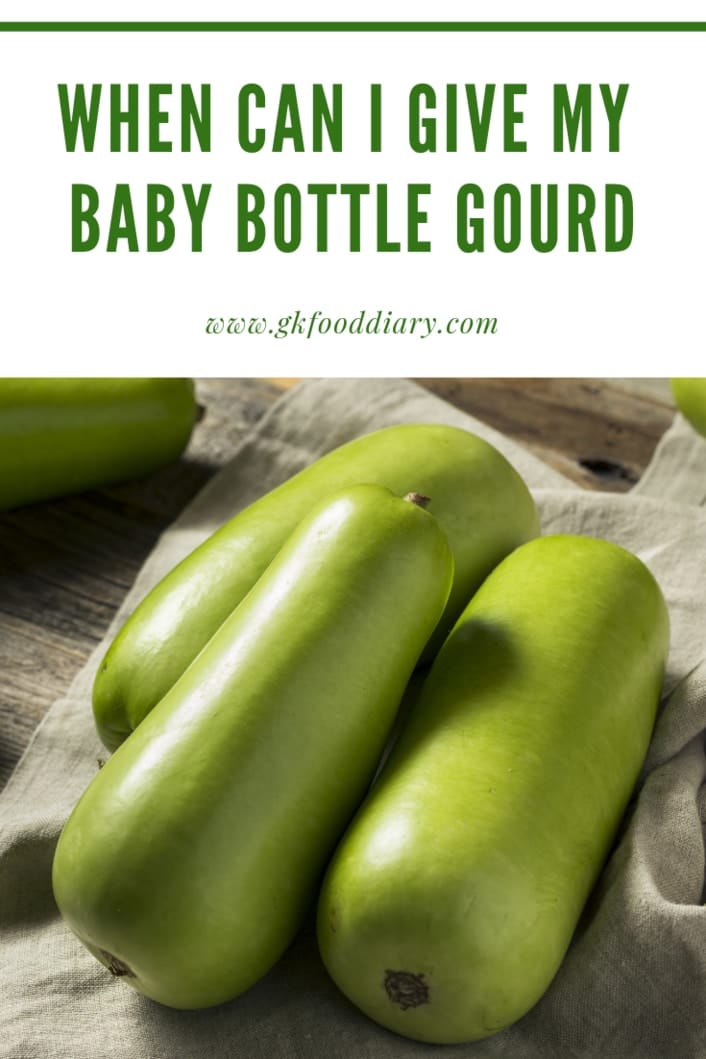 Can I give my Baby Bottle Gourd? - Bottle gourd is a familiar vegetable in India, known by many other names such as Lauki, Dudhi, Opo squash, Surakkai( in Tamil), etc.  This green vegetable has many health benefits as its rich in Vitamins and minerals. It especially helps babies and kids a lot as it aids in better digestion and treats constipation, also provides a cooling effect in the body as it contains 90% water.
But unfortunately, many toddlers and young kids dislike bottle gourd. But worry not, here are some ways to include this healthy vegetable in your child's diet. Read more to know information about the nutritional benefits of bottle gourd, how and when to introduce bottle gourd to the baby etc.
When can I introduce Bottle Gourd to my baby?
Bottle gourd is an easily digestible vegetable and can be given to babies from 6 months.  You can start with steamed bottle gourd puree when you begin. Start with 2 tablespoon of bottle gourd puree and increase the amount gradually as the baby grows. In case of any discomfort for the baby after taking a bottle gourd, stop feeding them and talk to your baby's doctor immediately.
Some babies don't prefer the plain taste of bottle gourd, so mix bottle gourd puree to apple or lentils to make a tasty puree with added health benefits.
Here is the quick video of how to introduce bottle gourd to a baby with bottle gourd puree and bottle gourd soup recipes
How to select and store Bottle Gourd for Baby Food
Bottle gourd is available in all vegetable stores throughout the season. You can pick from the Indian Grocery market if you live outside India.  Consider the below points while choosing and storing bottle gourd.
Choose the bottle gourd which is firm, smooth and light green to dark green in color.
Select young bottle gourd for baby food, it should yields when pressed with nails.
The stem part should be fresh and green in color if it is black in color the bottle gourd will be hard to cook.
After buying them, Place the bottle gourd in a refrigerator.
Taste a small piece of the bottle gourd before cooking, if it tastes bitter don't use it and discard the vegetable.
Nutrients in Bottle Gourd
Here is the nutrition information of 1 cup of cooked bottle gourd (146 g)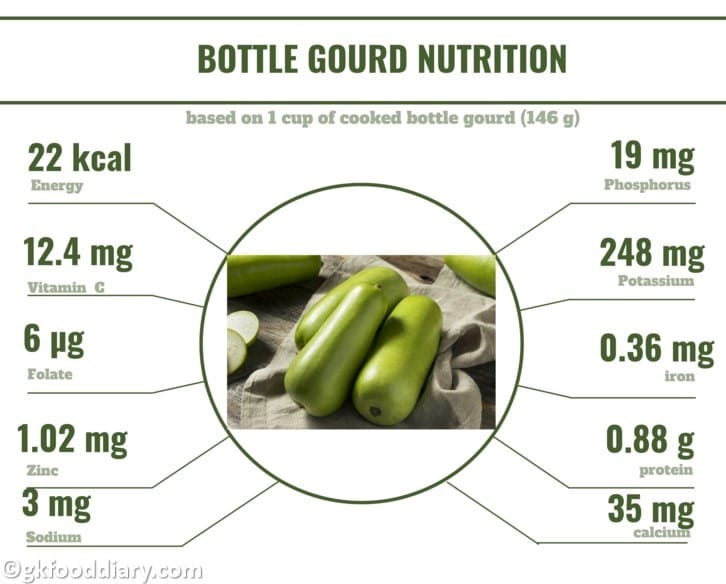 Source: USDA
Health Benefits of Bottle Gourd for Babies and Toddlers
Bottle gourd is good for digestion as it is loaded with water content.
Beneficial in treating Constipation as its rich in dietary fiber.
Cold, Cough, asthma symptoms in kids can be reduced if bottle gourd is included in the child's diet regularly.
Benefits the baby's skin as bottle gourd removes toxicity from the body.
Bottle gourd is an excellent thirst quencher and keeps your child's body cool during summers.
The essential minerals in bottle gourd prevent the risk of heart ailments in babies and kids.
Bottle Gourd Recipes for Babies, Toddlers, and Kids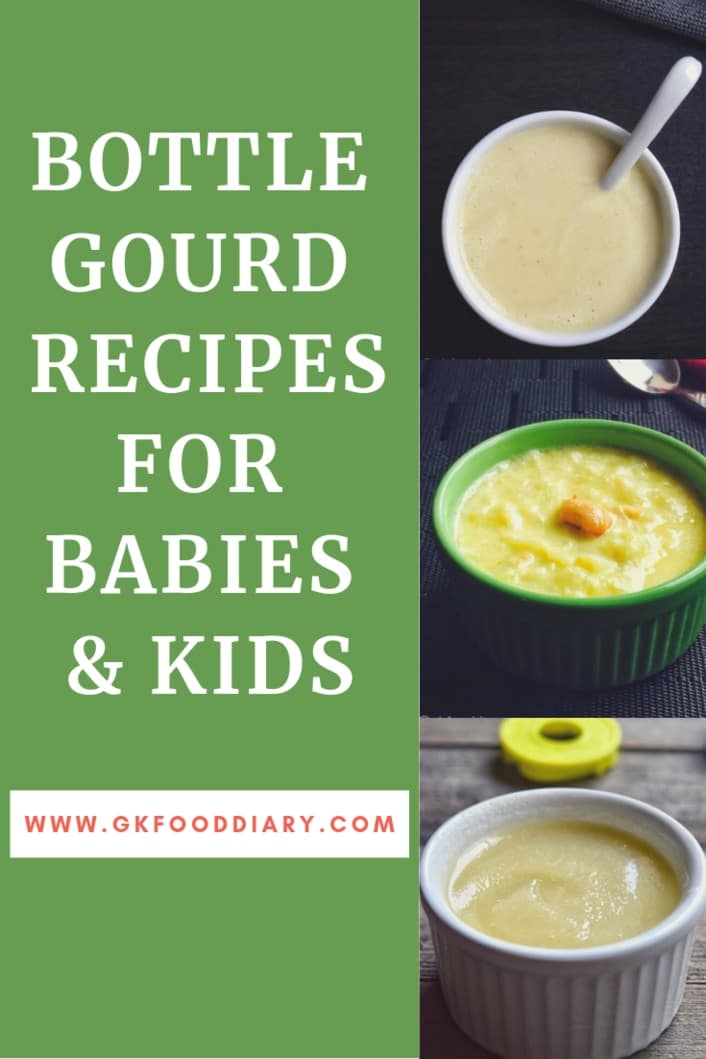 Here are some recipes to include bottle gourd in your child's diet.
Nutritious puree recipe for babies with Bottle gourd and Apple. Some babies don't prefer the plain taste of bottle gourd, so the mix of this bottle gourd & apple makes for a tasty sweet puree with added health benefits from apple.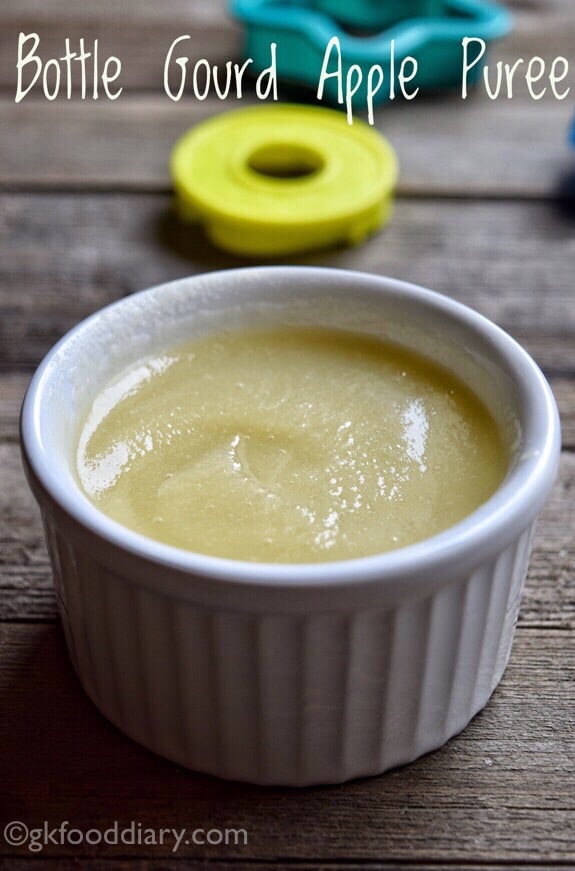 Nutritious and tasty soup with bottle gourd, garlic and moong dal for babies, toddlers, and kids. This wonderful soup has a nice flavor of a bottle gourd, and it is surprisingly easy to make. Also, adding moong dal in the bottle gourd soup increases the protein content.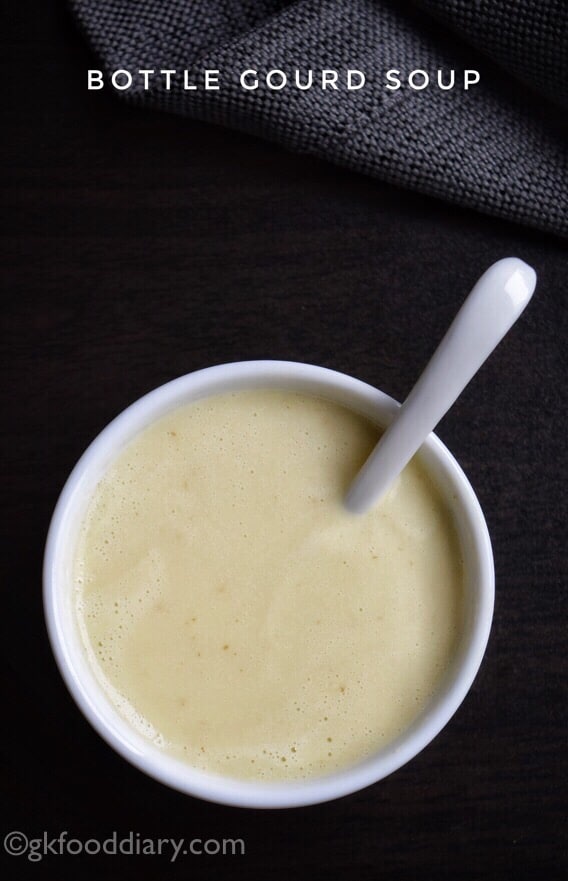 Delicious Indian delicacy made with bottle gourd, nut, and milk! This bottle gourd kheer is one of the best ways to give bottle gourd and sure a healthy treat to kids, as it tastes so good!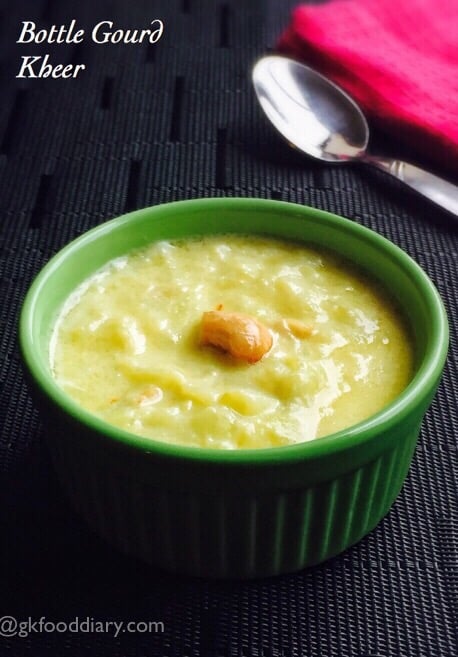 Delicious and healthy dessert with bottle gourd aka lauki, milk, ghee, and nuts. This bottle gourd halwa can be easily prepared when your kids demand a quick dessert. This is surely healthy, nutritious and tasty too!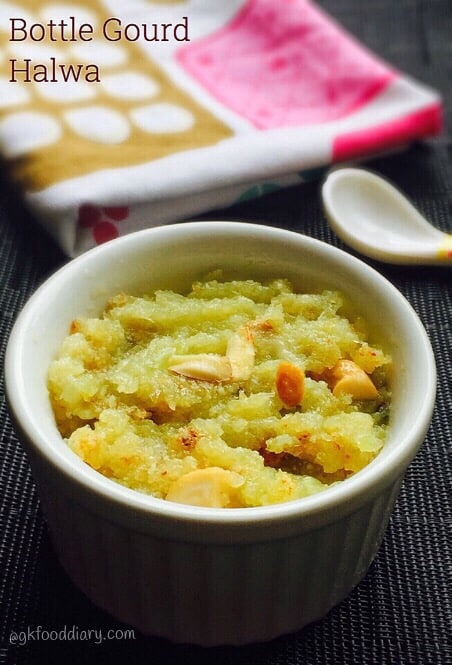 Kootu is a healthy option compared to stir-fry for kids. Bottle gourd Kootu is simple to make and tastes good. It is apt for summer!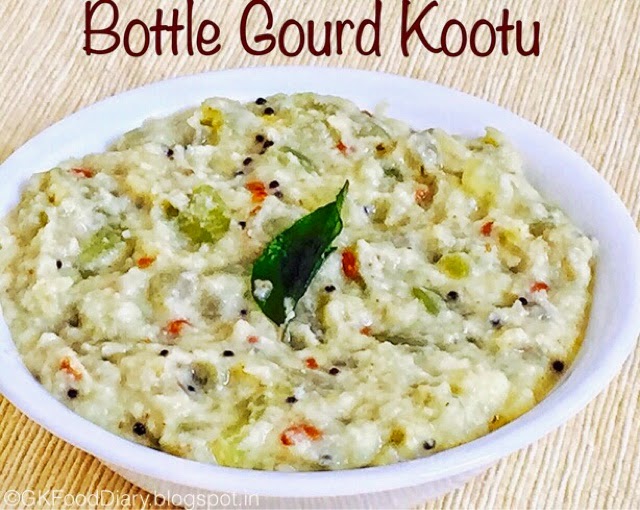 A comforting healthy food for babies and adults made with Indian lentils, tempered with cumin seeds. This bottle gourd is one of the tastiest dal and very quick to make within minutes also kids eat this without any complaints! It goes well with jeera rice, Chapati or roti, even hot steamed plain rice.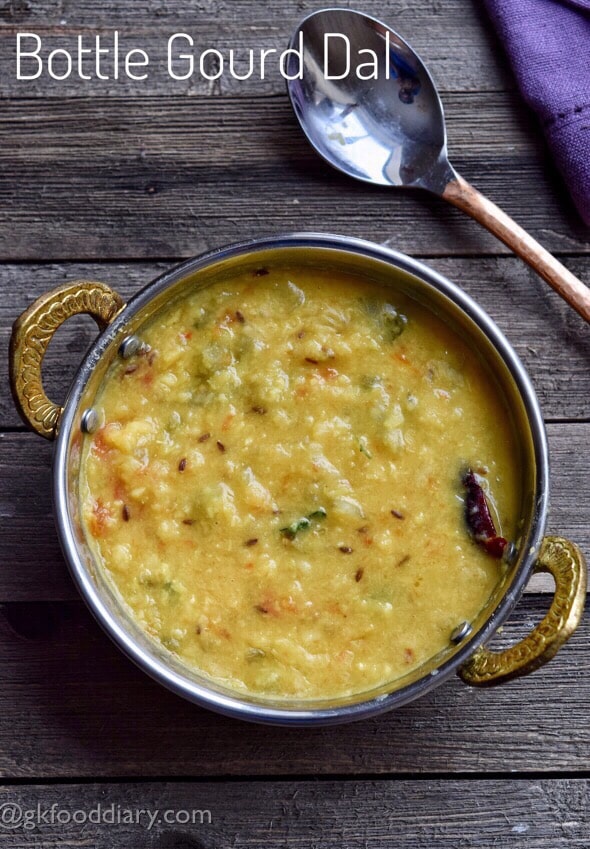 Do try to include bottle gourd in your weekly menu for the benefit of your baby and family 🙂