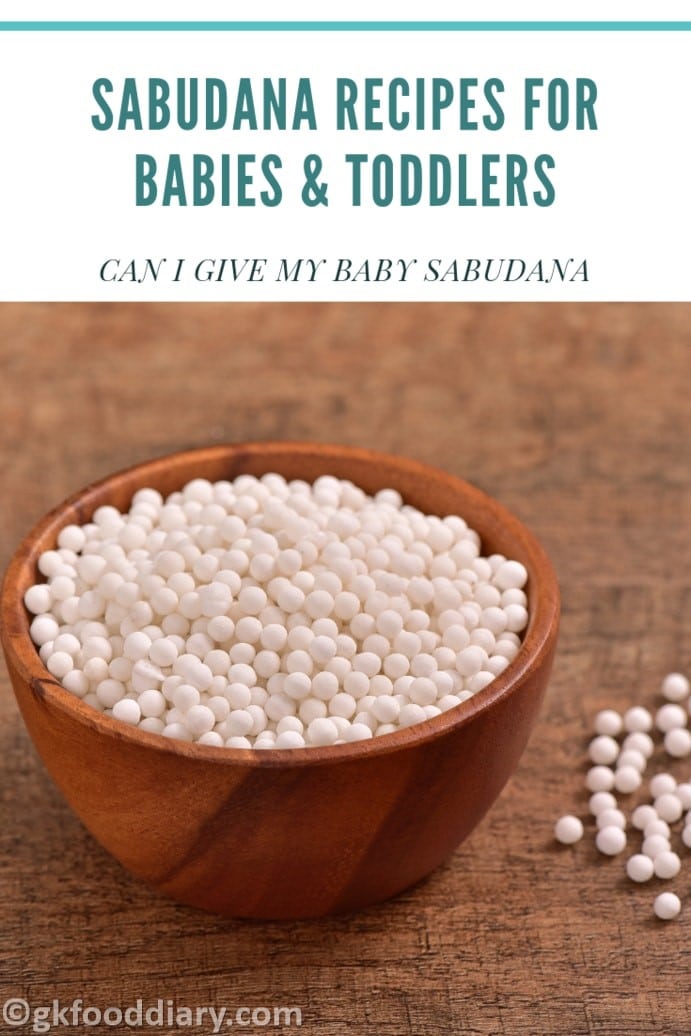 Sabudana/Sago/Tapioca/Javvarisi is simple Indian food made from the roots of the tapioca tree. It is a good source of carbohydrates and little minerals, proteins, and vitamins.  It is often preferred as fasting food or taken during sickness as it gives instant energy. Sabudana is a good option for growing infants, too as it helps in weight gain and improves digestion.
Here are some recipes to include sabudana in your baby's menu. Read more to know information about the health benefits of sabudana, how and when to introduce sabudana to the baby etc.
When can I introduce Sabudana to my baby?
Sabudana can be given to babies from 6 months after introducing rice, few vegetables &  fruits.  When introducing sabudana to your baby, cook the sabudana pearls with water, strain, and give the thick sabudana water alone. Gradually you can include the mashed sabudana pearls as well. Follow three days rule. If your baby does not have any allergies, continue with sabudana. The sabudana become soft and spongy after cooking. Don't tempt to overcook the sabudana as it will turn sticky.
In the beginning, Give only 2-3 teaspoon of cooked sabudana to your baby and slowly increase the quantity. Sabudhana has more starch and no significant nutrition. Hence it is advisable to feed sabudana to babies occasionally and always load sabudana with nuts, milk or vegetables for added nutrients.
How to select and store Sabudana for Baby Food
There are two types of sabudana available in the market: Nylon and Common Sabudana. The nylon sabudana is partially pre-cooked (steamed and dried) before packaging. Choose common sabudana variety for baby food as it is less processed.
Sabudana also comes in different sizes: Small, Medium, and Large pearls. Select a medium or large size sabudana, which is suitable for most of the recipes and gives a nice texture.
Choose sabudana with full white color and no yellow shade.
You can buy sabudana from grocery stores or online stores like Amazon. Store in an airtight container after buying. Keep it in a cool and dry place, away from moisture.
Nutrients in Sabudana
Here is the nutrition information of  sabudana based on dry sabudana pearls (100 g)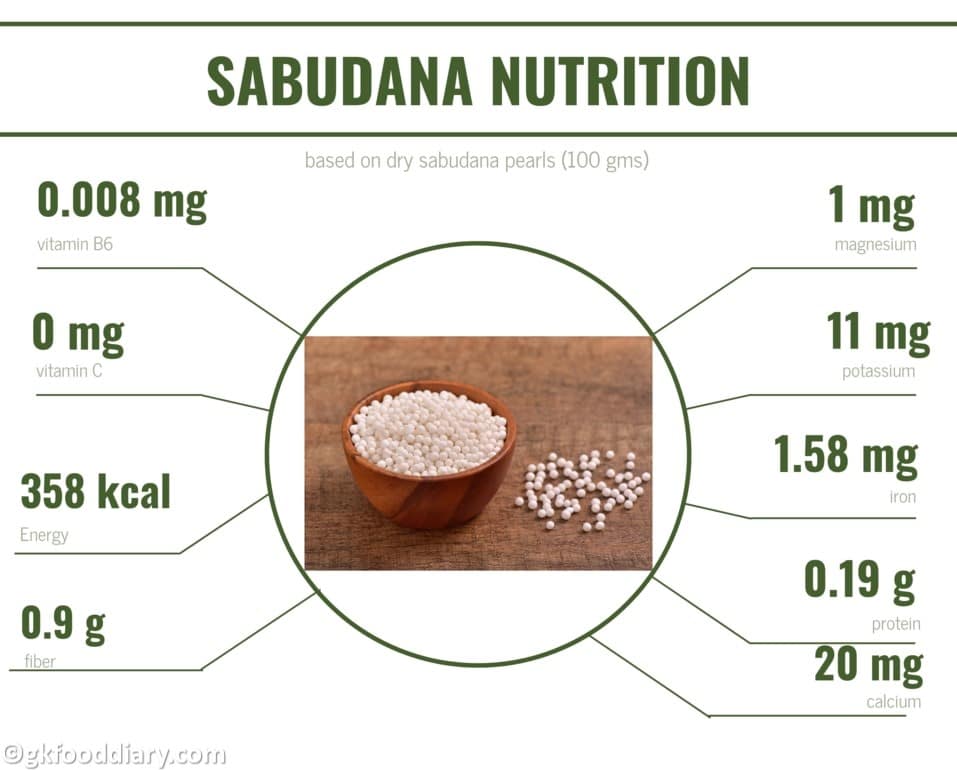 Source: USDA
Health Benefits of Sabudana for Babies and Toddlers
Sabudana is weight gain food for babies and kids as it holds a lot of starch or carbohydrates.
The carbohydrates in sabudana also help to keep your child energetic throughout a day.
Sabudana is good for digestion. Beneficial in treating bloating, gas, flatulence, indigestion, and diarrhea in babies and kids.
Best summer food for children as sabudana naturally cools the body.
Protein, Calcium, magnesium, zinc, and other minerals in sabudana strengthen the bone and muscles in growing kids.
Sabudana Recipes for Babies Toddlers, and Kids
Here are some recipes to include the sabudana in your child's menu.
Sabudana porridge is an energy-boosting porridge recipe made with Sabudana and water or milk. This sabudana porridge is best when you are introducing sabudana to your baby.  You can strain the sabudana pearls and offer the water alone, or you can blend the porridge in a mixer or blender.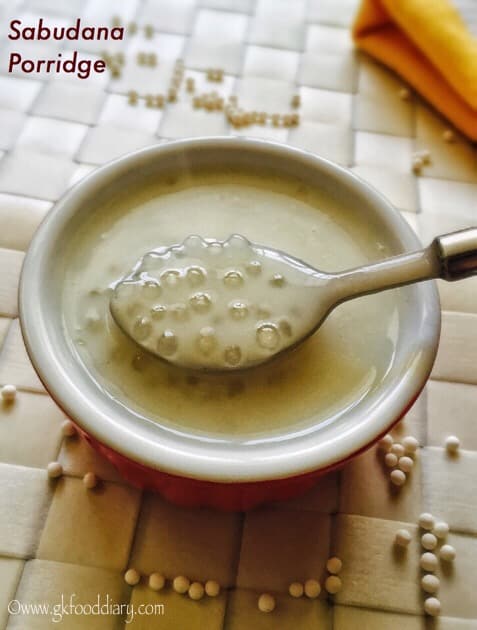 This sabudana porridge is another version of porridge with curd and cumin seeds, and ideal to offer during the episodes of loose motion or diarrhea. It controls diarrhea in children quickly and also gives instant energy.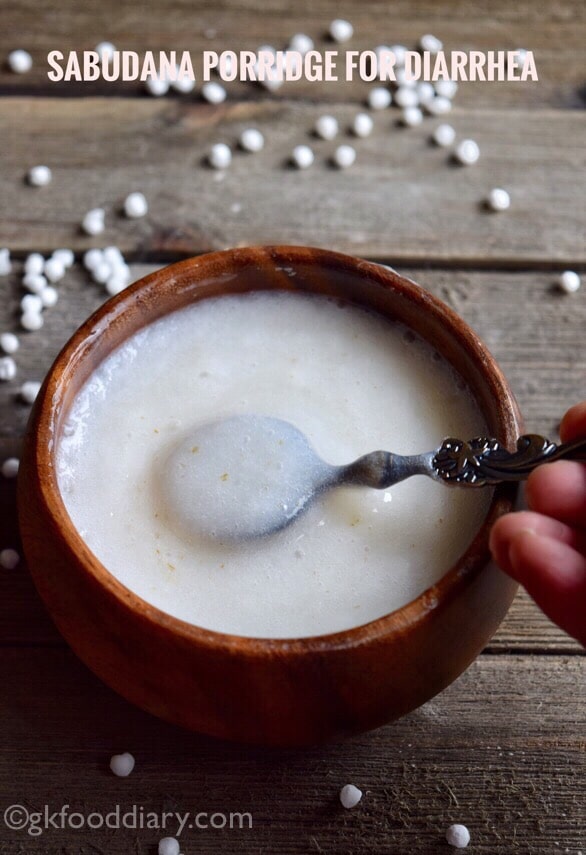 Sabudana Khichdi is an easy and filling breakfast/snack recipe made with Sabudana, peanuts or cashews, and potatoes. It is too soft, mild on the stomach, and keep the kids energetic all day! This sabudana khichdi can be given to babies once they started eating a variety of family foods.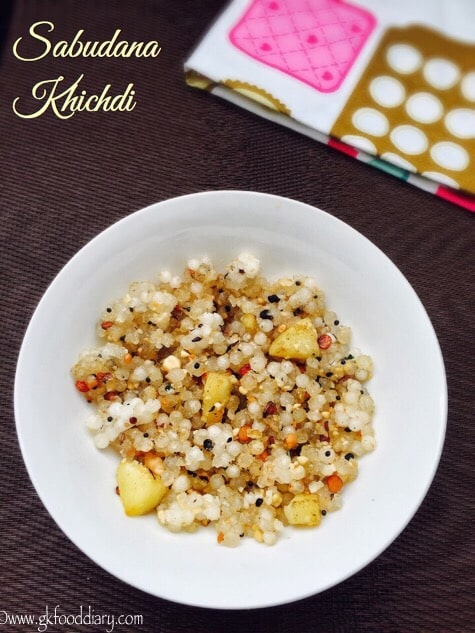 Delicious tasting kheer made with sabudana, milk, and nuts. You can serve this as a quick dessert for babies from one year after introducing cows milk. Skip adding whole nuts for young kids and prefer nuts powder instead.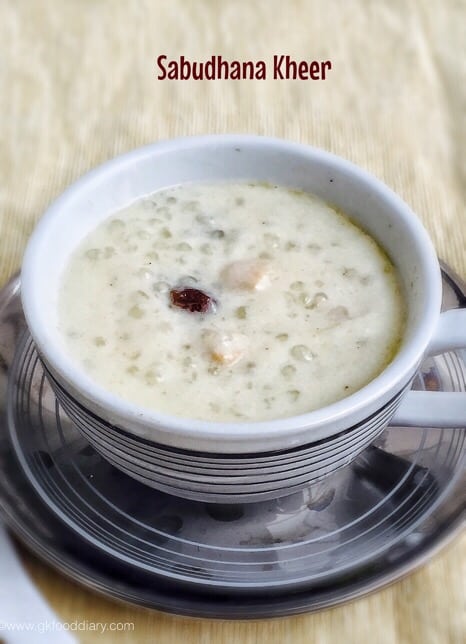 Sabudana idli is an instant, no fermentation idli made with sabudana, idli rava(cream of rice/rice rava) and curd. It is a quick and easy breakfast recipe you can make for a busy morning. This sabudana idlis are little bland in taste, so serve it with sambar, chutney, dal or any tasty side dish of your choice!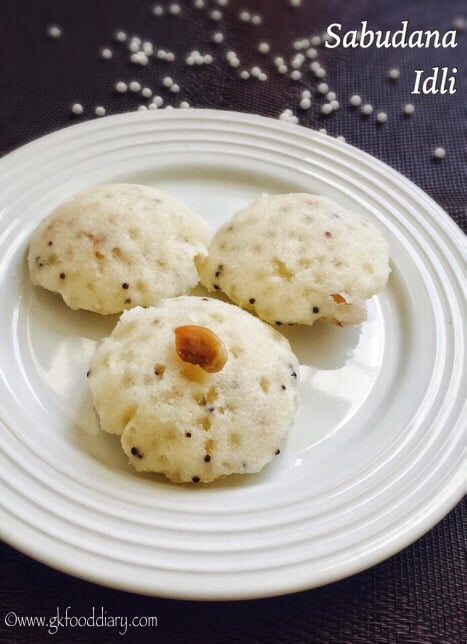 Try out these sabudana recipes for your baby. If you have some wonderful sabudana recipes for babies, do share them with us.