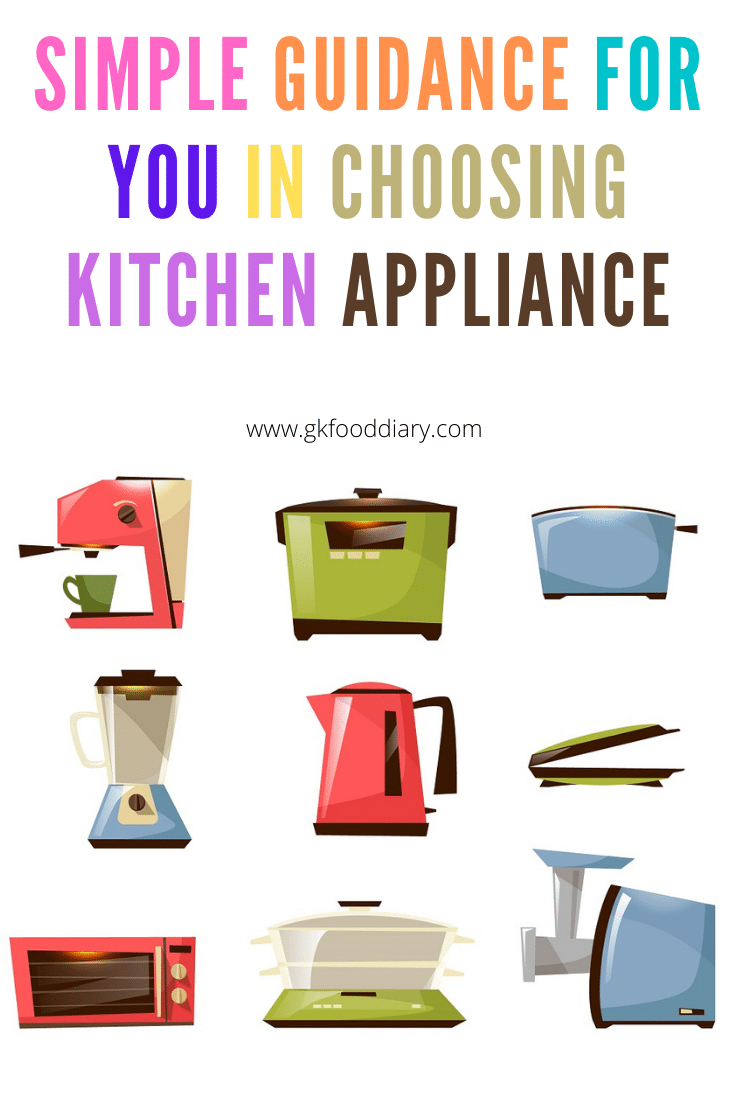 Choosing Kitchen Appliance, It is easy to get lost in the sea of overwhelming options out there when deciding to buy the right kitchen appliances.
You must agree! Don't you?
Whether you are thinking of renovating your kitchen or just looking to update and upgrade some existing kitchen appliances, not knowing what features to look for and what factors to consider will lead you to frustration and indecision.
Worry Not!
This handy-dandy simple guide for you in choosing kitchen appliances will help you make an informed and confident purchasing decision.
Buying Guide: Things to consider when buying kitchen appliances
Yes, it is hard, it is daunting, and it is perplexing!
Deciding what kitchen appliances, you need and what you think you need but don't can be overwhelming.
Why?
Because there are simply many factors you need to consider and there are simply too many choices out there. Ranging from utensils to small gadgets to large appliances.
And that's not all!
What about kitchen size?
Yes, size matters!
Some of you may own your house and that could have a large kitchen area but most modern kitchens are increasingly becoming smaller.
Therefore, considering kitchen size along with other factors that I'm going to talk about in a bit is crucially important.
To-Do Checklist: Before Purchasing
1. Purchase List: Decide what you need and what you don't.
It is very crucial to think hard and separate the must-haves from things that you think you need or the things that will simply waste your precious kitchen space and will never be used.
You need to make a well-thought-out purchasing list. Start with the most basic and important stuff.
Simply ask yourself and answer these two critical questions: Do I really need this? And Will I use it frequently?
This way you will carefully shortlist the most important and essential kitchen appliances and save research time and money down the road.
2. Take kitchen Space into consideration
Regardless of what you may have in mind of acquiring kitchen appliances, it majorly depends on your kitchen space you have.
Space is one of the most critical factors to consider before buying kitchen appliances, especially large ones.
See, what happens is most customers face the hassle of returning kitchen appliances especially the large ones since most people don't consider space.
Hence, it is vital to measure and draw out cutout dimensions for bulky products to save yourself from the unwanted hassle. Besides, the exact dimension, it is wise to leave some space for airflow and electrical cables and stuff.
Not only that, consider whether you have enough spaces for the delivery people to move around along with the product.
3. Do thorough research on products and compare: Read Reviews
Reviews
It should go without saying that the internet brings almost everything to our fingertip.
Use it to your advantage and read reviews about products that you're intending to buy.
Satisfied customers will not be shy to leave good reviews. Also, consider negative reviews if there are a lot of people complaining about certain flaws of the product.
Researching could be time-consuming but it is worth the time. Also, it is not that hard if you're connected to the internet.
For instance, say, you are a health-conscious individual and love juicing greens, fruits, and veggies. All you need to do is to search the term, for example, "best juicer" and now it's a matter of going through the suggested results.
Price
Yes, Money!
A big factor in deciding what you can afford and what you can get.
One of the vital considerations when selecting and choosing products.
Research and compare price ranges extensively about your desired kitchen appliances before making the final decision.
4. Nothing can beat visiting a retailer
As much as comfortable we may get reading reviews and exploring all the cool nifty features and benefits of products online, nothing can really beat seeing appliances you're going to buy in person by visiting a retailer.
5. Pay Attention to your Warranties and Return Policies
Your money and products are precious to you and you would definitely want them to last a long time.
Also, a good warranty gives you peace of mind in case something goes wrong. You know you're covered.
We hate to go through the hassle of returning products. However, there may come times when you can't help it. Therefore, pay particular attention to the product's return policy as well.
Major Kitchen Appliances
Kitchen appliances options are almost endless.
Though you may be tempted to buy every little cool gadget that may give you effortless preparation of your delicious meal at home, it certainly not feasible to attain it all.
However, below are some absolutely necessary kitchen appliances that are worth mentioning.
Dishwasher
Preparing food is certainly enjoyable but it is also one of the tiresome tasks.
So, who would want to deal with washing the dirty dishes and utensils after the hectic long day?
A dishwasher is your savior!
Refrigerator
Should I even talk about it?!
A refrigerator is like the unsung heroes of every house and kitchen. Modern busy households can't go without it. It certainly is a boon to us and helps us store our foods and keep them fresh and healthy.
Wall Oven
A kitchen these days seems incomplete without an oven. There are mainly two types of ovens: Freestanding and Built-in Wall Ovens.
There are also many other types such as toaster ovens, microwave ovens, etc.
But among them, the most useful and convenient is the wall ovens, in my opinion.
Ventilation Hood
Cooking is fun but if the smell of it goes into your whole home and the smoke burns your eyes while cooking, that my dear friend, isn't fun at all!
A ventilation hood (or some call it exhaust hood) is your silent buddy here.
It sits right above your cooktop in the kitchen and does its work.
It removes airborne grease, smoke, fumes, heat, and steam from the air by sucking up via its exhaust fan.
Conclusion
Preparing and cooking healthy, delicious meals at home is certainly what we all want.
But with our busy hectic daily life, it can be, at times, tiring and time-consuming.
This is where kitchen appliances come in handy.
They make food preparation much easier and more enjoyable.
Therefore, it is important to own the correct kitchen appliances that you need and our simple guide should help you choose the ones you need.
So, keep cooking, keep eating healthy foods.
Author Bio:
I'm Whitney North, and I'm the founder of Juicer Moz. When it comes to helping people achieve optimum health through juicing, I'm the real deal.  (100%. Never concentrate.) Here's why: I started out juicing when I got sick many years ago. I couldn't figure out why I felt terrible all day (hint: it had to do with poor nutrition) and started to dabble in juicing.  It restored my health, my energy, my personality.
You may also like: