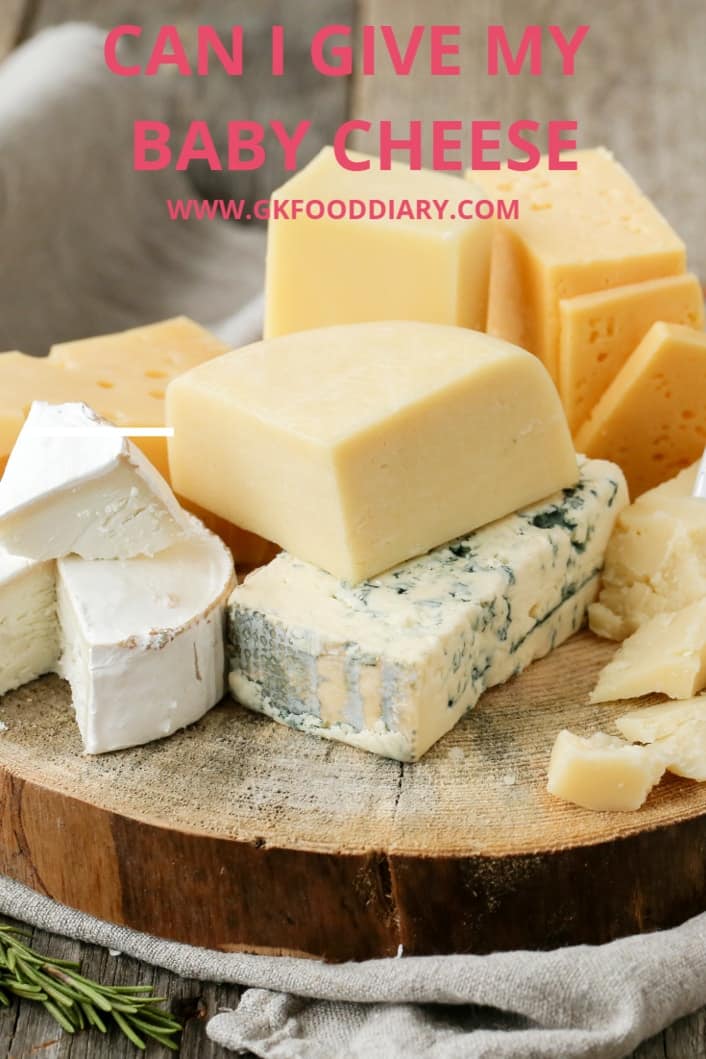 Cheese is an excellent food for babies and growing kids as its packed with Calcium, protein and it is the best energy source. It makes an excellent finger food for baby. Also, it tastes so good that babies enjoy it!
Here are some ways to include cheese in your baby's diet with more information on the health benefits of cheese, types of cheese and homemade cheese recipes for baby and kids.
When can I introduce Cheese to my baby?
From 7 months, Cheese can be included in the baby's diet. Consult with baby's pediatrician before introducing cheese to your baby if your family a has a history of dairy allergy or other food allergies. Note that some varieties of cheeses aren't suitable for babies and therefore make sure to give only safe cheese types to your baby. The list of safe and unsafe cheeses is listed in the upcoming sections.
When you introduce cheese to your baby, chop a cube of cheese into tiny bite-size pieces and give your baby. Start with ricotta or cottage cheese/paneer. Give a maximum of 2-3 small cubes per day. You can also add cheese to purees, soups, porridges, pancakes, toast, pasta, cooked vegetables, omelet, etc. to make your baby's food more nutritious.
Safe Cheeses for Baby
Here is the list of safe cheeses for baby. You can quickly make ricotta, cream cheese, cottage cheese/paneer at home, but make sure to use pasteurized milk while making homemade cheeses as raw milk may pose bacterial infections. Also, make sure to check the label while purchasing from stores,  that the cheese is prepared with pasteurized milk. After purchasing, wrap the cheese in aluminum foil or waxed paper, or place in an airtight container and store in a refrigerator. Avoid storing cheese in plastic wrap.
Cottage Cheese/Paneer
Cream Cheese
Ricotta
Cheddar
Mozzarella
Parmesan
Colby
Colby Jack
Swiss
Monterey Jack
Romano
Babybel
Unsafe Cheeses for Baby
Some varieties of cheese include mould-ripened soft cheese, blue-veined cheese, unpasteurized cheese, processed cheese, imported cheese to be avoided for baby at least till one year as it may contain listeria, the food poisoning bacteria. That may pose a food poisoning risk and leads to fatal foodborne illness.
Hard chunks of cheese, stringy, melted cheese can also be a choking hazard for babies. So always give cheese in soft buttery form (shred it or mash it) to babies. Here is the list of unsafe cheeses to be avoided till one year.
Brie
Blue Brie
Cambozola
Camembert
Chaumes
Chevre
Soft-ripened feta cheese
Any unpasteurized cheese
Queso Blanco
Queso Fresco
Danish Blue
Stilton
Saga
Gorgonzola
Roquefort
Taleggio
Wensleydale
Health Benefits of Cheese for Babies and Toddlers
Calcium and protein content in cheese helps to develop healthy bones in children
Enhances tooth development and prevents tooth decay
Consuming cheese on a regular basis helps to gain weight healthily in babies and children
Protein in cheese helps to grow healthy muscles, hair, and skin
Cheese can prevent anemia and keep your child's nervous system healthy through vitamin B-12
Using cheese in your baby and toddler food recipes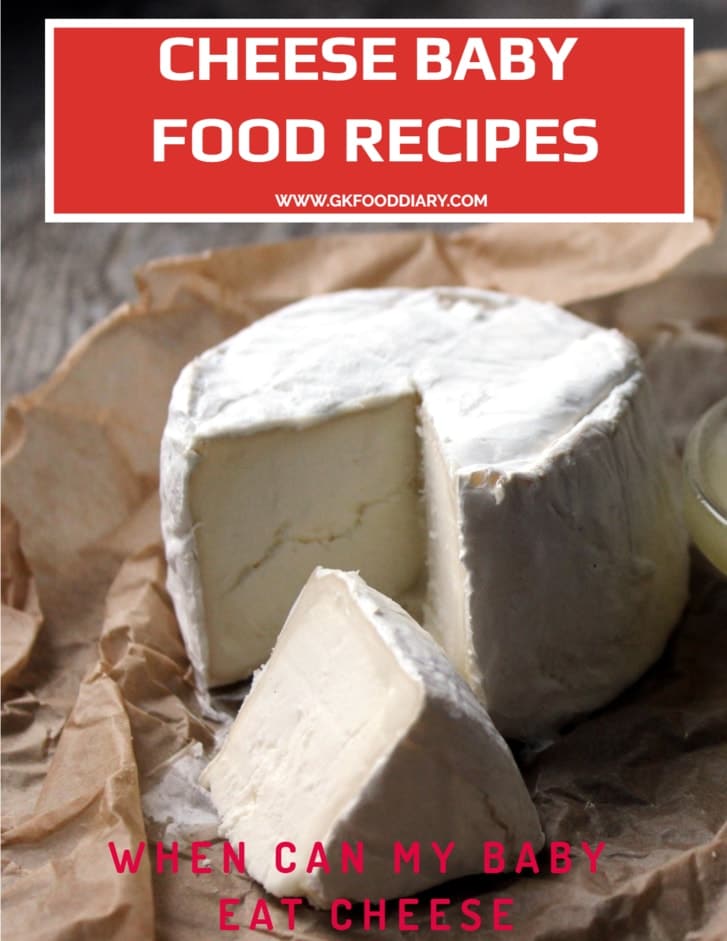 Cheese can be added to the baby's diet in numerous ways.
Add cheese to your baby's fruit purees and porridges
Shred the cheese and offer as finger food to your baby
Sprinkle some grated cheese to mashed veggies, salads, scrambled eggs, omelets, and soups
Use cheese as a topping for pancakes, toasts, sandwiches and even dosas
Melt the cheese over cooked or mashed vegetables to make it more filling and nutritious
Cheese can be used as a filling to chapati, paratha or add it to dosa/uttapams and bread toast
Use cheese as a spread for bread sandwiches
Stir in cheese to pasta or rice along with cooked vegetables
You can prepare cheesecakes with homemade cream cheese
Cheese Recipes for Baby & Toddler

Aren't these cheese recipes easy to prepare? Try these for your little ones and share your feedback.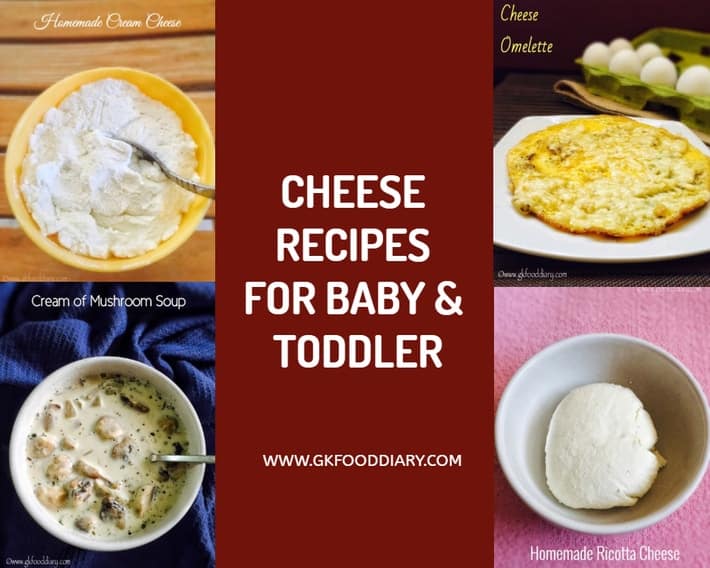 When Can I give my Baby Cheese| Cheese for Baby
When Can I give my Baby Cheese| Cheese Recipes for Baby - is an excellent food for babies and growing kids as its packed with Calcium, protein and it is the best energy source