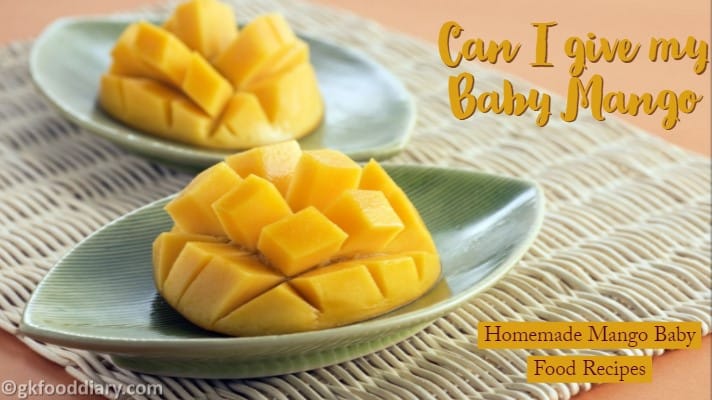 Mango is a king of fruit and loaded with Vitamin C, Vitamin A, potassium, iron & lots of fiber! Beyond the nutrients, mangoes are juicy, sweet and tastes absolutely delicious!
When can I introduce mango to my baby?
Mangoes can be introduced to babies diet from 8 months as it's not a great first food for babies. Some babies might get rashes or diarrhea if introduced early. When you introduce mangoes to your baby, start with mango puree otherwise mash or cut into tiny pieces and offer in small amount. Consult with the baby's pediatrician and consider family allergy history before introducing mangoes as it may cause allergies in some babies.
Nutrients in Mangoes

Health Benefits of Mango for Babies
Mangoes are excellent source of dietary fiber, aids in digestion and prevents constipation in babies
Calories in mango promotes healthy weight gain in babies
Packed with Vitamin E & C and hence mangoes help to keep your baby's immune system strong
Vitamin A in mango promotes good eyesight for baby
Eating mangoes helps to keep the baby cool in summer
Mangoes can be good for baby's skin and reduce skin problems
The anti oxidants in mango helps preventing cancer and heart disease
How to select Mango for Baby Food
Select a ripe mango that gives a good thumb when you press and with sweet & aromatic smell. Ripe mangoes can be stored in the refrigerator up to 2 weeks. If the mangoes are unripe, wrap the mangoes in a paper and keep them in a warm place, they will get ripe with in two days!
Alphonso mango variety is good to start with when you introduce mangoes to your baby. No need to cook the mangoes if its ripe and soft. In some places, Mangoes are ripened artificially using calcium carbide, which can cause health problems and hence buy mangoes from a reliable seller or opt for organic certified ones.
Mango Baby Food Recipes

So We have got you covered everything about mangoes with delicious recipes, what you want to prepare for your baby right now!