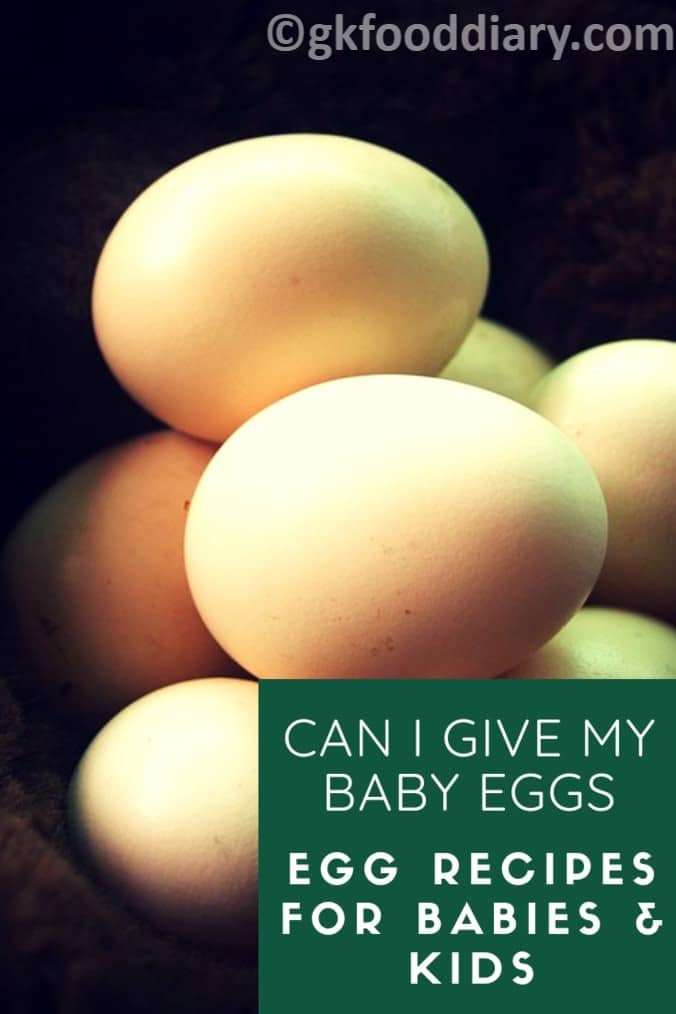 Eggs are super nutritional food for babies, toddlers, and kids as it helps in brain development. It's also packed with proteins, and rich in Vitamin D. Hence including eggs in children's diet is essential for their growth. Eggs are also known for their versatility as that can be fit easily to sweet or savory recipes. Here are some collection of healthy and delicious egg recipes with more information about eggs for baby.
When to introduce eggs for babies:
Egg whites are one of the potential allergens. But egg yolk is less likely to trigger an allergic reaction. Hence the egg yolk can be given from 7 to 8 months after introducing some basic foods. Egg whites can be included after one year of age.
But recent studies are suggesting to introduce allergen foods sooner, hence consult with your doctor about adding egg whites before one year as reactions with egg allergies may be severe. When you begin eggs, you can offer a thoroughly boiled egg yolk to your baby.
How to introduce eggs for babies:
Start with one thoroughly boiled yellow yolk per day and check for allergies.
If your baby is not allergic to yellow yolks, you can slowly introduce egg white after a week (after discussing with the doctor & no family history of allergies to eggs)
Then you can gradually include omelet, scrambled eggs, and other egg recipes
Eggs can be given to babies maximum 3-4 times a week
Offer only well-cooked egg to your baby and avoid raw or half boiled eggs which are not recommended at least until one or even two years.
How to select and store Eggs for Baby Food
Choose fresh, Grade A eggs which are from free-range, pasteurized hens.  There is no nutrition difference between white and brown eggs.
Fresh eggs are the best choice for your baby, Fresh eggs should sink in water, whereas older eggs float in water.
Buying organic eggs is recommended for baby to avoid chemical contamination.
Store the eggs in the coldest section of the refrigerator along with their original carton packaging. Avoid keeping them in the refrigerator door. Use the eggs within a week or best by the date given in the package.
Wash your hands and utensils, with hot water after handling eggs to prevent cross-contamination of bacteria.
Always serve the eggs fresh after cooking well and avoid leftover eggs for baby.
Nutrients in Eggs

Source: USDA
Health Benefits of Eggs for Babies and Toddlers
Eggs contain various essential nutrients. It supports overall development in babies and kids which helps them grow stronger.
Eggs are rich in Protein which helps in healthy weight gain and height growth in children.
Egg yolks are easily digestible even for small babies.
Minerals in eggs act as an antioxidant and help build up your child's immune system also supports eye health.
Protein and iron in eggs help fighting anemia in children.
Choline and good cholesterol in eggs improve memory and support brain development in growing kids.
Here is the video of 3 easy and healthy egg recipes for babies
Egg Recipes for Babies, Toddlers, and Kids
 
Bookmark this page for future reference as I will be updating this post regularly with different egg recipes. Click on each thumbnail image or the link given below for the methods. Eggs can be given to babies from 7 or 8 months, but some egg recipes are better suited to slightly older babies. Hence choose recipes according to your baby's age which is mentioned in the brackets along with the recipe. Please refer to the notes section given at the end of this post for the points to remember before making these egg recipes for your baby!
Notes:
Never introduce more than one food at a time when introducing solids to your baby.
Check for allergy symptoms when you are introducing a new food to your baby and stop feeding your baby if you find any signs.
If your baby is allergic to any specific ingredient, remove it from the recipe.
Please avoid green chilies and red chilies at least till two years.
If the recipe calls for more spices, adjust it according to your baby's age and preference.
Always check with your pediatrician before introducing any new food.
Sugar, salt and honey are not recommended until one year of age.
Egg Recipes for Babies, Toddlers, and Kids
Egg Recipes - a collection of Indian egg recipes for babies, toddlers, and kids.
Recipe type:
Breakfast/Dinner
UPDATE:
This post was originally published in January 2016 and has been completely updated with several recipes and more information for accuracy and comprehensiveness.
You may also like: