Broccoli Pasta Recipe for Babies, Toddlers and Kids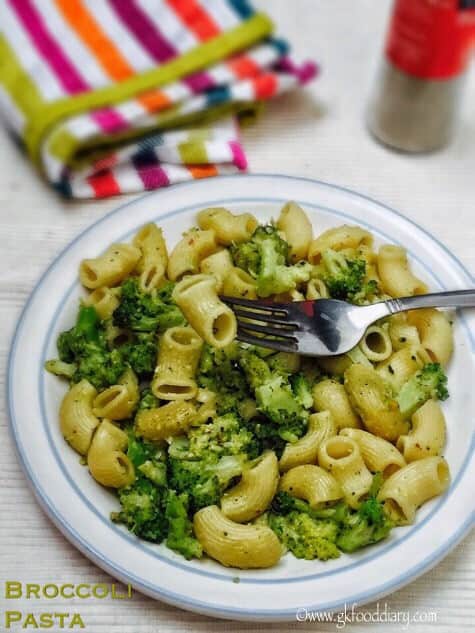 Recipe type:
Breakfast/Dinner
Pasta - 1 cup
Broccoli - 1 medium sized (florets comes to ¾ cup)
Cheese - 2 tbsp
Nuts Powder - 1 tbsp
Lemon Juice - 2 tsp
Pepper powder - ½ tsp
Water - as needed
Salt - as required
Garlic cloves - 4 chopped
Olive oil - 1 tbsp
Wash broccoli and cut them into small florets.
Keep all ingredients ready. Cook pasta in a saucepan with required water and salt for 8-10 minutes or follow the pack instructions.
Once the pasta is cooked, strain it and keep aside. Finely chop garlic cloves and grate cheese. Set aside. Take juice from lemon and keep it ready.
Cook the broccoli florets with little turmeric powder and a cup of water. Switch off the flame once done. Broccoli florets should be cooked well and crispy enough to bite.
Shred the cooked broccoli florets in a blender. Keep aside. Heat olive oil in a pan, add garlic cloves. Saute them nicely until golden brown.
Then add cooked broccoli florets along with nuts powder and toss it well. Now add cooked pasta and mix well.
Then add grated cheese and toss it well for two to three minutes and switch off the flame, add lemon juice.
Recipe by
GKFoodDiary - Homemade Indian Baby Food Recipes
at https://gkfooddiary.com/broccoli-pasta-recipe-babies-toddlers-kids/