Green Gram Rice Recipe for Babies and Toddlers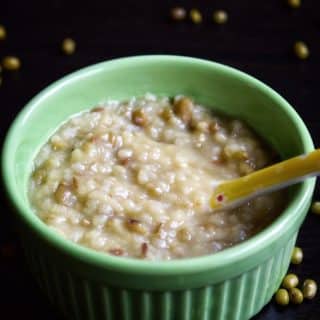 Rice - 1 tbsp
Green Gram- 1 tbsp
Homemade Ghee - 1 Tsp
Garlic - 1 clove
Cumin seeds- ¼ Tsp
Turmeric powder - ⅛ tsp
Salt - as needed (salt is not recommended for babies under one year of age)
Water - 1.25 cups
Wash rice and green gram together and soak it in water for 30 minutes.
Heat a pressure cooker with ghee. Add cumin seeds and garlic. Let it crackle.
Then drain the water from soaked rice and dal and add to the cooker. Mix well.
Add a pinch of turmeric powder and salt(for babies above one year) at this stage. Now add 1 cup of water
Close the lid of pressure cooker. Cook everything in a medium flame for five to seven whistles.
Open the cooker once the pressure released. Mash the rice well with your hands or with a masher. Feed your baby warm. You can also puree them in a blender.