Whole Wheat Banana Walnut Muffins Recipe for Toddlers and Kids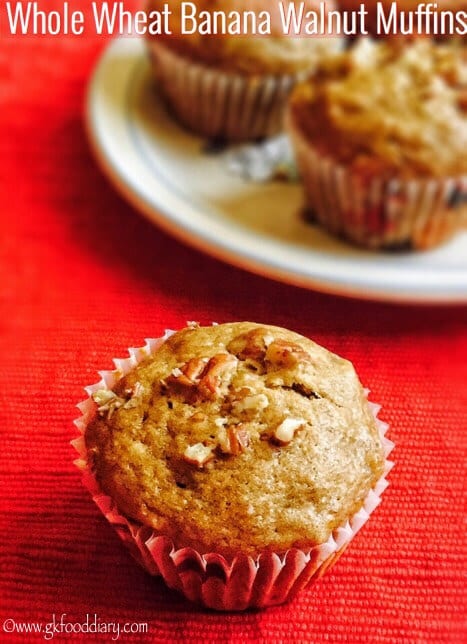 Whole Wheat Flour - ¾ Cup
Ripe Banana - 1 large or 2 medium sized
Baking Soda - ¼ tsp
Baking Powder - ½ tsp
Salt - ⅛ tsp
Broken walnut - ¼ cup
White sugar/ Brown Sugar - ¼ cup
Lemon Juice - ½ tbsp (optional)
Vanilla essence - ¾ tsp
Olive oil/sunflower oil - ¼ cup
Measure and keep all ingredients ready. Take ripe banana and mash it well with a fork. Alternatively you can blend the chopped banana pieces in a blender to puree them.
Once the bananas are well mashed, add sugar. Stir it well with a hand whisk until the sugar is completely dissolved. Mix well so that the oil is mixed evenly.
Then add vanilla essence and lemon juiceto it. Stir well.
Measure and Sieve the whole wheat flour and mix well with baking soda, baking powder and salt. Also preheat the oven to 180 degrees for 10 minutes.
Now add the sieved whole wheat flour mixture to the wet ingredients. Gently fold everything well for 10-15 seconds. Don't over mix. Then add broken walnuts to the mix and give a stir. The final mixture should be slightly thick.
Line up the muffin tray with muffin liners. Scoop the mixture and pour into muffin liners. Bake in the preheated oven for 25 -30 minutes (baking time depends on the size of the muffin tray and oven)  at 180° Celsius till tooth pick inserted in the center comes out clean. Allow to cool in tray for 5 minutes once done.
Serving size:
8-10 Small Muffins