Quinoa Upma Recipe for Toddlers and Kids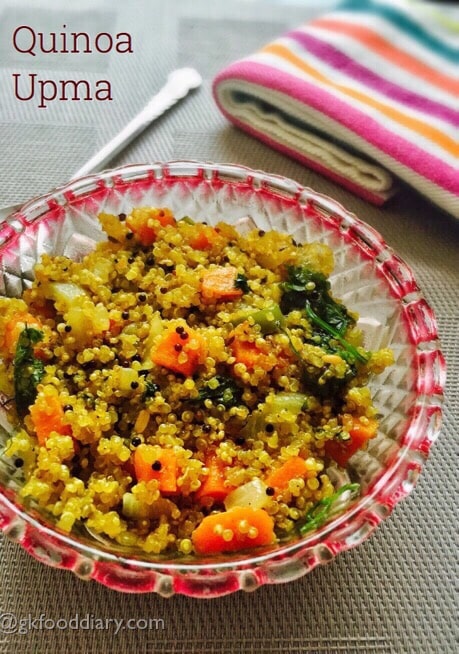 Recipe type:
Breakfast/Dinner
Quinoa- ½ cup
Vegetables chopped* - ½ cup
Onions - 1 small sized
Green chillies - 1
Turmeric powder - ¼ tsp
Coriander leaves - to garnish
Water - 1 cup
Salt - as required
Oil - 1 tsp
Mustard Seeds - ¼ tsp
Urad Dal - ¼ tsp
Hing/ Asafoetida - ⅛ tsp
Cumin Seeds - ½ tsp
* I used carrots
Measure and take the quinoa in a bowl. Wash it thoroughly until the water runs clear. Then Soak it in water for 10 minutes. Set aside.
Wash all the vegetables and cut them into small cubes. Set aside. Keep all the other ingredients ready. Chop onions,ginger, green chilies and coriander leaves. Heat oil in a pan and add the items to temper one by one. Saute until cumin seeds cracks.
Now add onions along with green chilies and saute onions until it's transparent.Then add chopped vegetables along with turmeric powder and salt, toss it well.
Then add required amount of water and bring it to a boil. Once the water comes to a rolling boil, add the soaked quinoa after draining the water from it completely. Mix everything together until it comes to a porridge like consistency. Then cook it covered for 10 minutes or until the quinoa is cooked and vegetables are soft.
After 10 minutes, Open the lid and check whether the quinoa is cooked well. Switch off the flame and garnish with coriander leaves.