Quinoa Porridge Recipe for Babies and Toddlers | Quinoa for Babies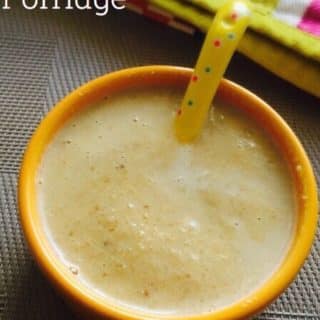 Quinoa - ¼ cup
Water - ½ cup
Breast milk/ Formula Milk/ Cows Milk - ½ cup
Brown Sugar/Dates syrup/ Jaggery Syrup- 1 tbsp
Mixed Nuts/Nuts powder - 1 tbsp
Rinse the quinoa in water, repeat 2-3 times until there are no bubbles appear in the water. Then soak it in water for 10 minutes and keep it ready. For babies below one year prepare formula milk and keep it ready. If using cows' milk, boil it until frothy.
After 10 minutes, drain the water fully and take the soaked quinoa in a sauce pan and add ½ cup of water. Mix well, cover the pot with a lid and cook for 10 minutes. Keep it undisturbed. Open the lid, mix well once again.
Then add the boiled milk/prepared warm formula milk to the cooked quinoa. Then add in handful of nuts or nuts powder at this stage. For small babies use only nuts powder and avoid whole nuts.
Add sweetener at this stage and mix well until the sweetener dissolves. If using cow's milk boil it further for 5 minutes and switch off the flame. If using formula milk, do not boil it further.
Then transfer everything to a blender/mixer. Grind it to a smooth/coarse paste.
Recipe by
GKFoodDiary - Homemade Indian Baby Food Recipes
at https://gkfooddiary.com/quinoa-porridge-recipe-babies-toddlers-kids/