Amaranth Porridge Recipe for Babies and Toddlers |Rajgira Porridge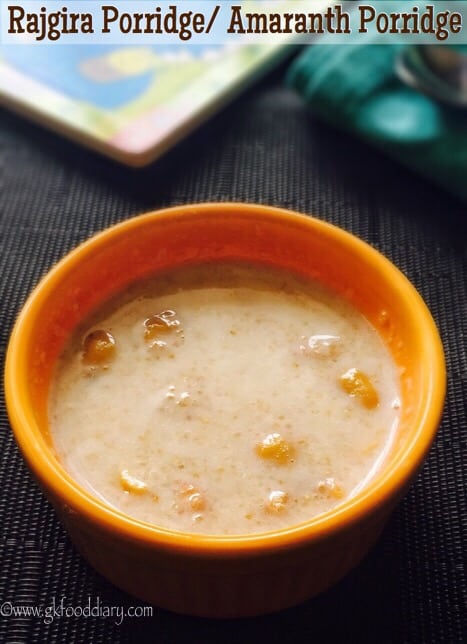 Popped Amarnath Seeds/Rajgira - ¼ cup
Breastmilk/ Formula Milk/ Cows Milk - ¼ cup
Brown Sugar/Dates syrup/ Jaggery Syrup- 1 tbsp
Ghee - 1 tsp (optional)
Mixed Nuts/Nuts powder - 1 tbsp
Wash the amaranth seeds and keep it ready. For babies below one year prepare formula milk and keep it warm. If using cows' milk, boil it until frothy. Then add the washed amaranth seeds to the boiled milk/prepared warm formula milk.
Mix well and cover the pot with a lid for 10 minutes. Keep it undisturbed. Open the lid, mix well once again.
Add sweetener and ghee at this stage and mix well until the sweetener dissolves. Then add in handful of nuts or nuts powder at this stage. Serve the porridge warm! For small babies use only nuts powder and avoid whole nuts.