Mango Custard Recipe for Toddlers and Kids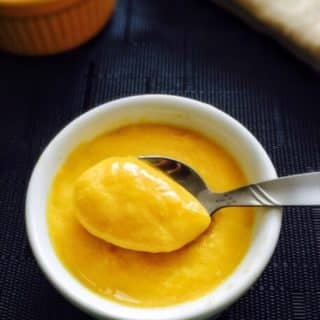 Mango- 1 large or mango puree - ½ cup
Whole Milk - 1.5 cups
Custard powder - 1 tbsp
Jaggery/unrefined sugar /brown sugar- 2 tbsp
Fresh Cream - 1 tbsp
Chopped nuts - 1 tbsp
In a small bowl, take custard powder. Add ¼ cup of milk to it and mix well with a whisk. Make sure there are no lumps. Set aside.
Wash mangoes and take a pulp. Puree the mango pulp in a blender to a smooth paste without adding any water. Set aside. Reserve some mango pieces to add in final custard if desired.
Heat the milk in a pan until rolling boil. Then add sugar and mix well.
Simmer it for 5 minutes and add custard powder mix little by little. Mix well.
Lower the flame and boil the mixture until it thickens and creamy consistency is reached. Give a stir occasionally. Once the custard is thick add fresh cream. Give a quick stir, Switch off the flame and cool it down.
Once the custard milk mix is cooled down, add mango puree. Mix well.
Fill the custard into serving bowls and Refrigerate the custard mixture for at least 30 minutes and serve.